It's a bad situation.
As a whole, the region is several inches over "normal" rainfall amounts for the last two months. While the Finger Lakes didn't see the snowmelt that sometimes contributes to springtime flooding — we have seen plenty of spring rains.
On Thursday a road washed out in Geneva.
Coastal communities along Lake Ontario have been on edge for the last several weeks as officials have said "it's only a matter of time" before the massive lake spills over it's banks and floods those homes and businesses.
Sheriff's Offices around the region have issued boating advisories, as lakes push their highest limits — submerging debris, docks, and encroach on homeowners property lines.
Here is the latest — going county by county:
Wayne
"We don't know when it's going to happen, this week or next week, but it's going to happen sooner or later."
Those words spoken by Sodus Point Village Mayor Chris Tertinek point to the outlook in these coastal communities.
Wayne County Sheriff Barry Virts toured the shoreline in his county last weekend, noting that boaters need to stay as far away from the shore as possible. "I ask for boaters' voluntary compliance with a no-wake zone within 500 feet from any shoreline to reduce erosion, protect property and to avoid submerged docks," Virts added.
He asked those boaters to voluntarily observe a 500-foot zone for any shoreline of Lake Ontario, Sodus Bay, Port Bay and Blind Sodus Bay.
The U.S. Army Corps of Engineers say the lake is expected to rise another 11 inches by mid-May.
Some even argue that Plan 2014 is partially to blame. It creates "triggers" instead of stopping water at 247.3 feet. Water is typically limited in Lake Ontario by releasing it into the St. Lawrence River in Canada.
Tertinek added that it could get much worse in Wayne County, before it gets better. "If we get 15-18 inches higher then it's going to start infiltrating the sewer system. If that happens we're going to have to shut off the water."
Ontario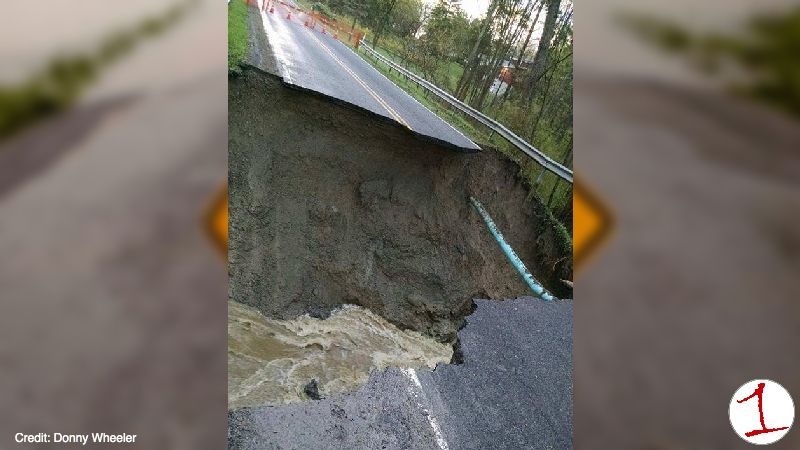 Ontario County Sheriff Philip Povero issued a statement on Friday regarding the flooding and heavy rainfall.
He explained, "Boaters are urged to operate their vessels at no more than 5 miles per hour within 200 feet of shore on Canandaigua Lake. They are also urged to observe reduced speeds on Honeoye Lake as floating debris may also exist below the surface of Honeoye Lake."
He noted that both Canandaigua and Honeoye Lakes had risen above typical levels for this time of year — with docks and other items being submerged.
That wasn't the only problem seen in Ontario County, though.
Heavy rain on Thursday resulted in Turk Rd. being washed away completely. While it has been the most-extreme form of damage from this wet spring, it shows the kind of impacts heavy rain, and rising water levels can have on infrastructure across the board.
Yates
Yates County Sheriff Ron Spike said that heavy rains have caused a lot of runoff into Seneca, Keuka and Canandaigua Lakes. As result he said on Friday, "A reminder that it's the NYS Navigation Law on Keuka and Canandaigua Lakes to be no more than 5 mph within 200 feet of shore and on Seneca 100 feet from shore."
The Sheriff added, "With the heavy rains of yesterday and last evening many creeks and gulley's that empty into the Seneca, Keuka and Canandaigua Lakes have washed assorted debris into the lakes and they can be a floating hazard to navigation."
He continued, "Boaters are cautioned to be observant of floating tree limbs, logs, stumps, and misc. debris in the water."
Seneca
Seneca County Sheriff Tim Luce has not issued any new statements since his update more than a week ago.
However, the Lake Level Advisory remained active for Cayuga and Seneca Lakes as of this weekend. The heavy rains that fell during the second-half of the week only make the issues more challenging to navigate.
Luce said then that recent rains have caused water levels to rise and extra caution is needed for boat traffic to navigate safely.
Among the items of concern for boaters are debris, like submerged logs, which provide a hazard to those vessels.
He said that until the water levels go down boaters should operate at reduced speed so as not to create a wake that will damage other boats and docks.
Cayuga
Sheriff David Gould urges extreme caution when on or around local lakes and waterways.
"Most are flowing at a high level due to recent rain and contain debris such as floating logs often hidden from the surface," Gould said in a post to Facebook.
Although there is no ban on boating traffic, boaters should use caution and good judgement.
How high are water levels in your neighborhood creeks, streams or lakes? Let us know in the comments below AND share photos of the water rise on our Facebook Page, or by CLICKING HERE.