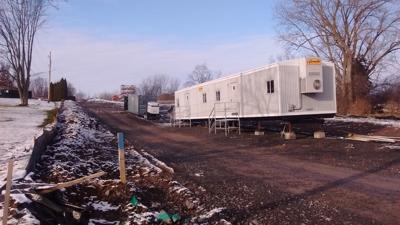 Citizens Bank said it is playing a key role in the financing package for an affordable housing project in the town of Geneva.
The bank, which has a branch on Hamilton Street in Geneva, said its Community Development Group is providing a $9.4 million letter of credit for Town Side at Pre-Emption, an $18.5 million, 88-unit affordable housing project on Pre-Emption Road near Lenox Road.
The letter of credit will support the tax-exempt bonds to be sold to build the project. A letter of credit is a bank document that guarantees payment.
Construction has started on the development by Rochester's Cornerstone Group, an affordable housing developer based in Brighton. The project includes 44 supportive senior units (55 and older) in a three-story building. Those 44 units will receive a state subsidy. The rest of the units are reserved for families with lower household incomes.
"We greatly value our partnership with Citizens Bank and appreciate the Community Development Group's market knowledge and excellent execution," said Roger Brandt, president of Rochester's Cornerstone Group. "We look forward to continuing to work with the Citizens team as this project reaches its potential."
Ted Smith, a market executive with Citizens Bank's western New York region, said the Geneva development "meets an important need in the community" and "is another sign of our strong commitment to supporting affordable housing for New York residents."
The Finger Lakes Times:
Read More