During the 109th Commencement at Keuka College, Syracuse Mayor Stephanie Miner encouraged the nearly 500 members of the Keuka College Class of 2017 to use values that stretch back more than 125 years to counter modern-day challenges.
"We do not lack for challenges … but anxiety and angst are not unique to us," said Miner, who is the first woman to lead one of New York's "Big 5" cities (New York City, Buffalo, Syracuse, Rochester, and Yonkers). "In the 1890s, when (Keuka College founder) Rev. George Harvey Ball looked out on this lake, he too must have been worried about the future."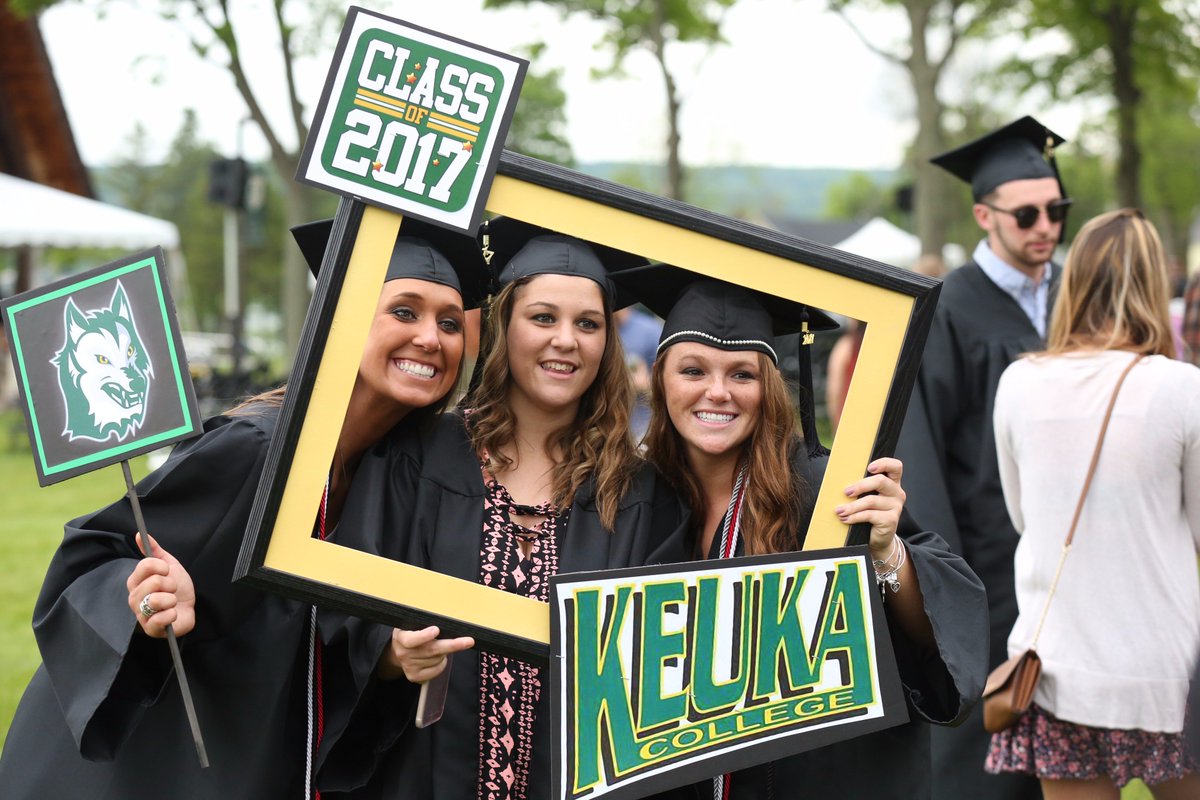 Then, like now, economic disparity, an influx of immigrants, industrial disruption and crushing inequality were facts of life, she said.
"Into this era, and into this place we gather, came Rev. George Harvey Ball," said Miner, who will complete her second and final term on Dec. 31. "And he confronted this abyss, these trends, by founding this institution, with the ambitious goal to, quote, 'bring strength to our nation and to help humanity.'"
Miner, who was making her first commencement speech at a college after more than seven years in office, told the Class that today's social and political climates bring the additional challenges of partisanship, confrontation and a crumbling of traditional civic discourse. She urged them to hold tight to the ideals long championed by Keuka College as they navigate these obstacles.
"The real world that you are entering into, and the question you will be forced to confront is, how are you going to respond?" she asked. "And my suggestion to you is that you remember what it means to be an American. … (And) to remember that, to be an American is aptly summarized by your alma mater's slogan: Believe in What We Can Do Together. That is what Rev. Ball wanted you to take away from here. And that is what we need you to bring with you into the quote-unquote 'real world.'"
College President Dr. Jorge L. Díaz-Herrera likewise challenged the newly minted graduates to "use your Keuka College degree and the knowledge, experience, and talents you worked so hard to secure to be an exemplary citizen and leader, to serve your communities, your families, our nation, and the world throughout the chapters of your lives that lie ahead."
He told the class to be proud of its accomplishments and to "go forth and do outstanding work for yourselves and for the world!"
In additional activity at Commencement:
An Award of Higher Education was presented to Mari Alconero, Alan Donlon, Benjamin Green, Terry "TJ" Keas Jr., Clayton Kriese, and Tiffany Potter, six students from the DRIVE (Diversity, Respect, Inclusion, Vision and Experiential Learning) program. DRIVE is a collaboration of the Penn Yan Central School District, the ARC of Yates, and Keuka College. In the program, College students serve as peer mentors to young adults with intellectual disabilities as they assimilate into the college environment and explore their personal goals.
Dr. Janine Bower, associate professor of criminology and criminal justice, was named Professor of the Year. Bower was praised for helping increase the prominence and popularity of the sociology and criminology and criminal justice programs, and for her tireless work on numerous College committees.
JoAnn Morse-Clough, adjunct professor of social work in the Division of Social Work, was named Adjunct Instructor of the Year. Her aunt, Betty Roren, a 1945 graduate of Keuka College and a former social worker herself, traveled from Portland, Oregon, to see her niece receive the award.
Dusan Ducic, service desk manager in the Information Technology department, was named Staff Member of the Year. His work was cited as having a major impact on the College, its goals, and its constituents.
Remarks were also given by student Trustee Morgan Sylvester '17, and Stephanie Russell '17.