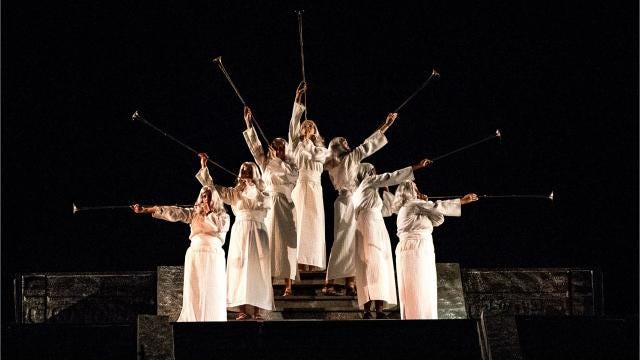 The famed Hill Cumorah Pageant is set to end after its 2020 season, according to Pageant officials.
The announcement was made on Saturday. The Church of Jesus Christ of Latter-day Saints said several pageants produced by the Church will be either modified or ended, including its flagship pageant in Palmyra.
According to Pageant officials, Church officials listed several factors which went into their decision, including how to reduce the burden of church member time commitments, cost, security, impact to church sites and more.
The Church released an official statement, saying in-part:
"The Church of Jesus Christ of Latter-day Saints is growing across the earth. As this occurs, local Church leaders and members are encouraged to focus on gospel learning in their homes and to participate in Sabbath worship and the Church's supporting programs for children, youth, individuals and families. The goal of every activity in the Church should be to increase faith in the Lord Jesus Christ and to share His gospel message throughout the world. Local celebrations of culture and history may be appropriate. Larger productions, such as pageants, are discouraged. As it relates to existing pageants, conversations with local Church and community leaders are underway to appropriately end, modify or continue these productions."
Pageant President Neil Pitts said the pageant staff is supportive of the idea. Pitts said, "We have had a wonderful 81 years and will focus on making the next two years an amazing experience for our cast, crew and audience."
---
Decision to end Hill Cumorah production stirs up mixed feelings
Members of The Church of Jesus Christ of Latter-day Saints, Daniel Schwab and his family were visiting Hill Cumorah Sunday from the state of Wyoming. His son, Braxton, 15, saw the birthplace of the Mormon faith for the first time.
"It was really helpful for me to learn more about the history of how our church has come through," Braxton Schwab said.
For 81 years on the hill, the Hill Cumorah Pageant told the story of the Book of Mormon. The production is put on by more than 800 volunteers made up of cast and crew from around the country. It's one of the oldest and largest outdoor theatrical productions.
Saturday evening, the Church announced it will have its final run in 2020. According to a statement from the Church, they want the members to focus more on family.
"If people don't quite understand the production and if all we are doing is entertaining people rather than sharing the message of Jesus Christ, I can understand why the brethren had made the change," Daniel Schwab said. "As a member of the Church I support the brethren 100 percent in their decisions."
Phil Shippers of Pittsford remembers when he saw the pageant years ago.
"I'm sad about it, because it really is an extravagant production," he said. "They put a lot of work into it. I saw years ago, and it's exciting and it's thrilling."