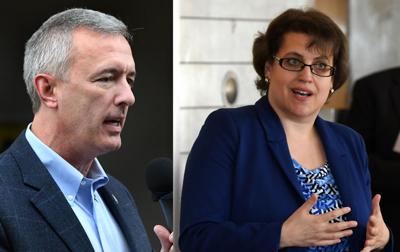 If the new Syracuse.com/Spectrum News/Siena College poll is to be believed, there has been virtually no change in the 24th Congressional District race over the past two months.
The poll released early Sunday showed Republican U.S. Rep. John Katko leading Democratic challenger Dana Balter by 14 points, 53 to 39 percent. That's nearly identical to the GOP congressman's 15-point lead in the Siena poll released two months ago.
Siena pollster Steve Greenberg will be the first to tell you that a poll is a snapshot of the race at that point in time. But this new survey doesn't fully capture what's happening in the 24th district race.
Balter, D-Syracuse, reported raising more than $1.5 million in the third quarter of 2018. Election forecasters moved their race ratings from likely to lean Republican. Outside groups started spending more on the 24th district race.
Would outside groups invest considerable sums of money on a race if one candidate held a double-digit lead? Not a chance.
We know from Federal Election Commission filings that there has been internal polling. Those internal polls are clearly showing that this is a closer race than the Syracuse.com/Spectrum News/Siena College poll suggests.
Auburn Citizen:
Read More