The VoteTilla will arrive in Wayne County on Monday, July 17th as part of a week-long navigational celebrating 100 years of women's voices and votes in New York State that will take place along the Erie Canal.
With a core of five rented, 10-passenger, canal packet boats, VoteTilla will set out from Seneca Falls and travel to Rochester, finishing the journey with a parade to the National Susan B. Anthony Museum & House on Saturday, July 22nd and celebrations around town.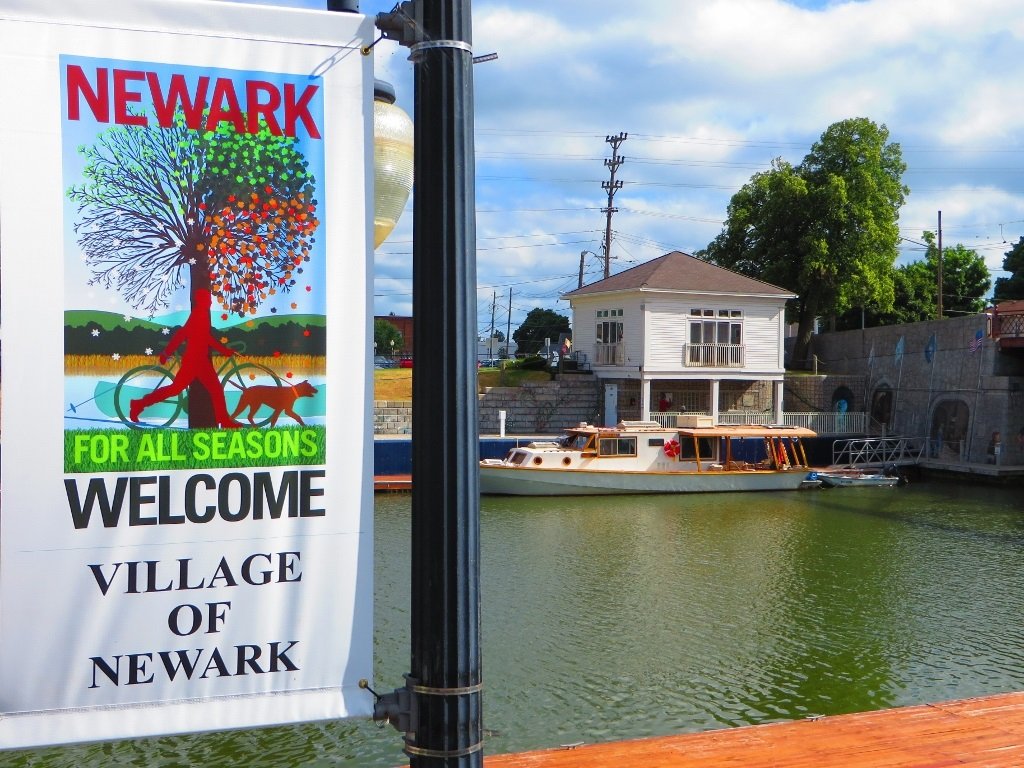 The idea for a navigational passage in honor of women's suffrage was first conceived by the Anthony Museum Collections and Education Committee as an ideal opportunity for collaboration and educational outreach.
Communities along the historic waterway have planned events to welcome the VoteTilla. Newark will be hosting the first annual Taste of Wayne County along VanBuren Street – from the Veteran's bridge on East Avenue to the North Main Street bridge. The event will be held from 4:30 to 8:30 p.m. on Tuesday, July 18th and will include various vendors from around Wayne County offering their "signature" dish, food, or beverage. Mayor Jonathan Taylor said in planning the Taste of Wayne County, they reached out to as many restaurants and farm markets as they could from all across Wayne County.
And the village would happily welcome more wanting to offer a true Taste of Wayne County and all it has to offer visitors. Anyone interested in participating as a vendor may call the Newark Chamber of Commerce office at 331-2705 or Taylor at the village offices at 331-4770 to reserve a space.
Samples at the Taste of Wayne County event will offered in exchange for a ticket. Tickets are available for $1 each or 15 for $10.
Boats arrive in Seneca Falls on Sunday, July 16th and leave around 10 a.m. on Monday, July 17th. Their next stop will be in Clyde Monday afternoon at 4 p.m. Tuesday morning, July 18th the boats will arrive in Lyons at 11:15 a.m., and leave the same day at 1:45 p.m. By 4:30, the boats will dock in Newark where they will spend the night, leaving Wednesday morning, July 19th and heading to their next stop. The boats are expected in Palmyra by 11 a.m. From there, the VoteTilla will travel into Monroe County making stops in Fairport, Pittsford and finally in Rochester.
Some of the passengers on the boats will include reenactors of well-known historical characters such as Susan B. Anthony and Frederick Douglass, and also reenactors of everyday people in period dress. At each stop the reenactors from the boats will be joined by other reenactors and will stage performances written for the VoteTilla event.
Stops on the Canal will include Clyde, Lyons, Newark, Palmyra, Fairport and Pittsford. Three of the boats will be sponsored and driven by volunteers from the National Susan B. Anthony Museum & House (the "House"), while the other two will be sponsored and driven by volunteers from the Susan B. Anthony Center of the University of Rochester, and the Women's Rights National Historic Park in Seneca Falls.
The goals of the VoteTilla are to commemorate and celebrate the centennial of woman suffrage in the state, but also to promote the history of woman suffrage, its people, places, issue, and relevance today, and; provide an opportunity for individuals, groups, and communities to collaborate through a creative, engaging, participatory, and celebratory educational experience.
The Erie Canal is the perfect setting for such a trip to take place. Historically, the canal, celebrating its bi-centennial this year, served as the main thoroughfare across the state in the 1800s for Susan B. Anthony and other activists. The route between Seneca Falls and Rochester connects two of the most important locations in the suffrage movement. Symbolically, it also represents the slow progress of the woman suffrage movement.
The anticipated itinerary of events in Wayne County, include:
Clyde: July 17th
4:30- 5:30 VoteTilla Reenactors Programming "Roots of Social Reform"; Location: Grass by the pavilion

5:30-6:30pm Community Picnic

6:00-7:00pm Erie Fiddlers
Lyons: July 18th
11:20-11:50am – Program at the Hotchkiss Peppermint Museum

12:30-1:30—Program at Ohmann Theater *Free to the public
Newark: July 18th
4:30-8:30pm—

Taste of Wayne County

*ticketed event

5:15-6 VoteTilla Reenactors Programming "Strategies for Reform"; Location: "Soap Box" orators at the landing site

6:30-7:30pm –"Inez: The Suffrage Herald" one-woman show on Inez Mulholland by actress Melissa Jessel, Bristol Valley Theatre, location TBD

6:00-8:30pm— band "Frankie and Jewels" (country & classic rock)
Palmyra: July 19th
Festivities but no formal programming; reenactors at site
Tammy Whitacre is a reporter for FL1 News covering Seneca and Wayne counties. Send news tips to [email protected] and follow @FL1_TWhitacre for the latest.