Geneva City Council fielded plenty of concerns from residents at Wednesday's meeting regarding lakefront development.
The message from residents who spoke was clear: Follow the comprehensive plan, and don't develop the lakefront property along Seneca Lake.
As Geneva City Manager Matt Horn said on Thursday though, it might not be that simple. He did try to rest some of the concerns residents have about City Council making a snap decision on the future of the lakefront property.
He cited multiple portions of the comprehensive plan that provide guidance, which would make snap decisions difficult to stand behind.
From the 'Values' section of the plan:
– "We will not take any action that fails to both protect and enhance the ecological state of Seneca Lake, while also improving accessibility and attractiveness of lakefront amenities for residents and visitors."
– "We will not permit development that physically disconnects the lakeshore from downtown."
– "We will make certain that patterns of development reinforce our capacity to stay close and connected while remedying experiences of isolation and physical disconnection."
– "We will facilitate, via policy, quality housing opportunities for all stages of life."
– "We will reinforce our long-term financial objectives based on community priorities…"
These were the values speakers addressed while discussing the prospect of City Council considering a new project for the lakefront property along State Route 5&20.
After some controversy last year, one plan, which would have developed a section of the property in the Town of Waterloo was shut down. The debate around the lakefront property had largely gone silent — until what speakers identified as a "media blitz" hit newsstands over the weekend.
Read More: Lakefront project would ease Geneva's tax hit (study)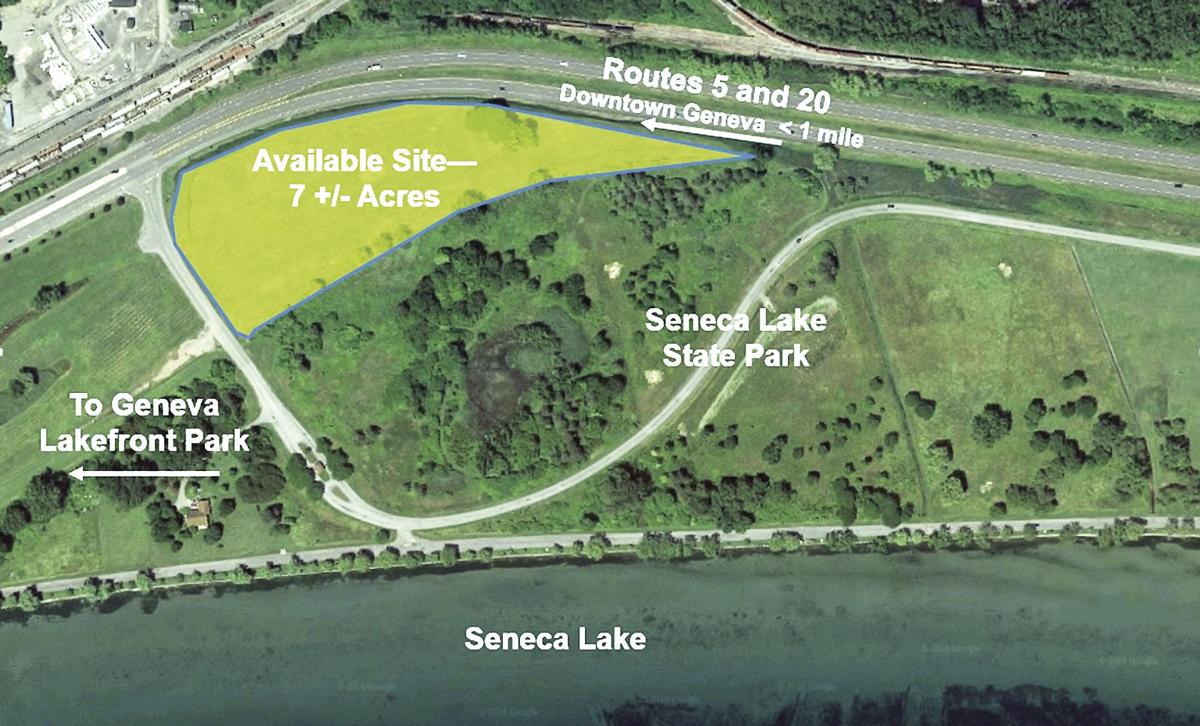 That story pointed to "egregiously high" property taxes in the City of Geneva, and was developed by a pro-business group called Geneva Growth Inc. The study was executed in coordination with the Center for Government Research.
Simply put: The study points out that it would be beneficial to the community, via lowering property taxes, to move forward with a project like a housing plan. The study involved a "theoretical 250-unit" development.
It isn't simple though, and according to City Manager Horn, no one from City Hall is soliciting any proposals for lakefront property along Seneca Lake.
He said on Thursday, "City Council has not, under any circumstances, directed me to seek out lakefront development projects." He went on to call it a 'good thing' that the comprehensive plan is so thorough.
"I think that the comprehensive plan sets a very high bar for the type of development we are talking about, and quite frankly, that's a good thing," Horn added.
It comes down to evidence, according to the City Manager. He pointed to a portion of the comprehensive plan that reads, "We will not ignore evidence-based challenges to public policy proposals…we will creatively solve problems through collaboration and partnership."
To that end, he noted that those who are passionate about developing the lakefront should work to develop evidence-based challenges to the policies of focusing development elsewhere.
Conversely, the City Manager added, "Those who are passionate about preserving the lakefront should do the same to defend that position."
The fight is far from over.
Deputy Mayor John Greco said at the conclusion of Wednesday's meeting that when Mayor Ron Alcock returned from vacation, a public meeting would be held to further discuss the prospect of developing, or not developing the lakefront property.
Residents sounded off with a variety of alternatives, which would benefit property owners in the City — especially those living just north of the railroad tracks owned by Finger Lakes Railway.
Since part of the comprehensive plan calls for connecting Seneca Lake and the City of Geneva — many asked for Council to consider options that would bring them together.
Some even called for the relocation of the railroad tracks and gas company, which currently stand as barriers between property owners and Seneca Lake in that area.
That would be an expensive and challenging move, though.
It's unclear what the next steps will be for Geneva, but seeking out developers — or accepting a development plan proposed by a third-party on a whim does not seem to be in the offing.