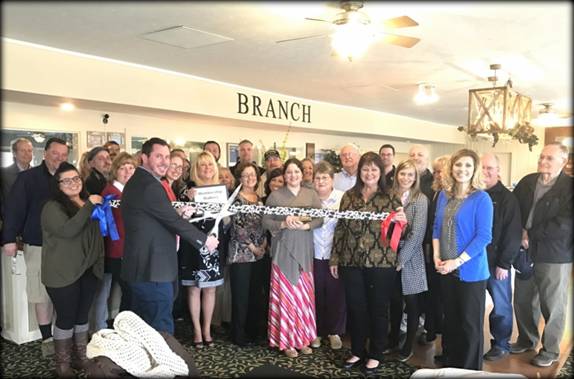 The Geneva Area Chamber of Commerce recently co-hosted a Ribbon Cutting Ceremony to celebrate the grand opening of one of its newest members, Branch by Bellangelo. The event, held at noon on Friday, March 31, included a group photo opp prior to the celebratory ribbon cutting, as well as remarks from the Missick family, refreshments, and a pre-tasting of the winery's new Rose.
Coordinated by the Chamber under its featured Milestone Celebrations program, the event was widely attended by a variety of local business owners, and with nearly 60 guests that arrived in small groups to support the new property; it was the largest Member Milestone Celebration that the Chamber has co-hosted to date. The program, which promotes anniversaries and other significant events for its member businesses, while providing exposure and awareness of local products and services throughout the region, was introduced in 2016 as one of the key benefits that are included with Chamber membership.
Located at 226 Turk Road in Geneva, formerly the Seneca Lake Country Club, Branch by Bellangelo is a satellite tasting room for Villa Bellangelo winery in nearby Dundee. A third winery site, a retail shop and tasting room, also opened last year at Destiny USA in Syracuse.
With expansive views of Seneca Lake, Branch by Bellangelo offers wine tastings and sales, and also boasts an on-site restaurant that features daily specials, weekend brunches, and wine and food pairing events that showcase the use of locally sourced products. The property is available for special events and larger functions as well, and has additional plans for expansion with capital projects that are expected to begin in the near future.
For more information about the Chamber or its programs, including future Milestone Celebrations, please contact the Chamber by calling (315) 789-1776 or emailing [email protected] or visiting www.genevany.com.