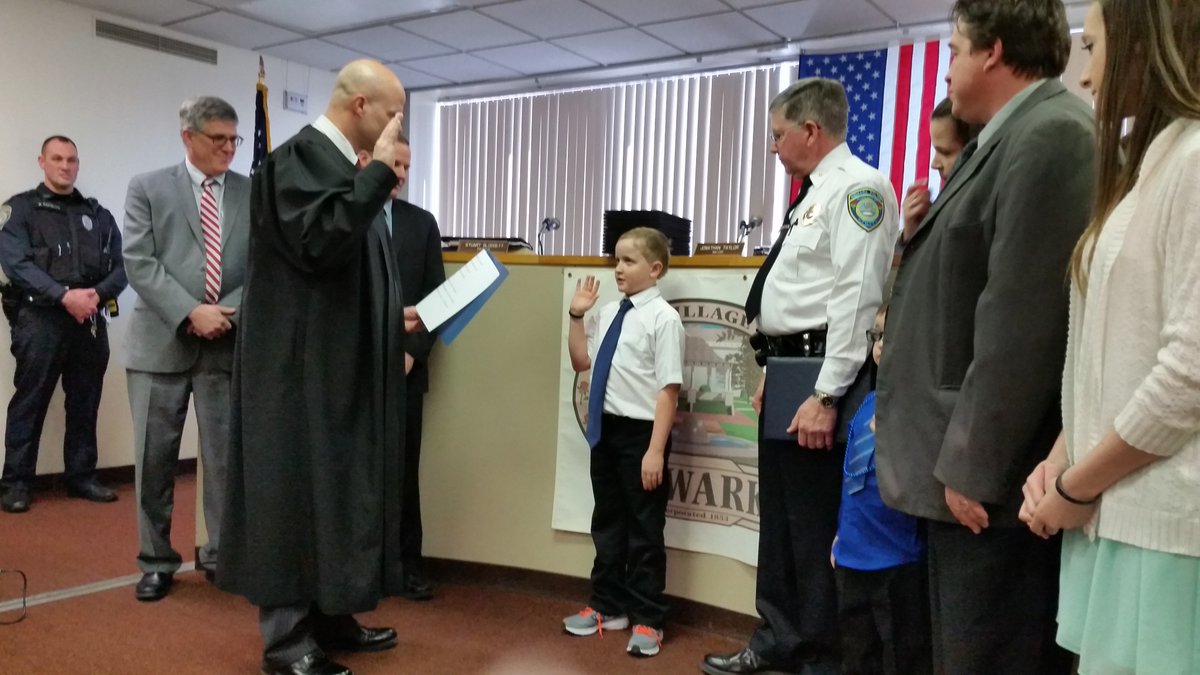 Ten-year-old Robbie "Bugaman" Barrett first knew he wanted to be a policeman when he "was 7 or maybe 6," although his dad believes it was much earlier. Robbie said the fateful decision was made after "he saw [police officers] pull people over," much to the amusement of all those gathered to see him receive a special honor.
The Newark fifth grader saw his dream come true Tuesday night, March 21st when he was sworn in as an honorary Newark police officer at the Village Board meeting. Wearing his black robe, Justice Michael Miller asked Robbie to hold up his right hand and repeat after him, reading the oath every police officer pledges when he or she joins the department. Afterwards, he was presented a "challenge coin" by friend and K-9 Officer Dan Weegar and a 144th anniversary pin from Mayor Jonathan Taylor. And finally, Robbie was given a "Do the Right Thing" award, presented by Police Chief David Christler, for helping a woman who had fallen and couldn't get up or summon help. Robbie ran to the police department and told officers the woman needed help.
The special ceremony made Robbie the youngest police officer in the Newark fleet through sundown on Wednesday, March 22nd. Robbie was set to spend the day with Weegar and his K-9 partner, Mac, taking a tour of the police department, 911 center, attending court and seeing the booking area at the Wayne County Sheriff's Office. Weegar said it was possible Robbie would have his chance to "pull somebody over" as well, although it would be in a controlled environment.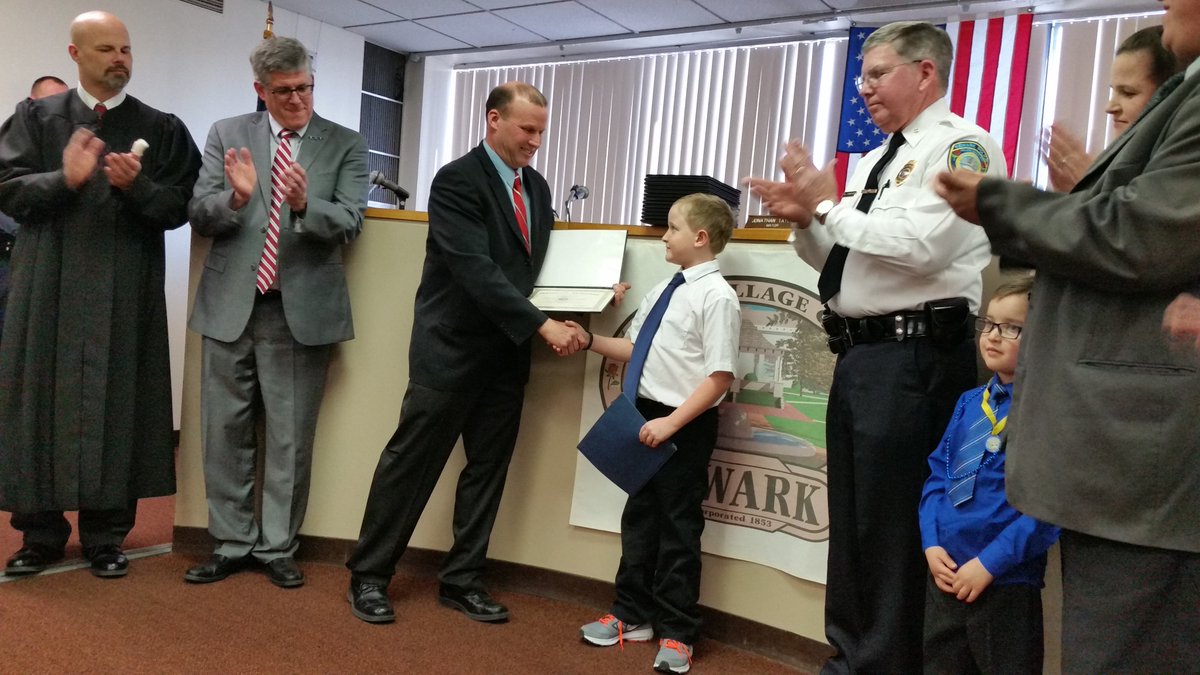 Weegar set up this special ceremony for Robbie after having met the boy and his family more than three years ago.
"When you think of a hero, you think of the guys in blue," the officer said. "Well, this guy's a hero."
When Weegar met Robbie, he had no idea that the youngster was ill. Robbie was born with kidney and bladder disease and has undergone several surgeries at Strong Memorial Hospital in Rochester.
"He's outlived expectations," his dad said. "He wasn't suppose to live past three. We're blessed to have him each day."
When first meeting, Robbie raced down the stairs, Weegar recalled, and had to show the officer all his police memorabilia, consisting largely of handcuffs.Weegar and the Barrett family, including dad Robert, mom Lisa, Ekaterina, 18, Robbie and Landon, 5, became fast friends, staying in touch often. A special bond formed between Robbie and Weegar, who has two young children of his own.
Robbie met and befriended both of Weegar's K-9 partners, the late Fedor and his current partner Mac. Together, they go trick-or-treating on Halloween and walk together at kidney walk events.
"I can't imagine going through what he's gone through," Weegar said of Robbie.
Due to his illness, Robbie takes some 14 medications each day and follows a strict diet. Often too sick to go to school, Robbie still attends class with his friends thanks to a special robot called Penny – something the school sought to get especially for Robbie to stay in school. Robbie can control the robot remotely from home and his classmates can see Robbie on the robot's monitor.
Despite all that he has been through, Robbie is a happy, fun-loving, energetic child, taking part in Boy Scouts and happy to share a joke.
"He's very strong," his dad said. "You would never know he was sick until he lifts his shirt up. He has tons of scars."
"He lives a very adult life," his mom added.
With mountains of medical costs, dad Robert said there isn't a week that goes by that the family doesn't fight with the insurance company to cover costs, but to no avail because Robbie isn't sick enough.
"Do you know how many times we are asked if he's dying?" his dad said exasperated.
What's more, the family can't seek alternative medical options because their insurance won't allow coverage outside of New York state. Robbie has seen his parents struggle with the insurance company his entire life. Despite that struggle and his own health issues, Robbie wants to help others.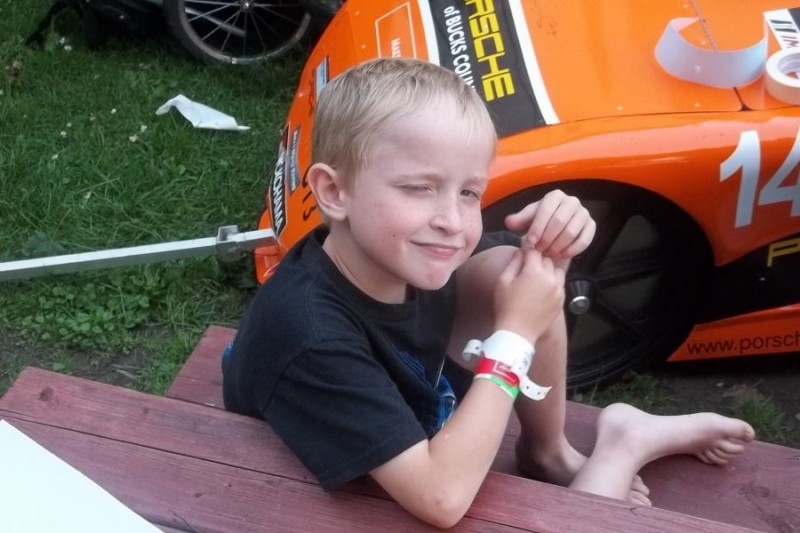 The family has a GoFundMe account, but it's not to help them pay medical bills. The account, called Bugaman's Dream, is for Robbie to start a non-profit organization to help other kids with illnesses and families who are struggling with their own insurance company. To date, the account has raised $1,160 of the $3,000 needed to start his non-profit.
For now, Robbie is a pretty typical 10-year-old who likes pizza and subs and has a special love for car racing.
With Robbie's big day looming, when asked what he was looking forward to the most, the rookie cop said, "Pulling people over."
-Tammy Whitacre, FingerLakes1.com