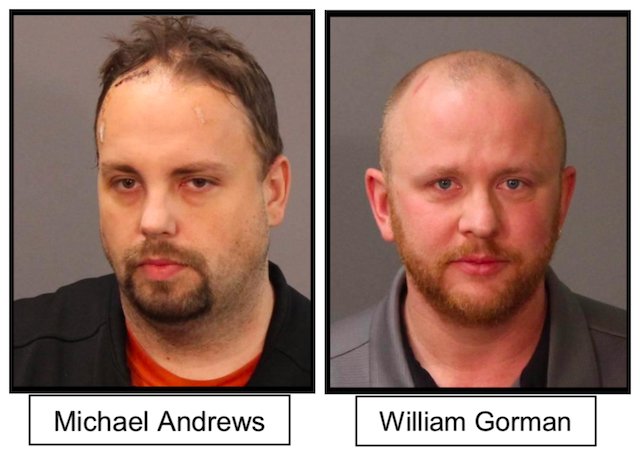 Two people were arrested after a fight and reported stabbing in Owasco last week.
Sheriff Gould reports that on November 30th deputies responded to a domestic incident that occurred at 3582 Koenig Point Road in Owasco. The initial report indicated that two men were fighting and that one had stabbed the other, according to Gould.
Investigation revealed that both of the individuals involved were — at different points — the aggressor in the incident.
Sheriff Gould says that as result, William Gorman, 36, was arrested that day — charged with second-degree assault, fourth-degree criminal possession of a weapon, and endangering the welfare of a child.
He was arraigned in Owasco Town Court and released after posting $1,000 bail.
Meanwhile, Michael Andrew, 37, was transported by ambulance to University Hospital where he was treated for multiple lacerations and released.
Sheriff Gould says Andrews turned himself in to authorities on Wednesday and was charged with second-degree menacing, fourth-degree criminal possession of a weapon and endangering the welfare of a child.
He's scheduled to appear in Owasco Town Court at a later date.
Gould says deputies were assisted by the Cayuga County 911 Center, New York State Police, the Owasco Fire Department, Fleming Fire Department and AMR Ambulance.
He says anyone with additional information regarding this incident can contact Detective Nicole Stewart at (315) 294-8093. Tips can remain anonymous.
The investigation remains active.