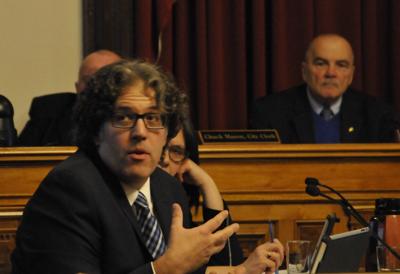 Coordination and leadership were the biggest concerns during an Owasco Lake watershed update in Auburn.
The state Department of Environmental Conservation presented its approach to watershed and lake monitoring at Thursday's Auburn City Council meeting and gave a rundown on it analyzes and monitors water quality in lakes.
Tributary sampling, trend assessment and quantifying the amount of invasive mussels were all touched upon. The DEC also covered the role of Concentrated Animal Feeding Operations, or CAFOs, when it comes to preventing harmful algal blooms.
CAFO farms are granted one of two permits — a Clean Water Act permit or an Environmental Conservation Law General permit. The primary difference between the two is that CWAs are given to any CAFO with a specified source of manure discharge.
To prevent water quality violations, the DEC added a number of conditions to CWA permits, including a ban on manure spreading when soils are frozen or fluid. This was implemented in hopes of preventing runoff from reaching bodies of water like Owasco Lake.
AuburnPub.com:
Read More