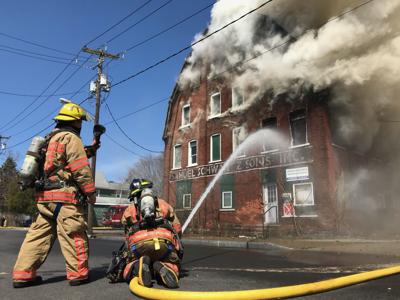 Despite an initially promised sentence of probation, an Auburn teen was sentenced to a state adolescent prison for setting a fire that destroyed a building in April.
Michael Couturier, 16, admitted to Cayuga County Court Judge Mark Fandrich in September that he and a friend entered an abandoned building at 23 Perrine St. and lit a fire. The extent of the damage led the city of Auburn to issue an emergency demolition order and tear the structure down shortly after the fire.
At that time, in exchange for his plea to fourth-degree arson, Fandrich promised to sentence the teen to a term of shock probation and five years of post-release probation supervision.
But just weeks after his release from the Cayuga County Jail, where he had been held since his April arrest, Couturier committed another crime. In Cayuga County Court on Tuesday, Fandrich said that on Oct. 30 Couturier was charged with petit larceny and third-degree burglary by the Auburn Police Department for stealing liquor from an Auburn bar.
"Unfortunately (it's) very evident to me that community supervision isn't going to work," Fandrich said.
The Auburn Citizen:
Read More