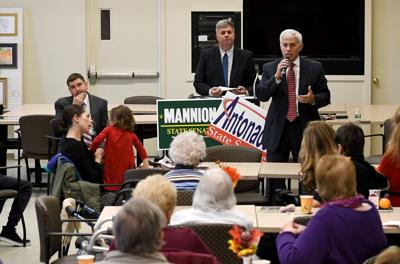 Bob Antonacci was the apparent winner of the 50th Senate District on election night. Now, the Republican is officially the senator-elect.
Following the absentee ballot count in Cayuga and Onondaga counties, Antonacci finished with 62,333 votes. His Democratic opponent, John Mannion, netted 60,010 votes.
Mannion received more absentee votes in Onondaga County, 3,845 to Antonacci's 3,300. But it wasn't enough to erase Antonacci's narrow election night.
Antonacci tweeted last week that he is "humbled by the opportunity to represent the 50th." He announced a series of meet-and-greets in the district. The first is 6 p.m. Monday at DeWitt Town Hall. Other forums will be held Dec. 3 in Clay and Dec. 7 in Skaneateles.
In a statement, Mannion said, "People took the time to complete absentee and provisional ballots. Those votes count just as much as those cast on Election Day. I am very proud of the work of our campaign team and our amazing volunteers that were a force for making sorely needed positive change in our country's politics."
Auburn Citizen:
Read More