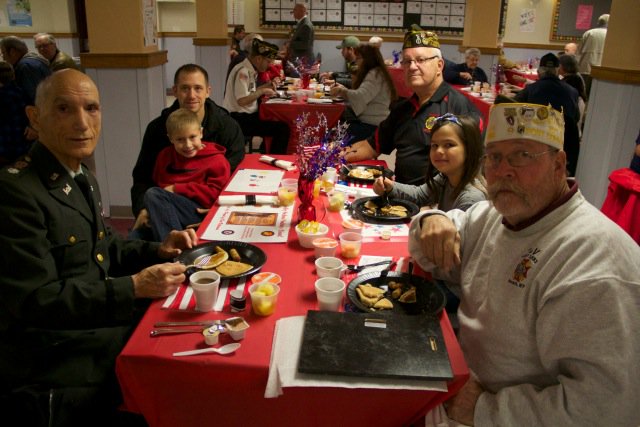 The 15th annual salute to servicemen, servicewomen and veterans at Kelley School November 9th was truly another wonderful tribute this year to those who have served this country and those who are currently serving.
It began in the cafeteria with veterans and active duty military personnel enjoying breakfast with school children related to them at patriotically-decorated tables.
A moving assembly followed with Principal Jeff Hamelinck warmly welcoming all the honored guests calling the opportunity to do so "a great privilege."
"We are truly blessed to honor you today," he said. "Thank you for your service and sacrifice you made at home or in other countries … you put your hopes and dreams on hold and sacrificed much to serve our country."
Hamelinck aptly reminded children about the many rights and opportunities that we may sometimes take for granted, but enjoy as Americans like the right to vote, publicly express our differing opinions and worship wherever we choose. He said these freedoms, and so many others, would not be possible were it not, in large part, to those who served and are serving this country and protecting our nation's liberty.
Encouraging story coming from Newark Central School District later this morning. Stay tuned for more! pic.twitter.com/0s5h2F9krE

— FingerLakes1.com (@FingerLakes1) November 18, 2018
"These men and women collectively have spent many, many days and many years sacrificing their time to serve our country and we benefit from it every day of the week. Thank you for your service to others and for the freedoms we enjoy because of your service he said to the servicemen, servicewomen and veterans seated in the center portion of the packed auditorium.
And then he instructed Kelley School students to make it their goal to express their appreciation as often as possible.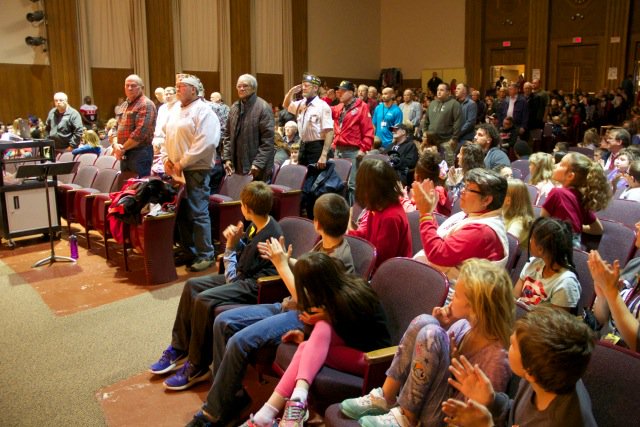 "Whenever you see a veteran, and not just on 11/11 or 11/12 thank them for their service and for the opportunities they have helped provide our country with because of their service,'' Hamelinck continued.
Then the Kelley School third grade chorus, directed by Kelley general music teacher Libby Brozik, sang the "National Anthem."
Then brothers and members of Boy Scout Pack 122, Nicholas DeYulio (5th grader) and Anthony DeYulio (4th grader), each read essays they wrote about what TAPS means to them.
Hamelinck then asked everyone to observe a moment of silence to honor those who died in combat and who are missing in action.
It was followed by TAPS being played by Kelley School band members Brayden Sherman, Nicholas DeYulio, Matthew Murrell, Evan Burley, Autumn Hockenbruckner, Maggie Lynch, Kyla Williams and Brooklyn Hand.
Then Dennis Tellier, President of the Newark Veterans Council – on behalf of both the August Mauer Post 286 of the American Legion and the Arcadia Memorial Post 2883 of the Veterans of Foreign Wars – presented a plaque in appreciation of Kelley School's annual salute to veterans to Hamelinck.
After that some students from The Kelley School Third Grade Chorus then sang "On Veterans Day."
After that, each branch of service was recognized by the playing of its theme song and showing their insignias on banners held by children.
Then Cameron Johnson read an essay.
And lastly, students sang the inspiring and emotion-charged song honoring veterans called: "We Are Proud of Our Veterans."
"It truly has been a pleasure and honor to thank you for the gifts of service you all have given us," Hamelinck said as the assembly came to a close.
The principal also thanked those Kelley School staff and students who were involved in planning for and participating in the annual tribute.