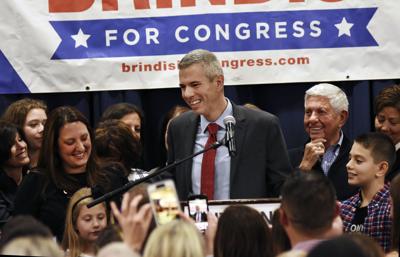 Democratic challenger Anthony Brindisi is the likely winner of the 22nd Congressional District race.
Five of the district's eight counties have finished counting absentee ballots and Brindisi has increased his lead over Republican U.S. Rep. Claudia Tenney. As of Friday, he holds a 3,098-vote advantage over the GOP incumbent.
Brindisi received a boost Friday when Broome County finished its absentee ballot count. He received 2,959 additional votes to Tenney's 1,640. He won one of the 22nd district's largest counties by a nearly 9,000-vote margin, 40,365 to 31,382.
While Brindisi gained votes in Democratic strongholds, he also topped Tenney in GOP-friendly areas. In Herkimer County, which Tenney won on election night, Brindisi received more absentee votes, 659 to 579. And despite Tenney being the overall winner in Madison County, Brindisi was supported by more absentee voters, 1,063 to 739.
Brindisi won the absentee ballot count in Cortland County, 612 to 405. Tenney received more absentee votes in Oswego County, 484 to 359.
AuburnPub.com:
Read More