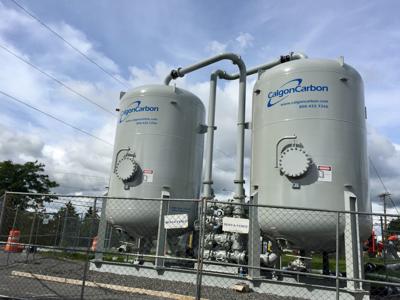 The town of Owasco received help from the state to temporarily address the threat of algal toxins in its drinking water supply. Now, it's getting more support to permanently install systems to filter out any harmful substances.
Owasco will receive an estimated $2.1 million grant for a $3.5 million project to permanently install its granular activated carbon filtration system, Gov. Andrew Cuomo's office announced Wednesday.
The system, which consists of two tanks that contain roughly 20,000 pounds of activated carbon, has been in place since 2017. The purpose of the tanks is to remove cyanotoxins and microcystins from drinking water that has already been treated by the town's filtration system.
The town initially received $1,050,000 to rent the tanks in the first year and purchase them in the second year. The grant also covered the costs of the temporary installation over a two-year period, according to Owasco Supervisor Ed Wagner.
To make the system permanent, Wagner said Owasco needed approval from the state Department of Health. Once the agency signed off on the project, the town could proceed. But the biggest question for town officials was to how to fund the project.
AuburnPub.com:
Read More