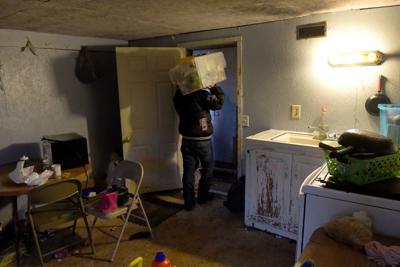 The owner of Melrose Farm was back in Owasco Town Court Monday night with a decision on what he plans to do with a structure he was using to illegally house workers on his farm.
Joe Tidd told Justice Mark DiVietro that since his last court appearance on Sept. 24, he has "totally gutted" the workers' housing building. During his last court appearance, DiVietro told Tidd he had two weeks to decide whether he wanted to bring the building up to code or tear it down.
"There are no sinks, there are no toilets, there are no showers, there are no kitchen sinks, counters," Tidd said. "There's absolutely nothing in it."
In February, Tidd was cited by the town of Owasco for violating building codes and failing to obtain a certificate of occupancy for the structure. As a result, the town issued a cease and desist order for the property. Tidd did not comply with the town's order to bring the building up to code and continued to house workers in the building. He was caught housing workers by Owasco code enforcement officer J. Patrick Doyle in September and as a result, Doyle condemned the property and Tidd was ordered to appear in court.
Now, Tidd said he wants to leave the building up to use it to store dry goods for his farm.