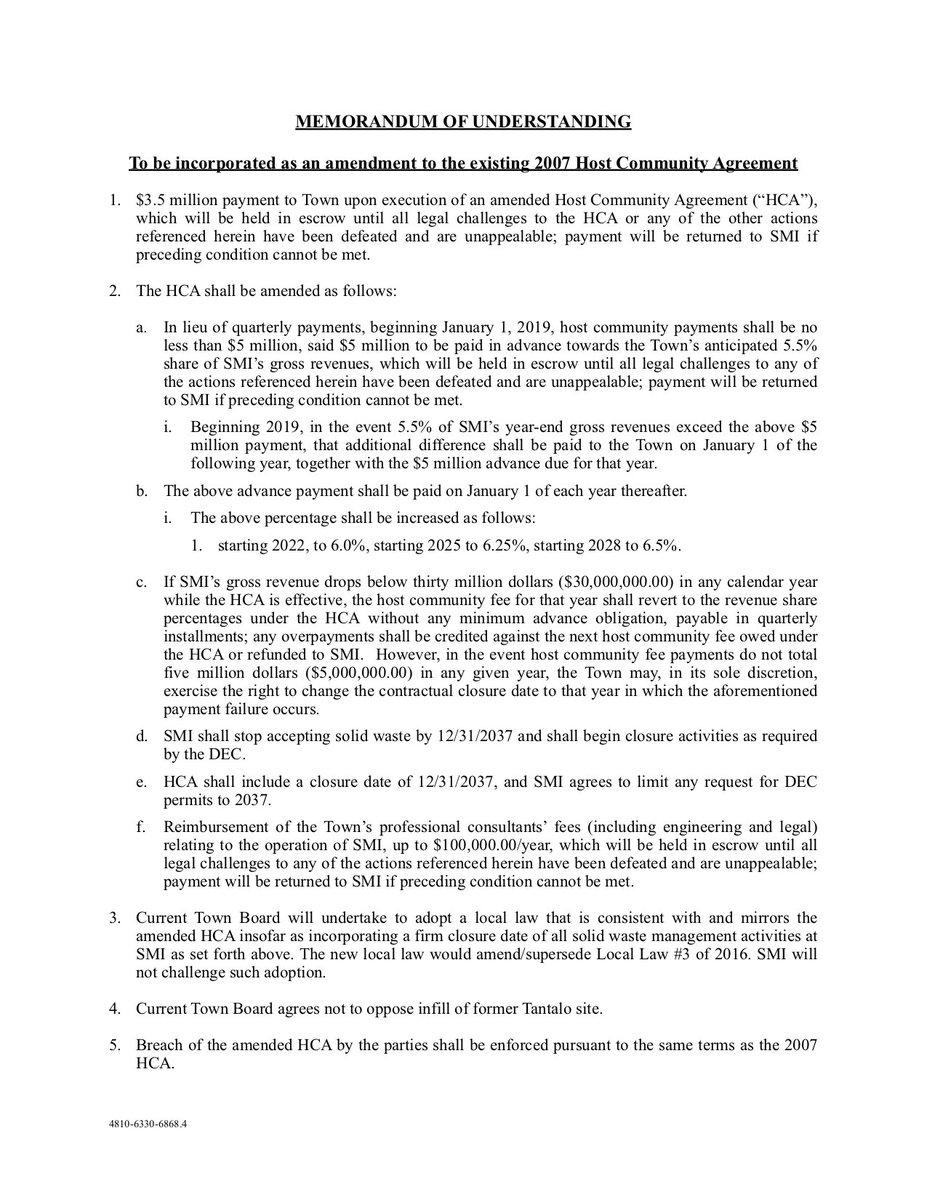 In March 2017 FingerLakes1.com published a timeline of events, which highlighted the contentious debate between supporters and opponents of the Seneca Meadows Landfill, located on State Route 414 in the Town of Seneca Falls.
Local Law #3 of 2016 was passed as one board ended their term; while a new law, Local Law #2 of 2017 was passed, then rescinded. Both centered around the closure of Seneca Meadows – a landfill that accepts upwards of 6,000 tons of waste per day.
Two members of the current board, Supervisor Greg Lazzaro and Deputy Supervisor Lou Ferrara, both Republicans, have voiced interest in renegotiating a host agreement.
However, the public didn't think negotiations were underway. Even among the other three board members, questions appear to loom over whether they approved, or knew about the latest negotiations – which resulted in a $100 million deal.
The updated host agreement pushed closure out 12 years from the proposed date of December 31, 2025. In addition to closing in 2037 – the landfill would also pay the Town of Seneca Falls a minimum of $5 million annually. It's a figure that could grow if the new host agreement were adopted.
That deal was expected to be voted on at October's regularly scheduled Town Board meeting, held on Tuesday. According to residents there was one major problem: Supervisor Lazzaro did not allow petitioners at that session, in which the board was – expected – to act on a deal that would have serious, long-term impacts on public health, the community, and region.
Prior to the meeting, Supervisor Lazzaro said that deal would provide 'economic stability and viability' while bringing economic development into the community. "This will also show Seneca Falls to be business friendly," he explained. "This is a private-public partnership which will strengthen Seneca Falls. The alternative will bring deep cuts to our programs and services, and an increase in taxes. It is a financial agreement that the Town of Seneca Falls needs to embrace."
Deputy Supervisor Ferrara contended that the full-board gave approval to attorney's to negotiate a new deal. "The full-board met over a month ago and gave the Attorney's permission to negotiate with Seneca Meadows. In those negotiations, the proposed agreement was written. Anyone who would like to speak with me can call to schedule a meeting," he explained.
None of that mattered, though, as the board unanimously voted at the start of the session to pull all host agreement related items from the agenda. It was an unexpected move that left many in the packed community center stunned.
The new host agreement would have required that Local Law #3 be overwritten, and a new local law – aligned with closure in 2037 – would be supported by Seneca Meadows.
However, closure would only mean that the facility would stop accepting waste at that point. The facility would remain on a closure schedule, which includes years-worth of steps governed by the DEC and other regulatory agencies.