What's being done to keep students and faculty safe at local schools?
On Tuesday, Seneca Falls Central School District Superintendent Bob McKeveny provided an update to the Town Board on coordinated efforts between the district and the Seneca Falls Police Department. The joint-presentation involved Chief of Police Stuart Peenstra, who said a significant collaborative effort has resulted in safer schools in the community.
The tragedy in Parkland, Florida reminded school officials and law enforcement around the country that these issues need to be thought about frequently, explained McKeveny. "There's an internal plan, which often remains confidential," added McKeveny, who said that the district posts a public safety plan, which outlines school response to various types of threats or emergencies.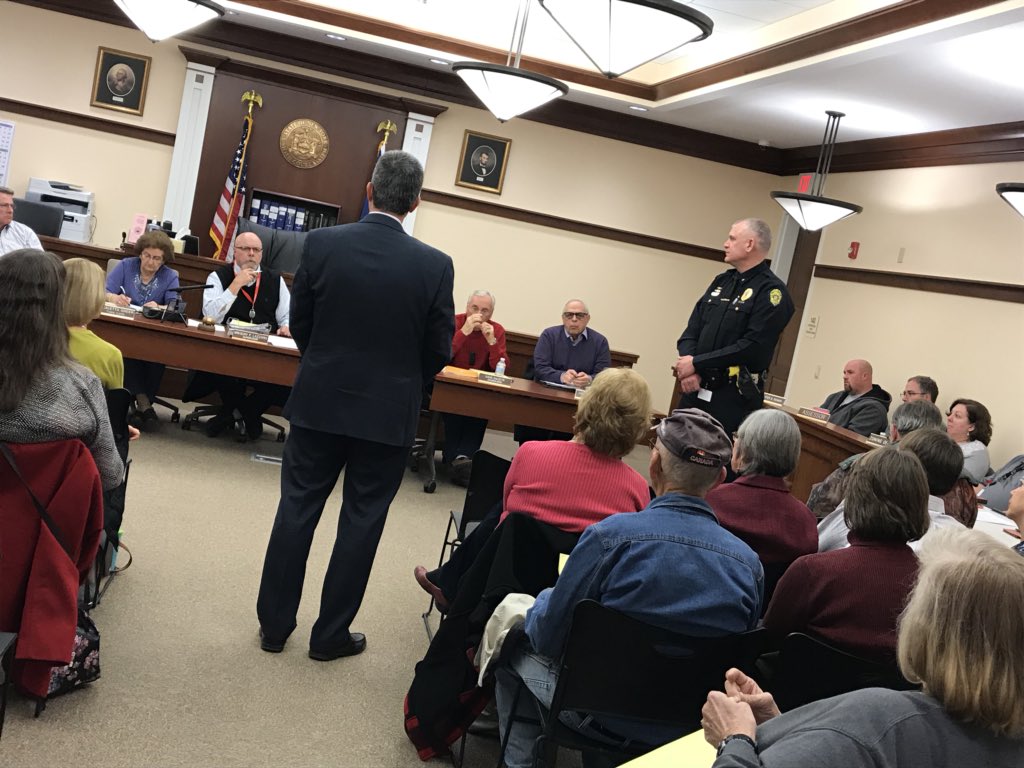 Both McKeveny and Peenstra pointed out that plans go a long way to ensuring that the district is prepared, each situation has to be judged on its own merits and characteristics. "The public safety plan, which is available on the website guides students, faculty, and the public through emergency response inside the school," McKeveny added. "It's posted in every classroom wall, in every hallways, and gives a quick synopsis of what's to be done in the event of an emergency."
Responding to an inquiry by Councilman Lou Ferrara, who asked about the policy and what happens after an event like the one in Parkland – McKeveny said it gives everyone in the district a chance to take a closer look at things. "It's a high priority at all times in school districts. But it's also a great opportunity to make it better. We do this every year, and we're doing it now. We're working with students and teachers to improve it more this year," he explained.
Peenstra said that the various drills that are executed throughout the year – get students ready, but also help first responders hone their response efforts. "Evacuation drills and other tests are necessary to ensure that law enforcement, school resource officers, and others are able to respond appropriately," he said.
The safety plan is a living document, and to that end Peenstra credited the district for taking concerns the police department has seriously. "I give the district credit for looking at everything openly and taking our suggestions seriously," he explained. "We're working toward a safer school district for everyone."
There has been an adjustment period, though, for students who have had to get used to constant lockdown, evacuation, and other drills. "There was a lot of anxiety and angst but as time has gone on students have gotten more comfortable with the need of these types of drills," McKeveny continued. "Where there's things we can learn from – we learn, but the events in the news just add credence to the fact that we need to practice."
The duo momentarily entertained the notion of more school resource officers being placed in districts, as part of an effort to make buildings safer. McKeveny said there's a lot of uncertainty about how the state will move forward – addressing safety in schools. He said that some monetary changes have been discussed to allow for more school resource officers, but various criteria have also been discussed as a gauge for need. Among the possibilities include placing a resource officer at every building, or allowing the district to receive funding for a school resource officer per 1,000 students.
"There are a lot of questions and a lot of uncertainty," he added, pointing out that any number of different scenarios could be chosen.
As for dealing with threats from the inside of a school, McKeveny said that the district has an internal process that involves law enforcement, and any outside services that may be necessary for the student(s) involved. "We do our own internal threat assessment," he said, pointing out that each situation is unique, so that different services may be required for each circumstance. However, he said that if a situation involves a student – the district will work collaboratively with law enforcement, services like counselors or medical professionals, as well as the student's family.
Peenstra added that there is oftentimes follow-up in these types of situations, too.
Both agreed that the success of the School Resource Officer program has paid dividends. "The relationships developed with students is crucial to keeping the district safe," Peenstra added. "It's helped the students connect with law enforcement, and it carries over into the community."
McKeveny said that on top of the success seen with the resource officer in the district – students have become more proactive, too. "It still comes down to what we tell kids all the time: See something, say something," he concluded.