While the word nor'easter will be in the headlines on Wednesday, the Finger Lakes shouldn't see much action from this latest system. The track of the system will be far enough east — where most-forecasters agree that the region will only see light accumulation.
The forecast over the next several days though will be tricky, according to FLX Weather Meteorologist Drew Montreuil.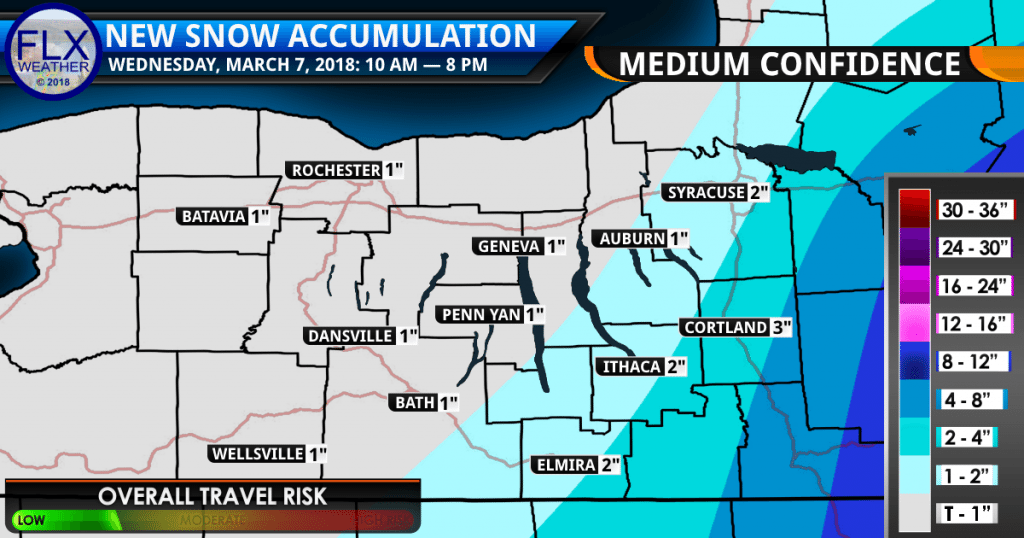 Here's what to expect at a glance over the next several days:
– Montreuil notes that snow will develop during the day for the region, but that the accumulation will be light. Road conditions could become mildly tricky, but no one should expect anything as serious as last week.
– There are some travel restrictions heading east on the New York State Thruway. Check for the latest information from the Thruway Authority on what conditions are like where you're going.
– There are also dozens of cancellations out of regional airports due to the heavy snow along the East Coast. Plan ahead if your travels will take you into the air today or tomorrow.
– Thursday will likely not be too snowy, as temperatures hold in the 30s. Some additional accumulation could be possible on Friday as a 'spray' of lake effect snow kicks up.
– Montreuil says that the cool-and-active weather pattern will likely continue into next week. But, by late-next week warmer weather may start to creep back into the region.
READ MORE: Winter storm should miss the Finger Lakes (FLXWeather.com)
---
---
Scaled back forecast snow amounts along portions of central NY and ne PA. Still expecting heavy snow in the Catskills and Poconos. https://t.co/pCBJMoySY0 pic.twitter.com/eIngGnCM35

— NWS Binghamton (@NWSBinghamton) March 7, 2018
There are already a number of flight cancellations this morning at the Greater Rochester Int'l Airport as a result of the storm along the coast. Check your flight status before heading out the door! #ROC #Noreaster pic.twitter.com/PkGkoao2Tt

— Josh Nichols (@wnywxguy) March 7, 2018
Primary storm to the west of us, coastal storm to the east, here we are: Stuck in the middle with clouds! #ROC #WNY #FLX pic.twitter.com/6zb0HjnRVa

— Josh Nichols (@wnywxguy) March 7, 2018
Strong snow from this nor'easter initially misses CNY, but steadier snow likely late this week.
Get lots of specifics and snowfall maps with my web story: https://t.co/2rFt8i0xKS
Hour-by-hour specifics & snowfall maps now on NBC3. pic.twitter.com/XHDIPylaPu

— Peter Hall (@PeteWeatherBeat) March 7, 2018
JUST IN & as expected: Winter weather ADVISORY has been canceled for Onondaga, Cortland, Tompkins, and southern Cayuga counties. Winter storm warning DOWNGRADED to ADVISORY for Oneida, Madison, Chenango, & Broome counties.
I'm not surprised at this at all pic.twitter.com/El7QWUaMXq

— Peter Hall (@PeteWeatherBeat) March 7, 2018
REMINDER – All tractor trailers, tandems, box trucks, buses and other high profile vehicles will be banned on the Thruway east of exit 36 (Syracuse) beginning at 8 this morning. This includes the Berkshire Spur, I-95, and I-287.
https://t.co/XYprI0z9gM

— NYS Thruway Authority (@NYSThruway) March 7, 2018