A pair of incidents at Cayuga County area schools left a district and middle school on lockdown Thursday morning. While the two incidents are not related, parents first received a message that the Cato-Meridian School District was being placed on lockdown after ammunition was reportedly found inside a backpack.
That lockdown was lifted shortly thereafter, but a second incident had students sheltering in place at the Skaneateles Middle School.
State police arriving at Skaneateles Middle School. Village Police have been here all morning. pic.twitter.com/vgN7R1hoa8

— Justin Page (@JustinPageJPMC) March 1, 2018
According to reports in Cayuga County that lockdown was caused by a bullet, which was found inside the bathroom of the facility.
The lockdown was lifted around 9:30 a.m. in Skaneateles, and replaced with a 'shelter in place' request. That allows students to move about within their rooms, but not inside the hallways of the school.
Skaneateles Superintendent Ken Slentz says the 'Shelter in Place' order has been lifted, and that a student confessed to placing the bullet in the bathroom.
The Cato Meridian incident was investigated by the Cayuga County Sheriff's Office, who provided this update on Thursday afternoon:
"Sheriff David Gould reports that The Cayuga County Sheriff's Office was called to the Cato Meridian High School this morning after ammunition was found in a student's locker. Based on a thorough investigation, it has been determined that this was non-malicious and accidental. There were no threats to safety and no violations of criminal law."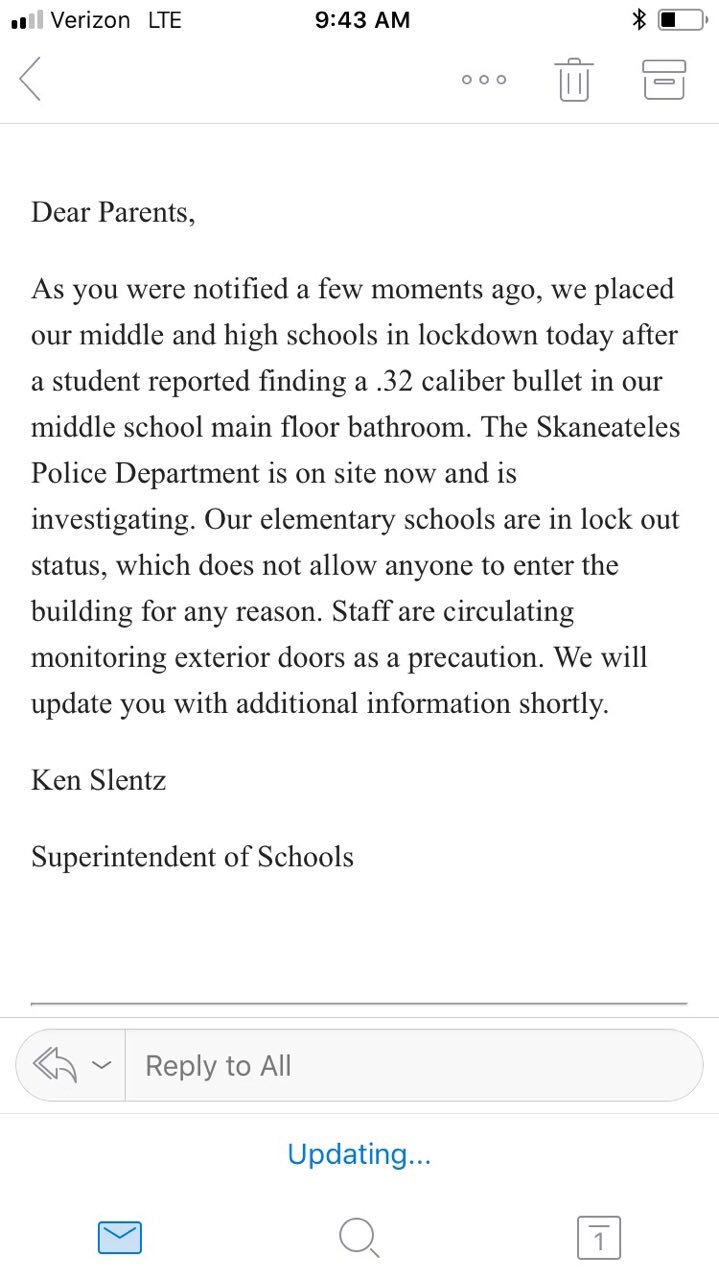 These stories will be updated as more information becomes available.
Skaneateles CSD Superintendent Ken Slentz says police are reviewing video now to find out how the bullet got into the middle school. pic.twitter.com/wjtC5orqfD

— Justin Page (@JustinPageJPMC) March 1, 2018
Per state law, Skaneateles has a District-Wide School Safety Plan with protocols to follow in these situations https://t.co/l7VmUo1834

— Justin Page (@JustinPageJPMC) March 1, 2018