It was a face-paces, albeit low scoring, contest in Penn Yan as the Mustangs hosted Mynderse Academy on Saturday night in a key Finger Lakes East match-up. Penn Yan trailed 18-15 at halftime but came out firing in the third quarter outscoring Mynderse 16-8 to open up 5 point lead. The final quarter was all Blue Devils, however, as they won the fourth 21-5 to capture a 47-36 win and remain just one-game back of Wayne in the league standings.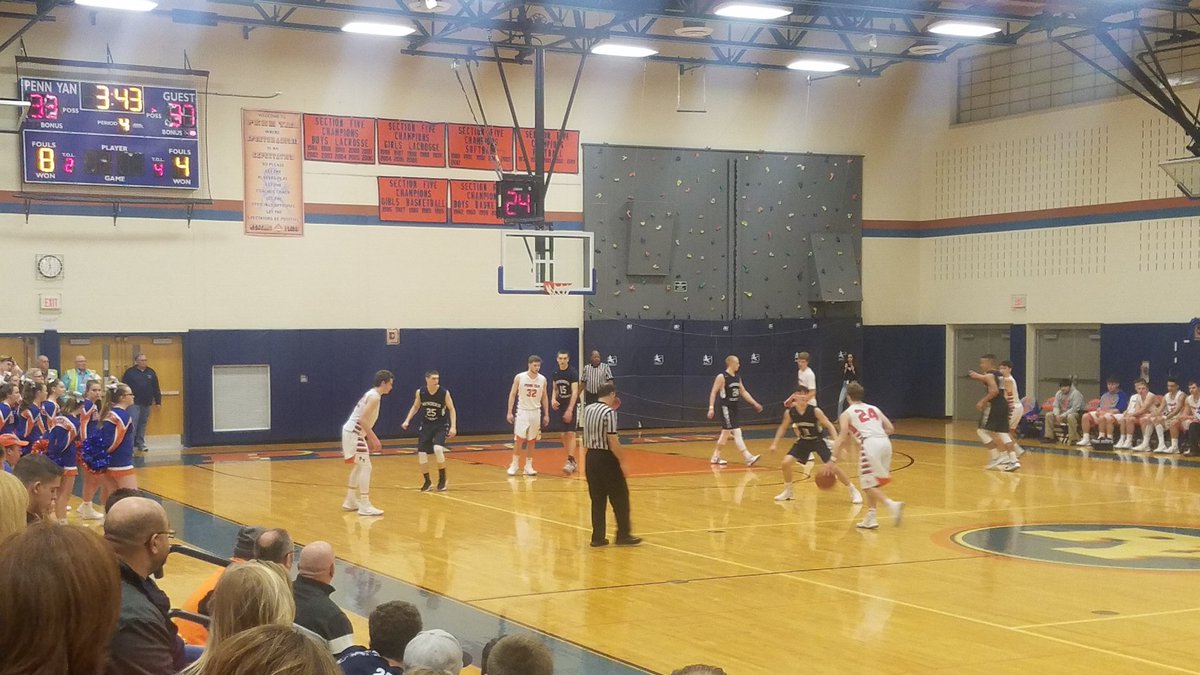 Hunter Haust led the way with 16 points for Mynderse. Kellen Caraher added 9, Darren Miller scored 7 and Devin Anderson had 6 including a big left handed layup late in the game and a pair of free throws inside the final minute.
Penn Yan was led by Dylan Stape's 14 while Desmond Battin scored 10 and Ben Emerson had 8 points.
Mynderse and Penn Yan meet again on February 12th in Seneca Falls.
Check out the last minute of the game from Penn Yan as Mynderse secures the win with free throws…
— FingerLakes1.com (@FingerLakes1) January 28, 2018
In Wayne County, the Lyons Lyons won on the road at Gananda 84-69. Justice Smith had another big night with 24 points, 12 rebounds and 7 assists. Kerel Kelly had a season-high 20 points and freshman Justin Smith scored 16. Sophomore Benji Kemp had a double-double with 10 points and 10 rebounds. Gananda was led by Jayden Castrechini who finished with 18 points.
Justice Smith of Lyons had a nice one-handed dunk in the win although the referee would waive it off. Check it out below…
In the stunner of the night, it took three overtimes for the Waterloo Indians to stun the Newark Reds 60-59. Derek Slywka scored 40 of Waterloo's 60 points. The other 20 points were scored by Mike Hubbard (10), Tim Imhoff (8), and JaiQuon Lewis (2). Slywka also pulled down 12 rebounds and dished out 4 assists.
Newark led 27-16 at halftime but Waterloo came out hot in the third quarter outscoring Newark 20-10. Newark was led by Taylor Clements and Marcel Greene-DeSouza who scored 14 points each. Jayden Peters scored 12.
Congrats to our Varsity Boys Basketball Team on their 60-59 Triple OT win vs Newark tonight.

— Waterloo Athletics (@AthleticsWCSD) January 28, 2018
MORE W-FL BOYS SCORES FROM SATURDAY NIGHT:
CLYDE-SAVANNAH 62 @ SODUS 50
MARION 53 @ RED CREEK 65
NR-WOLCOTT 22 @ EAST ROCHESTER 55
In Girls Action, red-hot South Seneca won their 8th straight game with a 47-39 win over Odessa-Montour. Skylar Shaulis scored 11 points, Emma Fletcher had 9, Jade Parsons scored 9 to go with 11 rebounds and Logan Shaulis contributed 8 points.
The Lady Falcons aren't the only girls basketball team from south Seneca County trending up as we head into February. The Romulus Warriors won their fourth straight game defeating Marcus Whitman 52-46 in Romulus on Saturday night. Romulus will host South Seneca on Tuesday night in a game that can be seen LIVE on FingerLakes1.com.
Also, Waterloo lost at home to Brighton 62-31. Jillian Panek had 8 points for the Lady Indians in the loss.
Recap all this week's action, take a look at the week ahead, and start thinking about Sectionals on Sunday morning's live edition of the Upstate Hoops Podcast which can be viewed below…
.