The Town of Seneca Falls issued a reminder to residents about snow removal policies that are currently in place.
The policy from Section 300-95 of the Town books reads as follows:
All snow, ice, dirt or other obstruction upon any public sidewalk in the Town of Seneca Falls shall be removed by the owner or occupant of the adjoining land immediately after the same is deposited thereon, except as otherwise provided herein.  Upon the failure of the owner or occupant to remove the same, it shall be the duty of the Highway Superintendent to remove the same, and the expense thereof shall be a lien upon the adjoining premises and charged and assessed against the same; and if the same is not paid within 30 days after it shall be due and payable, it shall be certified to the Treasurer of the Town, who shall place the same on the real property tax bill for that year with interest and penalties allowed by law and be collected as other Town taxes are collected.


It shall be the duty of every owner, tenant, occupant or other person in charge of any premises fronting on any public street or alley to remove all snow and ice from sidewalks before 9:00 A.M. following the time of the deposit.

Immediate removal impractical.  When weather conditions make it impractical to remove such snow and ice, the owner, tenant, occupant or other person having charge of any premises as aforesaid shall, within the aforesaid specified time, cause the sidewalk abutting on such premises to be covered with salt, sand, or some suitable material and shall, as soon thereafter as the weather permits, thoroughly clean the sidewalks.
The official update comes after a FingerLakes1.com story was published, outlining questions and concerns raised by residents, business owners, and community stakeholders of existing policy. Seneca Falls Business Association President Ann Sandroni said in a statement over the weekend that this is a policy that downtown businesses have sought answers about for years. "When we were a Village it was done before 7 am after the storm," she said. "Something really needs to be done to ensure the safety and well-being of our customers and tourists of Seneca Falls."
Bev Lombardo, Seneca County Art Council Board Member told FingerLakes1.com in an emailed statement that over this past weekend she found it difficult to get from her car to a sidewalk. She said that took place at 10 a.m. on Monday – more than two days removed from the winter storm.
"Some closed businesses had not shoveled at all. Are they fined for not shoveling?" she asked. Under the current policy, the answer is 'Yes', but it remains unclear how frequently or rigorously the issue is policed.
Deputy Supervisor Lou Ferrara says this isn't a problem exclusive to the downtown setting. "I've seen adults and children walking on our roads the past couple days because sidewalks aren't clear," he said. "Homeowners are not, or have not been cleaning their walkways."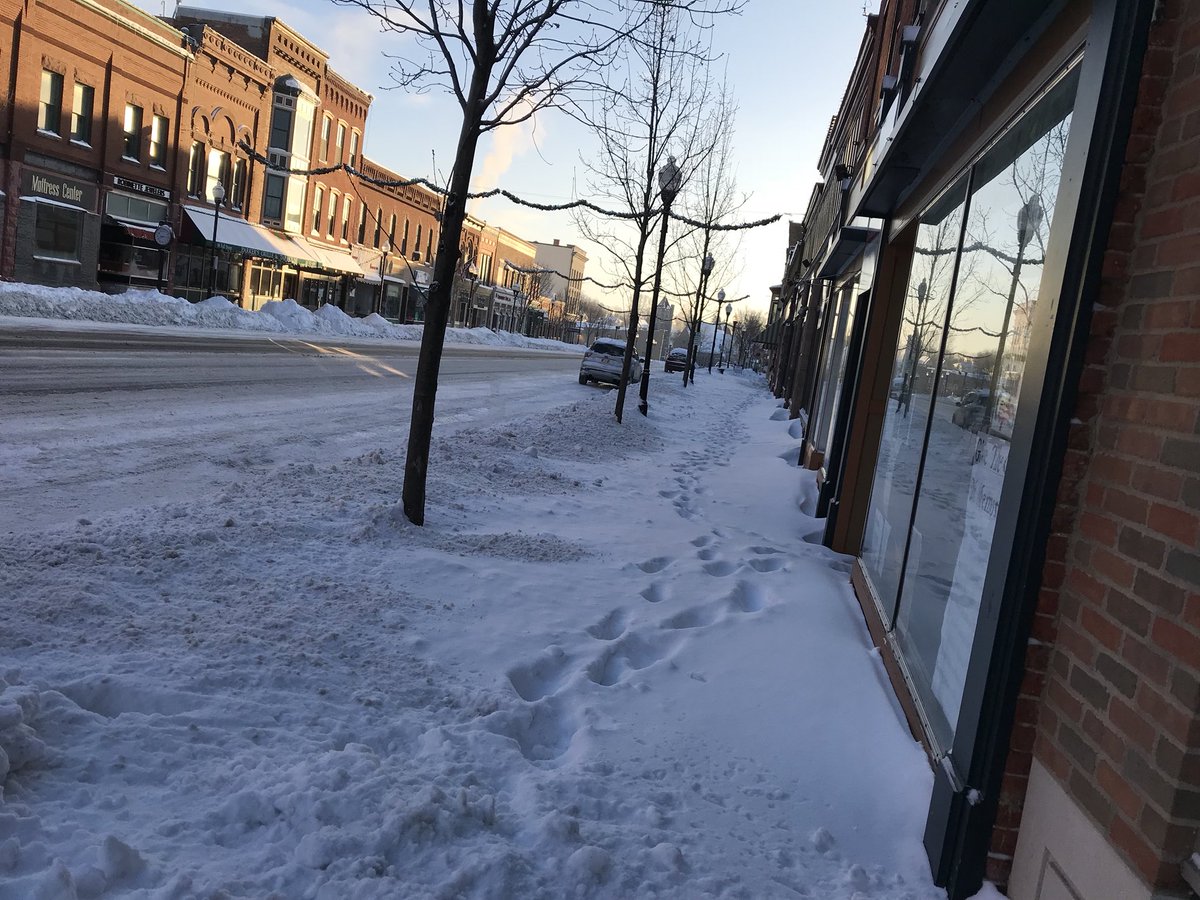 He said that the solution simply requires enforcing what's on the books presently. It's an issue that would be left, according to Ferrara, for enforcement by the zoning officer in Seneca Falls. Those who do not comply with the code, would ultimately be billed by the Town for clearing of that particular sidewalk.
As for the issue of downtown sidewalks, the deputy supervisor says change needs to happen. "I am going to propose that both business districts get cleaned by the Town. It's everyone's business district and to all our advantage to keep it cleaned — sidewalks to road," he continued. "Other towns do it we should too."
During a phone call this week, Supervisor Lazzaro was receptive to change on the policy side with regard to snow removal. However, he did not specific in what ways it might change.
This issue is expected to come up at next month's Town Board meeting, which is already slated to be a busy one. At least two public hearings are scheduled currently, and a third may be added to the night's agenda.