It was up and down action in the gymnasium at Clyde-Savannah High School on Thursday night as Section V Independent C.G. Finney came to town to face the Golden Eagles. Clyde's Derrick Chance would bury three straight three-pointers to end the first half with C-S on top 51-44 but Finney would outscore the hosts 23-14 in the 3rd quarter and would never relinquish the lead winning 93-87.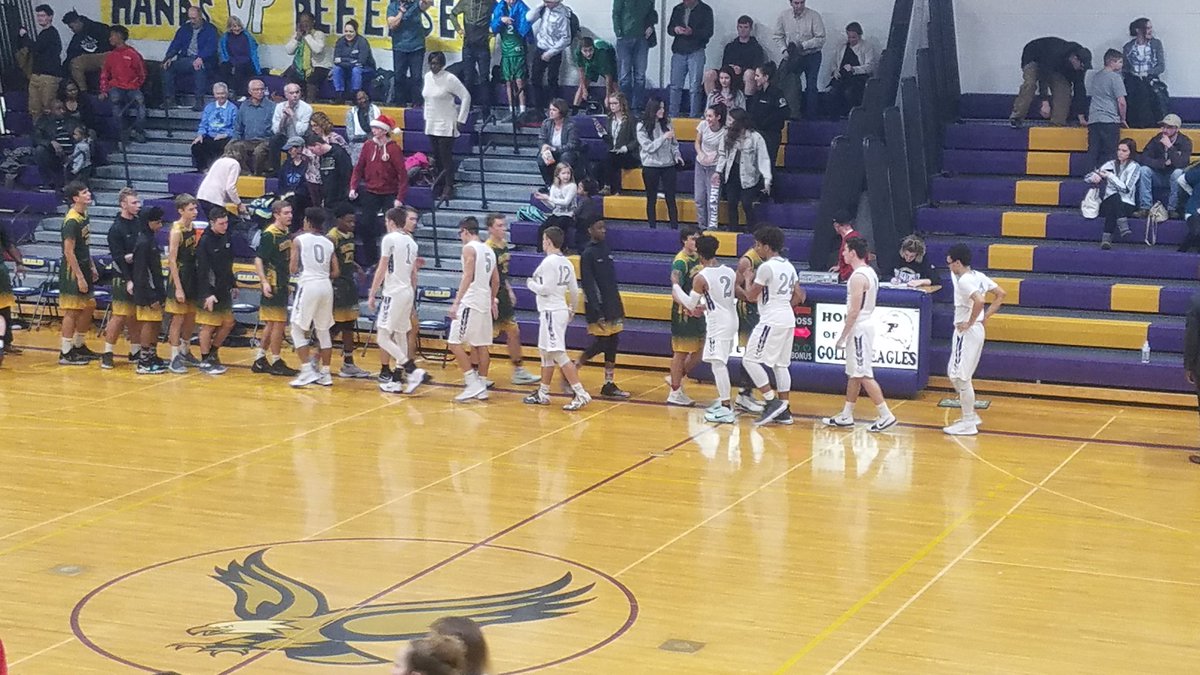 Keegan O'Corr led all scorers in the game with 31 points and teammates Max Harris and Xavier Smith would score 21 and 19 respectively for C.G. Finney. Just four players scored all 87 points for Clyde-Savannah and three of the four were brothers. Derrick Chance had 30, Marcus Chance had 28 and freshman Camden Chance scored 6. Dru Carnevale, the only non-Chance to score, had 23 points as Clyde-Savannah dropped their first game of the season to fall to 5-1. C.G. Finney is classified as a C2 school this season after winning the Section V Class D1 title last season. Clyde-Savannah is in Class D1.
In other W-FL boys action Thursday night…
SODUS 28 @ LYONS 68
Justice Smith scored 20 points, younger brother Justin Smith scored 16 and David Weaver scored 10 as the Lyons Lions below visiting Sodus away 68-28. Just three Spartans scored on the evening. Maliq Burton had 17 and Donnie Knapp and Lonnie Logins had 3 points each. The lone bright spot for Sodus was this steal and slam for Logins…
GANANDA 78 @ RED CREEK 47
Jayden Castrechini scored a game-high 22 points and Steve Heumann scored 16 as Gananda upped their record to 6-3 with a 31 point league win on the road at Red Creek.
RED JACKET 71 @ BLOOMFIELD 61
EAST ROCHESTER 76 @ MARION 43
WILLIAMSON 49 @ NR-WOLCOTT 42
FRIDAY NIGHT BOYS SCHEDULE:
#4 PENN YAN @ #10 GENEVA (Live on FL1 Sports at 7:30 pm)
WATERLOO @ #1 WAYNE
#2 MYNDERSE @ PAL-MAC
HONEOYE @ MARCUS WHITMAN
SOUTH SENECA @ NAPLES
THURSDAY NIGHT GIRLS SCOREBOARD:
CAMPBELL-SAVONA 43 @ NAPLES 65
Naples won their second straight game to improve to 4-3 with a win over Campbell-Savona on Thursday night. Autumn Kunes led the Big Green with 20 points while Faith Glovine scored 17 and sister Sarah scored 12. Haylea Langan had another double-double finishing with 12 points and 15 rebounds.
PENN YAN 41 @ AQUINAS 63
The Penn Yan Lady Mustangs dropped to 2-3 after a loss at Aquinas. Kayla Jackson scored 21 for the winners while Erica Knapp added 18.
WAYNE @ WATERLOO (Postponed)
FRIDAY NIGHT GIRLS SCHEDULE:
#2 BLOOMFIELD @ #5 RED JACKET
#6 PAL-MAC @ #4 MYNDERSE
NEWARK @ #1 MIDLAKES
#7 GENEVA @ PENN YAN
#3 RED CREEK @ NR-WOLCOTT
GANANDA @ #10 LYONS
MARCUS WHITMAN @ HONEOYE
EAST ROCHESTER @ WILLIAMSON
SODUS @ MARION
FL1 SPORTS PROGRAM ALERT:
The Upstate Hoops Podcast will be live at a special time this weekend, on Saturday at 11:00 AM. Guests will be a pair of Midlakes Screaming Eagles as junior Alaina Forbes and freshman Cara Walker will be in-studio to talk about the early season success of the top ranked team in FL1 Sports Girls Power Rankings.
MORE THURSDAY NIGHT TWEETS:
Great crowd tonight. Thanks for the Home court advantage!

— Zac Young (@Zacyoung25ad) December 22, 2017
Win with class. Lose with class.

— maliq (@maliq_burton9) December 22, 2017
This was a fun one to write. Two good guys I've known for a while. Thanks to them for being good sports + an #AGR "Wrestling" you've never heard! @PCSDAthletics https://t.co/Xp1s5vQDk4

— Jeff DiVeronica (@RocDevo) December 22, 2017
Wonderful evening at the @Newark_HS Academic Awards dinner. Thanks to Brian Sharp for coming back as an alumnus to inspire our current scholars. Then to @NewarkAthletics for wrestling with the over the top Coach Baum! pic.twitter.com/7iIaXjt6tB

— Matt Cook, Ed.D. (@Matt_l_cook) December 22, 2017
>>News<< | Need something to do after the New Year? Come out and enjoy some back to back #Mustangs basketball. pic.twitter.com/ONmIJWVhj3

— Penn Yan Mustangs (Archived) (@pennyanmustangs) December 22, 2017