For the first three quarters of 2017, only four of New York's 62 counties saw their sales tax revenue increase by more than 8 percent.
Data released by the New York State Association of Counties notes that Seneca County, home to del Lago Resort & Casino, and neighboring Cayuga County, just 10 miles east of the gaming center, are among the four counties that have seen an increase.
While sales tax revenue for all of New York state is up 2.9 percent for the first nine months of 2017 compared to the same period in 2016, Seneca County's sales tax revenue is up 9 percent year-over-year for the first three quarters of 2017. Cayuga County has seen a sales tax revenue increase of 10.2 percent.
By comparison, the average county increase in sales tax revenue outside of New York City (which saw a 3.5 percent increase) is 3.7 percent.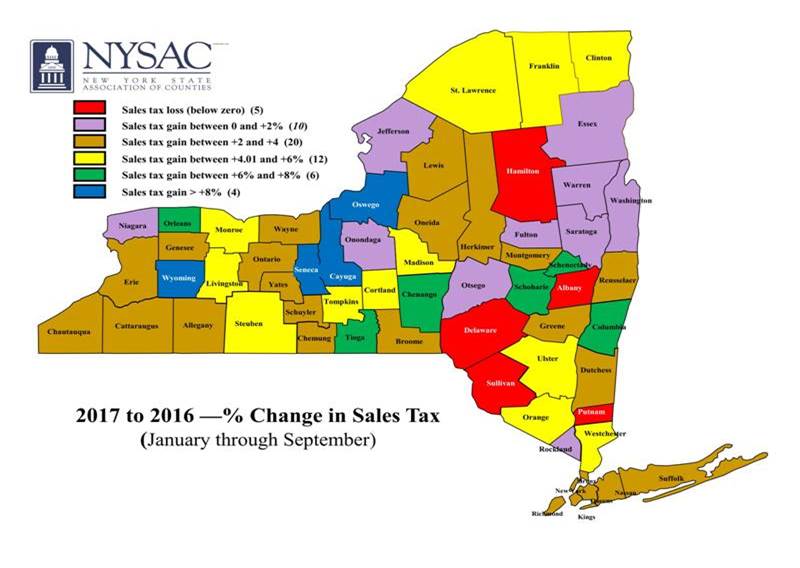 "From the start, del Lago Resort & Casino has worked to increase economic development and opportunity for the people of the Finger Lakes region," del Lago Executive Vice President & General Manager Jeff Babinski said. "By increasing tourism in the region — traffic at del Lago's Thruway Exit 41 is up nearly 50 percent — del Lago has helped generate additional new revenue for local governments through increased sales tax collections. And that's in addition to helping Seneca County have one of the lowest unemployment rates in the state."
Hundreds of jobs have been created at new and existing local businesses — restaurants, wineries, retail outlets, service providers, etc. — throughout the region as a direct impact of del Lago opening last February, and that number will continue to grow.
Additionally, area businesses are seeing a significant increase in revenue since del Lago Resort & Casino opened. Joseph Gagliostro, owner of Muldoon Dry Cleaners Inc. in Auburn, has seen his delivery volume increase by 50 percent. Gagliostro directly attributes this substantial growth to the resort and casino.
"As a third-generation owner of Muldoon Dry Cleaners, I am deeply appreciative of the partnership we have established with del Lago Resort & Casino," Gagliostro said. "As a result of the casino opening, we have added a second wash unit, another new delivery truck and hired an additional employee, and we don't see business slowing down. In addition to the increase in our commercial business with del Lago, we have seen an uptick in foot traffic and new customers coming from the casino — whether they heard of our business because of del Lago or they are employees who now use our store for their personal dry cleaning, we continue to see our business grow."
Muldoon Dry Cleaners is responsible for dry cleaning del Lago guests' personal items, as well as all staff uniforms. Because of the volume from del Lago Resort & Casino, Gagliostro has been able to further invest in his company and upgrade other pieces of machinery to better serve all of Muldoon's customers.
Dan Pilat, owner of Waterloo's Pilat Graphic Design, has also seen business double since neighboring del Lago Resort & Casino opened its doors. Because of the volume of work coming from the resort and casino, Pilat has purchased a new flatbed printer, allowing the design business to expand service offerings, which had resulted in increased business and new accounts.
"The work we have been producing for del Lago has helped us expand the services we offer current customers and has also allowed us to bring in new customers we wouldn't have been able to attract before we had the del Lago business," owner Dan Pilat said. "We have also added two new staff members to meet our growing needs."
"From the very beginning, we vowed to be a tremendous community asset and steward — it's part of our mission and part of our business plan," Babinski said. "We are thrilled that del Lago has already had such a positive impact on local businesses and our host community. We are inspired to continue helping local businesses expand, creating even more new jobs, and to continue helping local governments throughout the region. Given our impact on jobs, tourism and local revenues, it's clear that del Lago has been an incredible first-year success story."