It's going to be an active weather day on Sunday, which will lead into an active morning commute for some in the Finger Lakes on Monday.
The National Weather Service has issued a Wind Advisory, Winter Weather Advisory, and Lakeshore Flood Warning for different parts of the Finger Lakes. All of these advisories last through the day on Sunday, and some go into the start of the holiday work week.
Here is the latest on the advisories and warnings:
Winter Storm Watch
The National Weather Service has issued a Winter Storm Watch for parts of Central New York, which includes the northern portions of Cayuga County. Onondaga County is also included, so those traveling east on the New York State Thruway Sunday into Monday should use extra caution.
The Watch runs from Sunday afternoon into Monday evening. While snowfall totals are not expected to be record-breaking by any stretch, they will be enough to cause headaches on area roadways. According to the National Weather Service, between 5 and 9 inches of snow is possible.
NWS: Winter Weather Advisory for Northern Cayuga County
Wind Advisory
The National Weather Service has issued a Wind Advisory for Seneca, Cayuga, Onondaga, Yates, Schuyler, Steuben, Tompkins, Cortland, and Broome counties. The entire Southern Tier, and most of Northern Pennsylvania are also included in the advisory.
It expires at 5 pm on Sunday, and the greatest risk will be gusts, which could exceed 40 or 50 mph. The National Weather Service says that the strong winds could blow down limbs, trees and power lines.
Scattered power outages are expected, but monitor the links below in the resource center for the latest outage information.
NWS: Wind Advisory for Cayuga, Seneca, Yates, Tompkins Schuyler & Steuben
Lakeshore Flood Warning
The National Weather Service says strong northwest winds will strengthen during the morning hours and continue into the evening. The warning is active until 1 am on Monday; and includes Monroe and Wayne counties in the Finger Lakes.
They say a 'significant' increase in shoreline erosion, especially in areas where the lakeshore is unstable following the erosion from earlier in the year is possible. Forecasters said that with the combination of still above-normal lake levels, with high winds – the threat level increases.
NWS: Lakeshore Flood Warning for Monroe, Wayne counties
Other Resources:
– FingerLakes1.com Weather Center
– National Weather Service (Buffalo)
– National Weather Service (Binghamton)
– NYSEG Power Outages (FLX)
– RG&E Power Outages (WNY)
– National Grid Power Outages (CNY)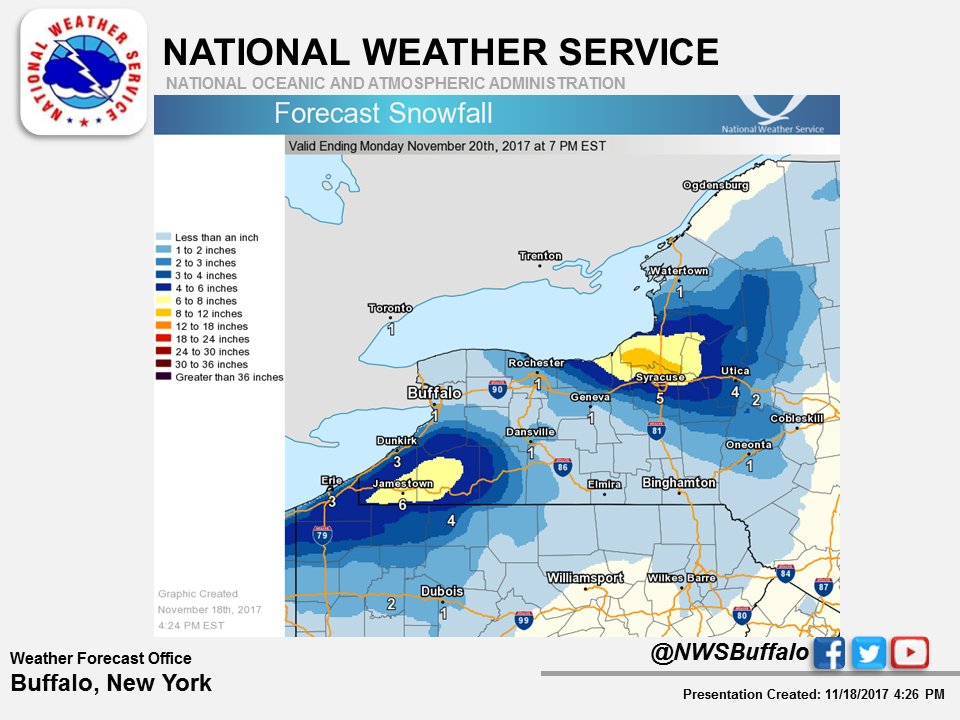 A wind advisory is in effect for our area from 4 a.m. until 5 p.m. Sunday. Also, for anyone traveling north, a winter weather advisory in in effect for lake effect snow. A briefing is available here: https://t.co/QvZYwqa1RU #nywx #pawx pic.twitter.com/EuA1sJwitc

— NWS Binghamton (@NWSBinghamton) November 18, 2017
A Winter Storm Watch in in effect for Oneida, Onondaga, and Madison counties from late Sunday afternoon through Monday Evening for lake effect snow. Here is a map of expected snow totals. There is also a briefing available https://t.co/QvZYwqa1RU #nywx pic.twitter.com/gU2Kh7snTI

— NWS Binghamton (@NWSBinghamton) November 18, 2017
NEW ALERTS
-Wind Advisory for gusts expected TONIGHT and TOMORROW.
-Winter Storm WATCH for Lake Snow Sunday evening through Monday. Several inches expected.

More on https://t.co/74PHfAncxg ! pic.twitter.com/GkelqNCLjK

— Molly Matott (@MollyTott) November 18, 2017
Here's the print version for everyone looking for more in depth weather coverage for Sunday and early Monday. #ROC #NYwxhttps://t.co/Opz0jCEbOe

— Mark McLean (@Wxandgardenguy) November 19, 2017