Multiple fire departments in Cayuga County were called to the area of Main St. and Sunset Beach Dr. for a garage fire Monday evening.
The first crew on scene declared a working fire, and the size of the blaze prompted a response from Aurora, Union Springs, and Poplar Ridge fire departments. Aurelius RIT was also called to the scene.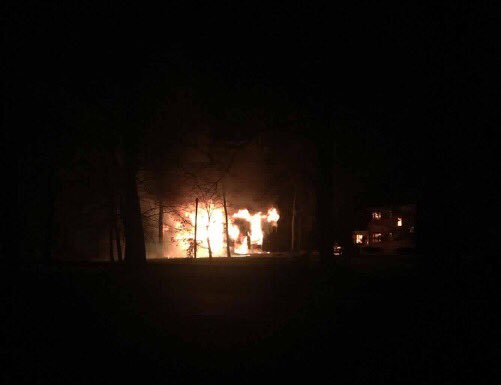 Photos shared to social media by local residents show how intense the flames were at the peak of the blaze.
The Scipio Fire Department was also dispatched to the scene after more than 30 minutes of fighting the blaze.
AMR Ambulance was on-scene tending to a firefighter who was reported 'down' mid-firefight. It's unclear what the circumstances were, which led up to the 'firefighter down' call, but according to first responders, it happened shortly before Scipio was called to the scene.
More photos from the scene in Aurora. pic.twitter.com/dYQC8dJEua

— Josh Durso (@FLXJosh) November 14, 2017
Owasco was called to the scene roughly 45 minutes after crews arrived on-scene, according to first responders. They were called to fill airtanks for firefighters.
First responders indicated that the fire was out within 30 minutes after arrival.
This story will be updated as more information becomes available.