The rain will move out during the morning hours on Monday, but the winds will continue to whip behind the storm that brought inches of rain to the Finger Lakes on Sunday and early-Monday.
While localized issues were reported throughout the region — many of the concerns were not realized due to abnormally dry conditions that were present prior to its arrival.
That said, High Wind Warnings and Lakeshore Flood Warnings remain active through most of the day — if not into Tuesday morning.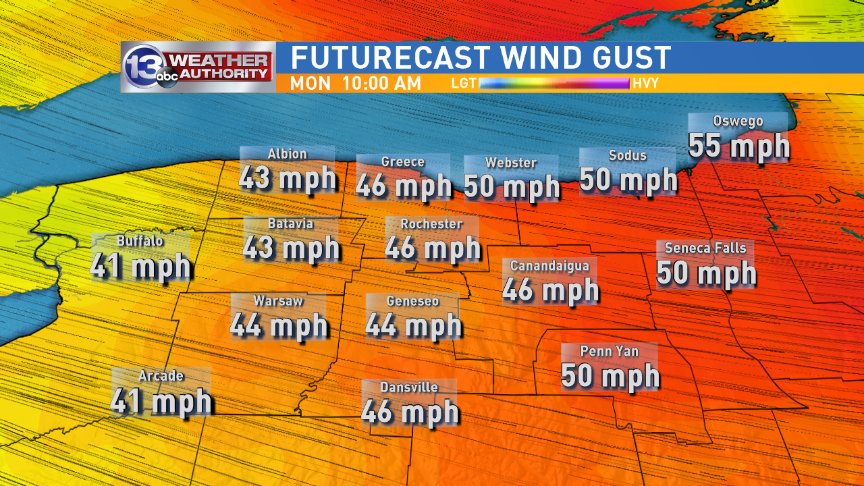 The Lakeshore Flood Warning for those counties bordering Lake Ontario remains active until 5 am on Tuesday. The National Weather Service says strong northwest winds will be developing and becoming westerly.
This combination will create wave action along the shoreline that will cause increased erosion and possibly produce minor flooding, according to the National Weather Service.
This is most-concerning for those who saw significant flooding, or damage earlier in the year from a prolonged lakeshore flooding event due to higher-than-normal levels of Lake Ontario.
The High Wind Warning remains active until 5 pm on Monday. The National Weather Service says Monroe, Wayne, Northern Cayuga, Oswego, and Onondaga counties could see winds in excess of 65 mph.
They will be sustained out o the west at 30-40 mph, which could result in downed trees, power outages, and minor property damage.
A Wind Advisory remains active for the rest of our viewing area.
Check below for the latest resources from the National Weather Service and others.
Check the resources below for the latest watches, warnings, and other useful information.
Other Resources
– FingerLakes1.com Weather Center
– National Weather Service (Buffalo)
– National Weather Service (Binghamton)
– NYSEG Power Outages (FLX)
– RG&E Power Outages (WNY)
– National Grid Power Outages (CNY)
More from Social
The rain is rapidly shifting east into #CNY. Concern now is for some damaging wind gusts this morning. Peak winds (50+) arrive next 3-5 hrs. pic.twitter.com/tknfFxluJi

— Mark McLean (@Wxandgardenguy) October 30, 2017
Lake Ontario is a MONSTER right now at Sodus Point, NY–60 MPH gusts @spann @JimCantore @StephanieAbrams @StormHour @wnywxguy @NWSBUFFALO pic.twitter.com/248JXDTVJO

— John Kucko (@john_kucko) October 30, 2017
Here's what we're anticipating for wind today. Areas near the lakeshore could see gusts of 50, possibly 60, mph. pic.twitter.com/nqcbzickdb

— Marty Snyder 13WHAM (@MartySnyder13) October 30, 2017
Wind Advisories and Warnings are in effect. 65MPH possible Eastern Lake Ontario shoreline! pic.twitter.com/tBc1obE6zd

— NWS Buffalo (@NWSBUFFALO) October 30, 2017