Dr. Thomas De Vita, Chair of the NYCC Board of Trustees, administered the presidential oath of office to Dr. Michael A. Mestan before dozens of educational and civic leaders, along with hundreds of students, faculty, staff, family, and friends of the institution. The Presidential Investiture Ceremony to inaugurate the College's sixth president was live-streamed for those not able to be present in the College's 350 seat Delavan Theater.
Following addresses expressing confidence and support by the two previous NYCC presidents, Dr. Kenneth W. Padgett (1990-2000) and Dr. Frank J. Nicchi (2000-2017), Dr. Mestan passionately pledged to fill the very large shoes of his predecessors and lead the college to continued success.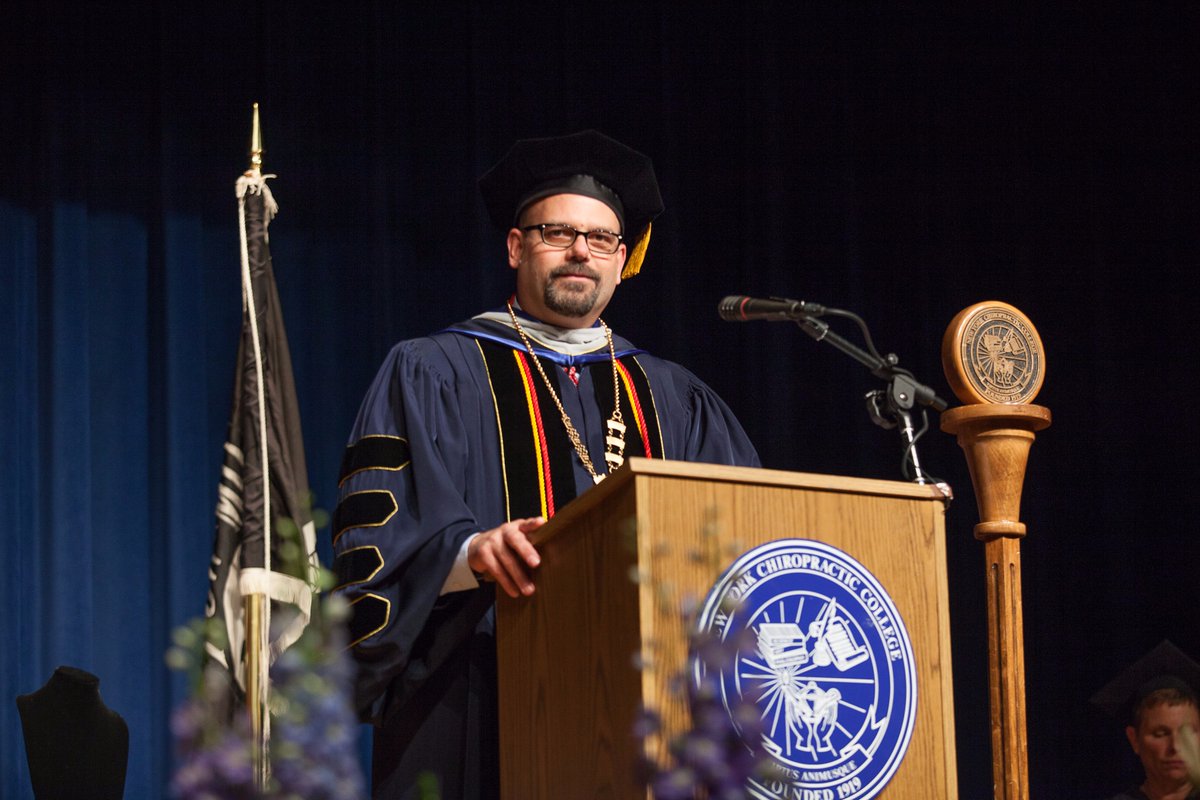 During his speech, Mestan said: "As NYCC approaches its 100th anniversary in 2019, we embrace our legacy even as we look toward the future. I am indebted to those who served before me. I look at the lineage of Presidents, faculty, staff, students, and alumni who love and have loved NYCC. And I pledge that this love shall continue. I will work enthusiastically to build on the excellence of what we are doing now, to set a course to achieve goals to which we are committed, and to demonstrate by evidence and action the extraordinary value the New York Chiropractic College offers to its stakeholders and the public."
At the conclusion of his remarks, Mestan said: "It is humbling to be a part of something bigger than myself, and it is my greatest privilege to serve as NYCC's sixth president."
The Investiture was attended by delegates from 14 colleges and universities, some from as far away as California, Oregon, Missouri, Texas, and North Carolina. Representatives of various affiliated national organizations including the National Board of Chiropractic Examiners, the Federation of Chiropractic Licensing Boards, the Council on Chiropractic Education, the Association of Chiropractic Colleges, and the American Chiropractic Association also attended.
Dr. Mestan studied higher education leadership at the University of Rochester's Warner Graduate School of Education, where he earned Master of Science and Doctor of Education degrees in educational administration (with a specialty in higher education). He and his wife, Jill, are the parents of three children.
Following its meeting in October 2016, the NYCC Board of Trustees announced the selection of Dr. Mestan as the College's next president, effective upon the retirement of Dr. Nicchi, who served the college for 37 years, with the last 17 as its fifth president.
About NYCC:
New York Chiropractic College is focused on providing diverse educational programs that train students for solo careers or positions within integrative healthcare. The college offers degrees in chiropractic, acupuncture and Oriental medicine, diagnostic imaging, and life sciences. The school is a community resource, too. In addition to offering membership to its Fitness Center, its library and media center are open to the public, providing access to health-related information not commonly found in public libraries. The campus also offers an integrated health center where patients can receive a variety of complementary and alternative therapies. For more information about the College, visit www.nycc.edu
If you would like more information about this topic, please contact Dr. Todd Knudsen, NYCC's Vice-President of Institutional Advancement and Special Projects, at 315-568-3146 or email at tknudsen@nycc.edu.