How real are the traffic implications of del Lago Resort & Casino's opening in February?
Data released by the New York State Thruway Traffic Advisory Group shows a significant increase in traffic at the Exit 41 interchange in Tyre.
Prior to del Lago's opening, the average monthly traffic was noted at 266,306 vehicles. Since that opening — the average monthly vehicle count has skyrocketed to 381,477.
The numbers peaked in mid-summer when more than 440,000 vehicles traveled through the interchange during July and August. Even as the numbers declined in September, more than 370,000 moved through the growing exit.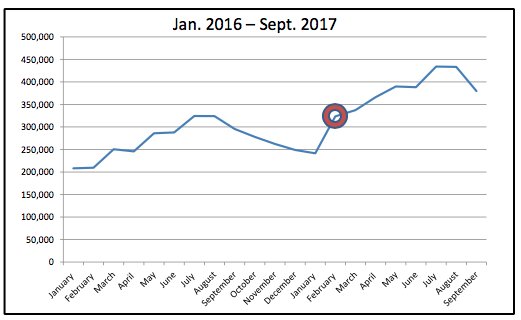 Traffic numbers typically hit their "low" points during January and February, but in February of 2017 — when del Lago Resort & Casino opened it's doors for the first time — traffic jumped significantly from less than 250,000 in January to around 325,000 vehicles.
"This shows the impact that del Lago Resort & Casino has had on the entire county," said Seneca County Board of Supervisors Chairman Bob Shipley (R-Waterloo), who released the data to FingerLakes1.com on Monday.
Shipley noted that many expected the traffic to grow — but that these figures blew away expectations.