This week about 200 performers assembled at the Waterloo High School to practice for part of their U.S. Tour.
The Kidsgrove Scouts Drum & Bugle Corps make the U.S., a regular part of their travel competition schedule. Based out of the Europe and formed in 1910 — Kidsgrove provides music and dance education through competition.
It begs the question, though: How does a drum and bugle corp from the U.K.-area end up in Waterloo?
Daniel Hacker, High School Band Director, wanted to watch them practice the first time they were going to be in the area. "I came across them on Facebook, and reached out to see if I'd be able to watch them practice before a competition," he recounted.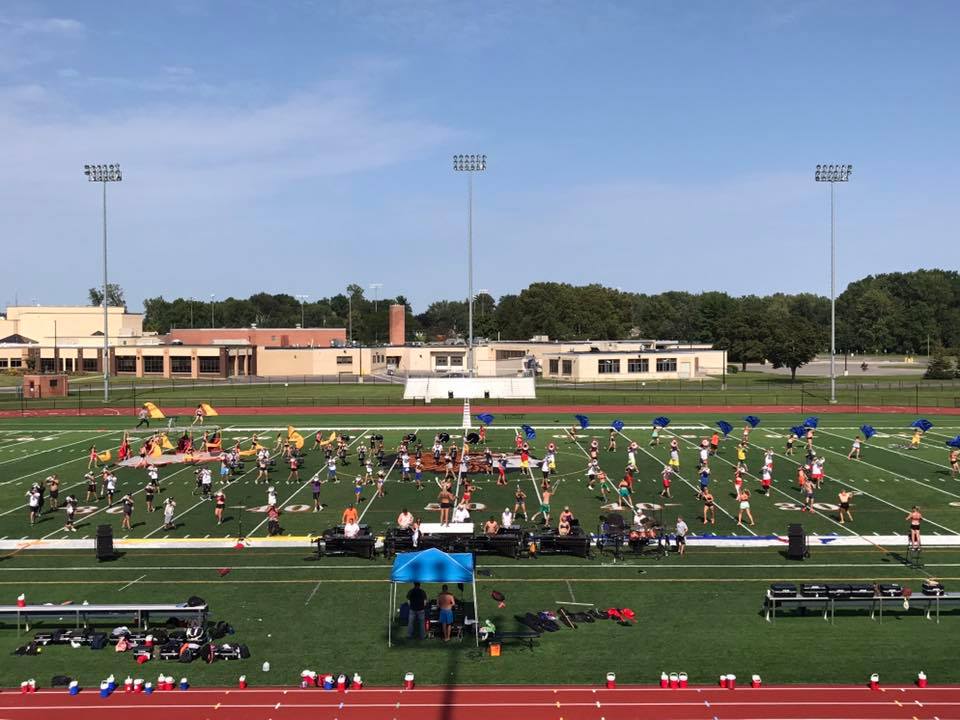 Kidsgrove was scheduled to use the field at the Seneca County Fair, along State Route 96, but due to some maintenance issues with the site — the group had to begin looking for other options.
That's when the Waterloo High School and football field became the destination.
"Our superintendent was excited about the opportunity to have them use our facilities, and really the entire staff shared in that excitement," Hacker explained.
Sam Catcliffe, Publicity Manager for Kidsgrove, said that the entire thing was a blessing in disguise. "We've encountered some great people and the community has been incredibly welcoming every time we've been here," he explained.
Hacker hopes this will be a learning experience for his students.
"Explaining something like this to my students, or showing them videos of this on TV is fine, but giving them the chance to see it – that's important," Hacker explained. "I'd love to see something like this start to take shape here in our area. We have some incredibly talented students, and a community that has shown it wants to support groups like this."
Both Catcliffe and Hacker said that at the end of the day — it's about educating and providing people with the opportunity to experience music in a way that inspires.
"We have members ranging in age from 12- to 62-years-old. We have multi-generational participation. It's something that isn't age-restrictive, and that's important for those who are looking to get involved," Catcliffe explained.
Kidsgrove will leave Waterloo on Thursday for competition in Rochester.
Learn more about Kidsgrove, and follow their journey on Facebook.