The New York Yankees concluded their "Rivalry Week", on Sunday, with a 5-1 loss to the Boston Red Sox. As of August 22nd, at 6:30, the team is 4.5 games back of Boston, while being 2.5 up of a Wild Card spot.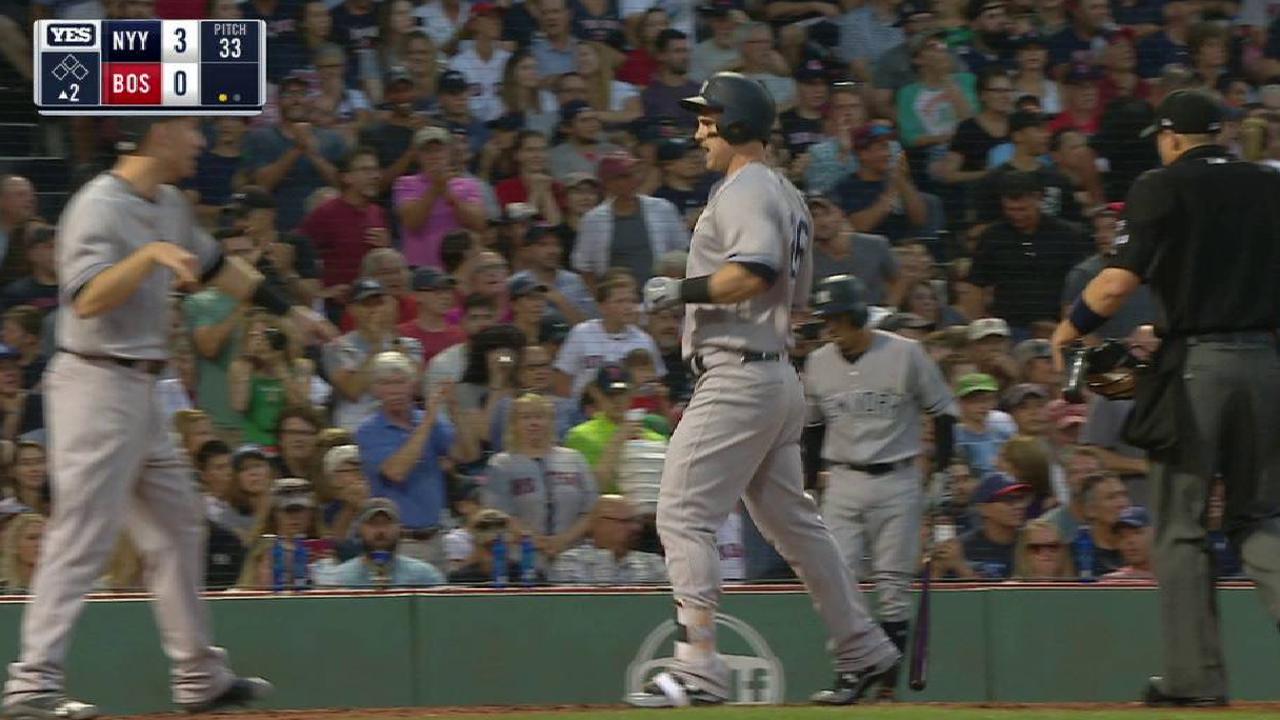 Sweeping Our Little Brother
Telling a team to "bend the knee" is a very bold thing to say. However, the Yankees earned the exciting feeling, as they swept the crosstown Mets in four games.
Gary Sanchez played like a madman, collecting 3 homers and 7 RBIs. He's now 2nd on the team with 23 long balls, which also leads all of catchers. His .865 OPS is also 3rd by his position with more than 200 at bats. Sanchez has been doing a fantastic job covering up for Aaron Judge's second half struggles.
Sonny Gray won his first game as Yankee giving up just 2 runs and 5 hits through 6 innings. He finally got some run support, as the Yankees were able to win by a score of 5-4. His streak of 6+ innings with 2 or less runs reached to 9 consecutive starts. Unfortunately it would be broken up five days later, as the offense was three hit by Rick Porcello.
Luis Severino continued his breakout season with another stellar outing. He dusted his shoulder's off from a horrid outing against the Red Sox, in which he surrendered a career high, 10 runs. This time, against the Mets, he gave up no earned runs and struck out 9 in 6 ⅓ innings. The score was 7-0 by the 4th inning, giving Sevy a nice little cushion to work off of. One of those 7 runs was scored by Severino himself, as he got on board with a bunt over the diving first baseman. He was then brought in by a Gary Sanchez RBI single. Sevy finished the day collecting his 7th start of the season of 6+ innings, with 1 or less earned runs and 8+ strikeouts.
This sweep of 3 or more games was the first since June 9th-June 11th, against the Baltimore Orioles, where the Yankees were cruising in first place.
Defeating Chris Sale Again!
Red Sox starting pitcher, Chris Sale, may be en route to winning his first career Cy Young award. He may have also struck out a total of 44 Yankee batters and have only a 0.91 WHIP in 29.2 innings pitched. But, in the end it doesn't matter! Sale collected his 5th loss of the season and his 2nd against the Yankees. In his 4 games against the Yankees, neither he or his team earned themselves the win.
Tyler Austin carried over his Triple-A hot streak to the bigs, crushing a high fastball from Sale for a three-run home run. Todd Frazier gave some well needed insurance as well, hitting a solo shot to give the Yankees their 4th run of the game. To beat a guy like Chris Sale, you also have to prevent the other team from scoring runs and C.C. Sabathia did just that. He topped Sale, throwing 6 strong innings giving up only 2 runs. The Yankees won this one, 4-3. To measure how good Sale is, he allowed 4 runs this outing, tying all of what he gave up in 5 starts in July. It's been a year to remember for the left-hander, but at least we can say he hasn't beaten the Yankees yet.
Closing By Committee
Aroldis Chapman was signed by the Yankees this past offseason in order to provide some stability after both he and Andrew Miller were traded the deadline before. For $86 million, Chapman has done everything but that. The Cuban Missile has been all over the place since blowing the save in Game 7 of the World Series. He holds a career high, 4.14 ERA, and WHIP of 1.35. Since becoming a closer, he's holding a career low 12.6 K/9, while having his worst FIP of 2.73. The Yankees bullpen, especially with the additions of Robertson and Kahnle, has been top notch this year. It's been a real surprise that their supposed best reliever, has been the least safe option.
As a result of a poor outing by Chapman on Friday, manager, Joe Girardi said he will rely on guys such as Dellin Betances and David Robertson a little more for the closing role until further notice. The next day, Betances was able to earn his 9th save of the season, in which the Yankees won by a score of 4-3. Chapman would also soon pitch in the 6th and 7th, allowing nothing else but a walk. Hopefully a somewhat reduced role for Aroldis will be beneficial to him both physically and mentally.
Other Notable News
Aaron Judge's 37 consecutive games with a strikeout is the most by any player in MLB History. Judge passed Bill Stoneman's single season record of 35 in 1971, as well as Adam Dunn's total game record of 36 (2011-2012). His 32.1 K% is 6th worst in the MLB. He is also projected to strike out 211 times this season, which would be just 12 shy of Mark Reynolds' 223. The craziest part of all these shameful stats, however is with his ability to hit the ball so hard, Judge is still batting over .280, with a 5.9 WAR.
Dellin Betances has given up only one run since the all-star break. His 0.48 ERA is 4th best by a reliever with 10+ innings pitched. He's also 4th in strikeouts with 28 (Chad Green 1st with 33). In the first half, Betances had his fair share of struggles, holding a 3.18 ERA and a 1.41 WHIP, however now he's looking like a totally different pitcher.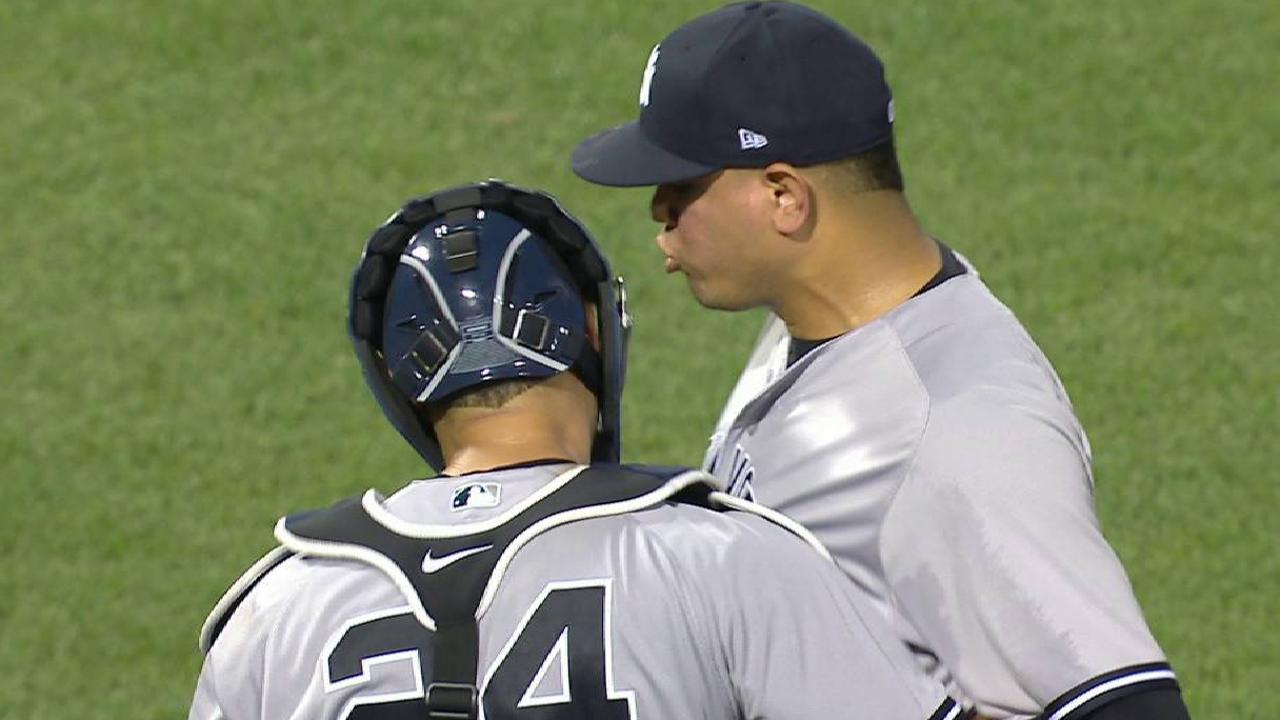 Batter of the Week: Gary Sanchez
GM – 7
AB – 25
R – 4
H – 7
HR – 4
RBI – 10
BB – 2
Slash Line – .280/.336/.760
Pitcher of the Week: Luis Severino
GM – 1
W – 1
IP – 6.1
ER – 0
H – 4
SO – 9
BB – 3
The Yankees will head off to Comerica Park for a three game series against the Detroit Tigers. They will then head out west to take on the Seattle Mariners. First pitch versus Detroit will be on Tuesday at 7:10 P.M, with the matchup of Masahiro Tanaka and Matt Boyd.
Matchups at Detroit:
Game #1: Tuesday, August 22nd 7:10 P.M.
Masahiro Tanaka (8-10) vs Matt Boyd (5-6)
Game #2: Wednesday, August 23rd 7:10 P.M.
Luis Severino (10-5) vs. Jordan Zimmerman (7-10)
Game #3: Thursday, August 24th 1:10 P.M.
Jamie Garcia (5-8) vs. Michael Fulmer (10-11)
Matchups vs. Seattle:
Game #1: Friday, August 25th 7:05 P.M.
Ariel Miranda (8-6) vs. C.C. Sabathia (10-5)
Game #2: Saturday, August 26th 1:05 P.M.
Yovani Gallardo (5-9) vs. Sonny Gray (7-8)
Game #3: Sunday, August 27th 1:05 P.M.
Andrew Albers (2-0) vs. Masahiro Tanaka (8-10)
– David Bieber is a contributing columnist to FingerLakes1.com covering the New York Yankees with a weekly report published on Monday throughout the season.