Seneca Meadows District Manager Kyle Black gave an update to the Seneca County Board of Supervisors on Tuesday regarding their ongoing efforts at the facility along State Route 414 to mitigate odors and continue working with the community.
According to Black, construction of 15 acres of landfill liner are planned, as well as the completion of a 25 acre final cover over the western hill, which caused extensive odor issues over the last several years. He noted that 7,500 feet of landfill gas collector pipes had also been installed, which work to extract landfill gas and transport it to the gas-to-energy facility across the road from the landfill.
An additional 12 acres of temporary cap were installed at Seneca Meadows, as well.
Black said they have been working on installing 50 vertical landfill gas wells, which help transport the gases emitted from the landfill to the facility across the road. In addition to this, 21 horizontal gas collectors and 43 gas extraction pocket wells were installed.
All of these items have been installed in the last 12 months, since Seneca Meadows began aggressively combating the growing number of complaints about odor around the landfill. At the time, landfill officials said that a combination of factors led to the aggressive odors, which included weather factors and collapsed pipe under the western hill.
Black noted that since 2016, $7.5 million had been invested in odor control technology, which has led to measurable improvements. He said that a 30 percent increase in landfill gas collection system efficiency had also been measured.
It wasn't all good news for the board, who heard continued concerns from residents on the ongoing landfill debate.
One of those concerns was the possibility of a renegotiated host agreement between Seneca Falls and Seneca Meadows.
"Why push for a new agreement now, when the existing one doesn't expire for another eight years?" asked Doug Avery, Seneca Falls resident and Chairman of the Seneca Falls Environmental Action Committee. "The common assumption of everyone on the outside of the negotiations has been that Waste Connections was applying pressure to have the negotiated 2025 closure date pushed back."
He referenced a graphic displayed on Waste Connections' 2016 Annual Report, which shows playing cards and poker chips — along with the statement 'Doubling Down'.
Avery asked if, like other Waste Connections landfills, that Seneca Meadows would soon be seeking approval to double its intake to 12,000 tons per day. Current limitations only allow the facility to take in 6,000 tons per day of waste.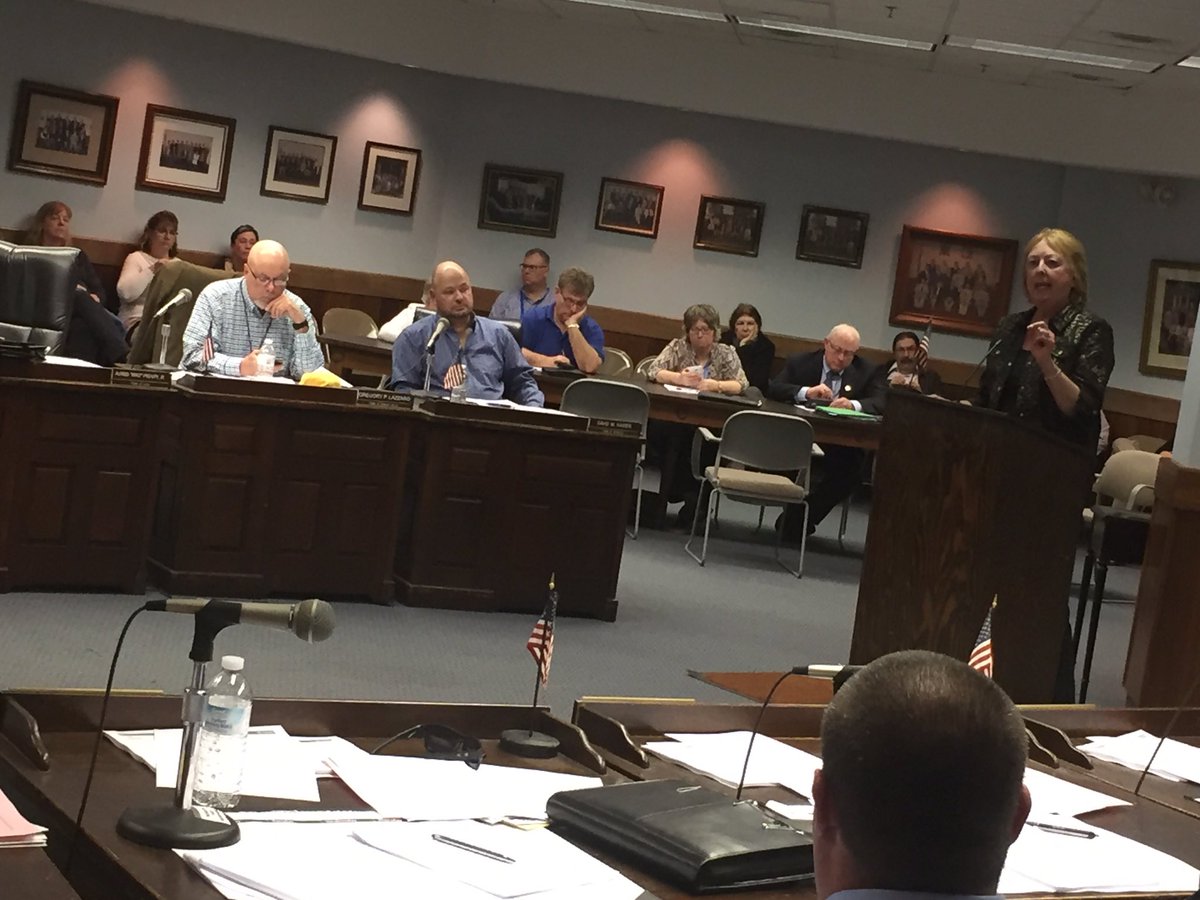 Opponents of the landfilling operation say that it would just make odor control even more unrealistic.
"The smell doesn't stop when it hits the Seneca Falls town line," Avery added, pleading with the Board of Supervisors to consider any action that might challenge or slow Seneca Meadows' long-term advancement in Seneca County.
Seneca Falls Town Supervisor Greg Lazzaro responded to Avery's remarks. He was the only supervisor to do so in that moment.
"No one is pressuring seneca falls to sit down and negotiate with Seneca Meadows. Seneca Falls has decided that it's better to negotiate than go through contentious dialogue when a local law is pushed through," the Supervisor explained.
The board later considered a motion to develop an odor complaint system on the County's website, but that resolution failed to gain enough traction to pass. It was sent back to committee with only two supervisors voting for it's implementation.