On Sunday, DEC officials took a tour of Sodus Point Beach Park.
It's a mess.
The official visit was part of a larger flood response effort, which includes touring the communities hardest hit by the rising waters of Lake Ontario.
Homeowners are playing defense, as they work to keep water out of their properties. "We can't stop it," said one frustrated resident during a trip to Sodus Point over the weekend. "There's nothing anyone here can do except hope that things improve."
The chance of rain, even if it's slight – adds even more concern to already-worried home- and business-owners.
Paul D'Amato, the DEC Regional Director in Sodus Point added that efforts are being made to ease the burden for homeowners along the lake.
"We do have engineers that work in our coastal erosion program, [and] part of their job is to work through and with individual property owners on what exactly would work on that property because we don't want people sending good money after bad and it is an expensive proposition, typically to do a hard structure," he explained.
"Our engineers are there to help," D'Amato added.
A 'general permit' has been issued, which will allow residents to make repairs to breakwalls that existed before the flooding, winds, and erosion began.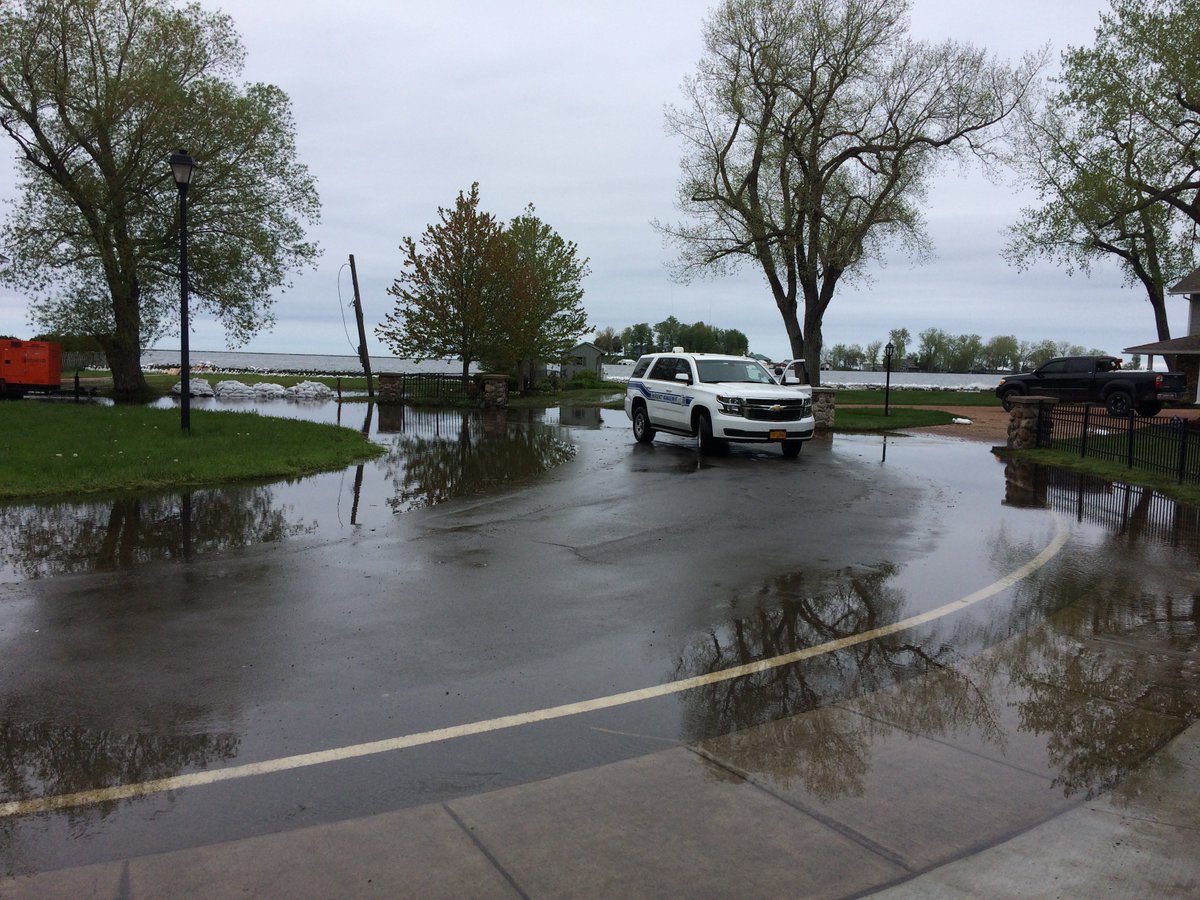 State legislators are working on a solution, which would provide additional funds for those homeowners living along the lake.
The frustrated Sodus Point resident we spoke with, who did not want their name published, said that all of the legislation, visits, and tours are pointless if something isn't done about the overall water level in Lake Ontario.
"Something has to be done. And that something isn't a bill or large sum of money. If the waters in the lake were controlled we wouldn't be having this conversation," the resident added.
He says residents are now looking at the prospect of not being in their homes this summer. "This is going to get expensive, even beyond just repairing flooded or damaged properties."

MORE FROM SOCIAL MEDIA:
National Guard working to build supplies of sandbags in Cayuga County pic.twitter.com/aFWfhyMN8J

— NYS DHSES (@NYSDHSES) May 19, 2017
Dewatering @ the end of Sodus Point Loop. DHSES continues to work w/ local, state & federal partners to respond to Lake Ontario flooding pic.twitter.com/JlBYOBt3QV

— NYS DHSES (@NYSDHSES) May 20, 2017
Not always about location, location, location! Lake Ontario at 248.9 feet above sea level, erosion continues @spann @JimCantore @StormHour pic.twitter.com/b6ocV6rWIk

— John Kucko (@john_kucko) May 19, 2017
Then & Now: Lake Ontario (Sodus Point, NY) exactly one year apart. Lake level is 33 inches higher than normal @spann @JimCantore @StormHour pic.twitter.com/2y4G29Sx4B

— John Kucko (@john_kucko) May 20, 2017
Here today, gone tomorrow. Those along Lake Ontario are losing LOTS of land @spann @JimCantore @StormHour @NYGovCuomo @SenSchumer @News_8 pic.twitter.com/ktQcdzgB32

— John Kucko (@john_kucko) May 16, 2017
@john_kucko Here is #LakeOntario via Webster this evening. Cannot go on the pier safely. Two idiot teens ran it barefoot. pic.twitter.com/4Z6XGGx774

— Miss T (@Mistyrose78) May 20, 2017
Sodus Point man says he has no choice but to demolish his home. The other option – let it fall into Lake Ontario. https://t.co/STpYcHuOys

— Jennifer (@JJohnson13WHAM) May 18, 2017
LATEST LAKE ONTARIO FLOODING HEADLINES:
– High water closes another boat launch (Democrat & Chronicle)
– Helming, DeFrancisco want $55M flood recovery fund for Fair Haven, other NY communities (The Citizen)
– Neighbors in Greece wake up to more flooding along Edgemere Drive (WHAM)
– Islands crumbling in Irondequoit Bay (WHAM)
– Keeping watch of Irondequoit Bay as water rises (WHAM)
– Edgemere neighbors again face flooding: "You can't stop the water." (WHEC)
– Record breaking water levels with northerly winds put residents on edge again (WROC)