Fayette officials are hoping to gauge the need and want for municipal water service townwide to prioritize projects as they move forward in their efforts to provide water to residents.
Some 70 people showed up at the Fayette Fire Hall Wednesday night, May 3rd to hear from Engineer Jason McCormick, who was retained by the town to look into the water issue, and has worked closely with Councilman and Water and Sewer Committee Chair Jeff Trout.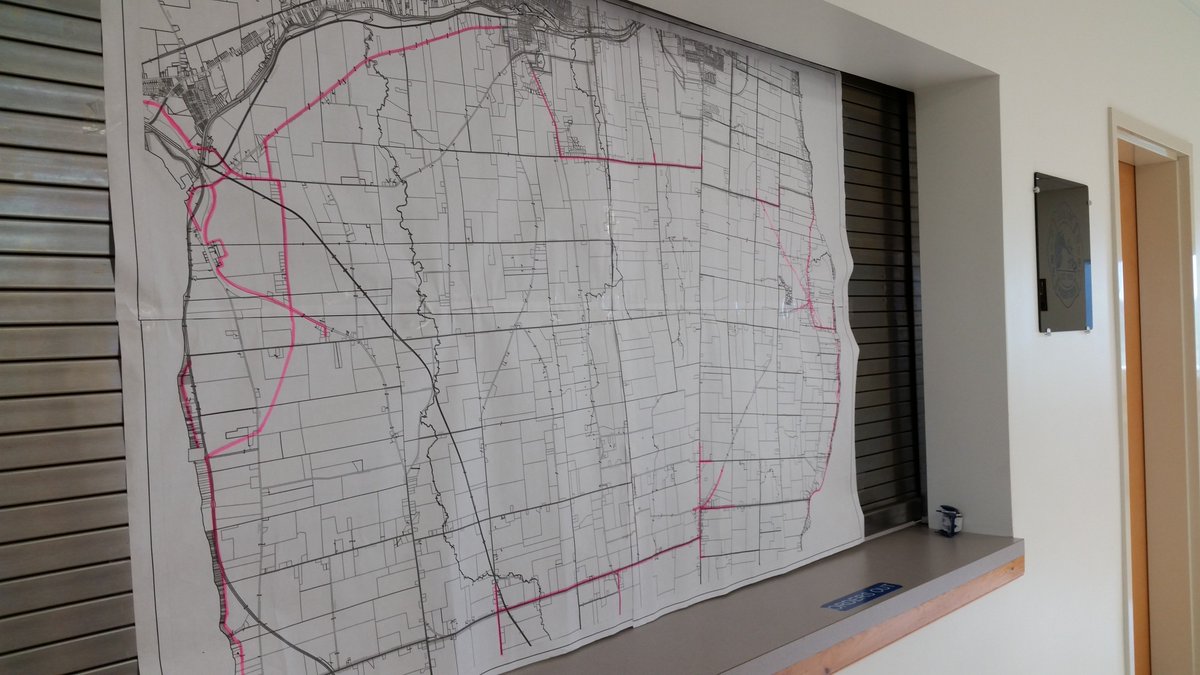 At present, the 66.5-square-mile town has seven water districts with water lines that run along the town's perimeter. With a declining population of 3,929 residents and over 1,500 homes, McCormick said almost half of the town already has water. Interestingly, he added, both water plants that provide water to the county are in the town, yet Fayette residents pay for water from three providers: the village of Waterloo at a rate of $2.83 per 1,000 gallons, the town of Seneca Falls at a rate of $3 per 1,000 gallons and rising, and the county at a rate of $6.30 per 1,000 gallons. McCormick and Trout both noted that the price discrepancy between the three municipalities cannot be explained since it's all the same water.
Trout said lowering water costs is the driving force behind the town's efforts to  explore potential water projects. The town is also hoping to increase water pressures and fire flows, McCormick said.
"We want to determine how to most effectively and efficiently provide water to all who need it," Trout said.
To that end, town officials set up the two informational meetings to give residents an idea of what bringing water to the town might involve and an estimate of what it could cost.
McCormick reviewed a list of seven potential projects that would bring water to areas that have requested water in previous years. Although not carved in stone, they include:
Connecting Water Districts 3 and 5 by extending services east along Townline Road to Route 89. This project seemed most needed after a recent fire on Route 89 occurred and firefighters lacked adequate pressure to fight it, McCormick noted.

Connecting Districts 2 and 5 from Route 336, north along Route 96 to County House Road.

Extending service from Rose Hill Tower to Yellow Tavern Road and then east to Route 96.

Extending service in District 5 at the intersection of Route 96 and Yost Road, north on Yost to Leader Road and then west along Leader to Route 96.

Extending service in District 5 starting at the intersection of Route 414 and Leader Road and heading west on Leader to the fourth residence.

Extending service in District 5 north on MacDougall Road to Leader Road, then west on Leader to Route 96A, then north on Route 96A to Yellow Tavern Road.

Extending service to Lerch Road through either a connection at Route 96A or at Teal Beach Road.
"District 5 are folks that are the least capable of affording this," Trout said of the projects encompassing that particular water district.
Cost is a big concern for many residents though. McCormick did offer a very rough estimate. To provide water to the entire town could cost nearly $14 million. That number is based on a combination of self help from town crews to perform some of the work while the rest would be bid out to contractors and also using a combination of 8 and 12-inch pipes as needed.
"If all pipes are looped correctly, an 8-inch line can…give you all the water you need to fight a fire," the engineer said.
Unfortunately, it is unlikely the town would qualify for grant funding or low interest loans due to the relatively high household income median of residents, coming in at over $56,000, McCormick said. The town would have the option to bond the cost and with interest rates at less than 4 percent, McCormick said, it wouldn't be an exceedingly costly avenue to take.
To help residents better understand what all this means for their annual tax bill, McCormick broke it down per household, reminding everyone again that the numbers were rough estimates. Residents would see an additional $600 to $700 on their town tax bill each year to pay the debt service. Add to that a water bill totaling $300 annually for the average family. Exact numbers are impossible at this point in the process, McCormick said. On the plus side, a waterline in front of a home raises the property's value and lowers the homeowner's insurance.
In extending water service, McCormick said they would create as few water districts as possible. It was also noted that although a water line may run along a property, the property owner does not have to tie into it. However, whether a property owner opts to use the service or not, they still incur the cost of the debt service on their annual town tax bill.
"Everybody wants water," Supervisor Cindy Lorenzetti said. "Water is one of the essentials of life. You want water. We've heard you."
Another informational meeting will be held Saturday, May 6th at 10 a.m. at the Fayette Fire Department, 4200 Route 414. Residents may also email questions and concerns regarding the topic to fayettewater@gmail.com.
Tammy Whitacre is a reporter for FL1 News covering Seneca and Wayne counties. Send news tips to tammy@fingerlakes1.com and follow @FL1_TWhitacre for the latest.