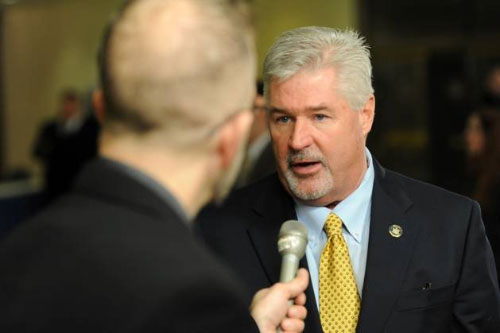 Assemblyman Brian Kolb (R-Canandaigua) is calling for Brittany's Law to make it to the floor for a vote.
In a letter sent out to media, which was addressed to Assembly Speaker Carl Heastie — Kolb said that it's time to work together to address domestic violence.
"We have a moral and ethical responsibility to defend the rights of those who may struggle to defend themselves," he explained. "It is my sincere hope that we can work together over the coming weeks to protect and defend victims of domestic violence."
He added, "Domestic violence is a scourge on our society and presents an issue that must be addressed through decisive action."
Brittany's Law is a measure that has made it through New York State Senate seven years in a row, but has failed to come up for a vote in Assembly.
The initiative would create a statewide registry of violent felony offenders, which would be similar to the sex-offender registry enacted under Megan's Law.
It would provide valuable information for residents in New York that would allow them to remain safe.
Brittany's Law is named after Brittany Passalacqua, who was just 12-years-old when she and her mother, Helen Buchel were murdered in November 2009.
The killer, John Brown, was on parole following his incarceration for violently assaulting his infant daughter in 2013. Had Helen been able to access information about Brown's violent past — she would not have welcomed him into her home, according to those who knew Helen.
Kolb says that the entire tragedy could have been avoided if legislation like this existed.
It remains to be seen if the legislation will be acted on by Assembly or Senate.