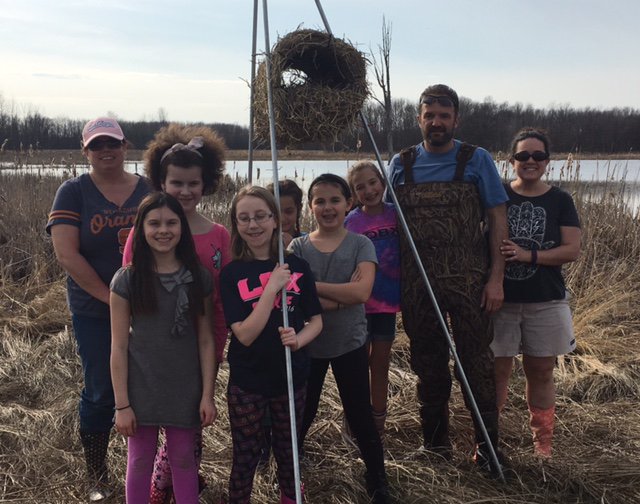 Junior Girl Scout Troop 40437 of Geneva wanted to help Mallards.
The duck was their animal of choice to fulfill an Animal Habitat patch, and their task was to construct a nest that would help the species raise its young.
The location for the nests? The Seneca Meadows Wetlands Preserve.
Shawn Kime, scout dad and winemaker for Thirsty Owl, suggested the wetlands preserve for a nest drop after instructing a wine pairing class at the Seneca Meadows Education Center earlier this year. On Sunday, April 9, 2017, the nine girl troop carried the nests to the drop location for Mr. Kime to place in the water.
It was the culmination of multiple educational sessions about Mallards and nest designs that deter predators. The girls helped measure and form the wire mesh cylinders that will house the hen and her eggs, filled the cylinders with hay, then secured them with zip ties. They also helped form the tripod bases.
Studies have shown that up to 90% of mallard nests are destroyed by predators such as foxes, raccoons, opossums and skunks. The nest provides hens a safe place off of the ground to incubate her eggs. The cylindrical design also protects her from aerial predators like Hawks and owls
Marcy Neumire, program manager for the Seneca Meadows Wetlands Preserve & Education Center said, "We are so grateful to the wonderful scouts and scout leaders of Troop 40437. Their hard work and dedication to the environment may help save Mallard ducklings for years to come."
Mr. Kime said, "The girls had a great time and learned a lot about wetlands. We saw a lot of ducks out there too."
The above is a republished press release from the Seneca Meadows Wetlands Preserve and was not written by FingerLakes1.com. Click here to submit press releases, community announcements, or news tips to the FingerLakes1.com team. Newsroom inquiries can be sent by clicking here.