This year's scrimmage featured Team Orange with the first string offense and defense – against Team White, which was comprised of the second string units. They faced off in four quarters with a 12 minute running clock. As Team Orange came out victorious by a score of 14-0, here are Keith Bremer's three key takeaways from the performance.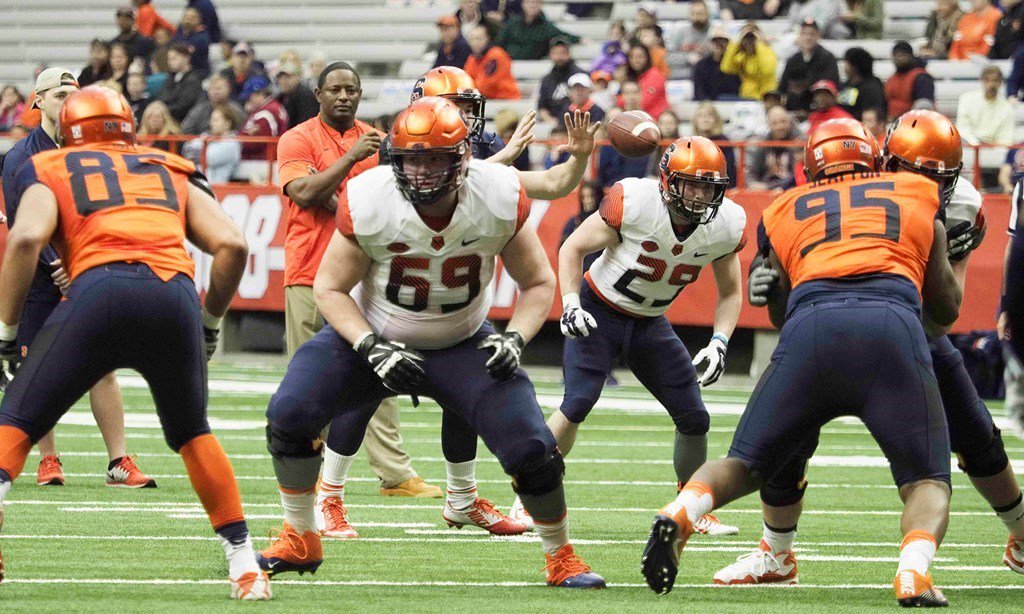 1. Defensive Energy
After two years as a mainstay in the SU secondary, Antwan Cordy suffered a season-ending forearm injury just two games into his junior season last year. After being granted a medical redshirt from the NCAA, he provided a spark for the defense on Saturday, picking off a pass and taking it 40 yards to the house for the first score of the morning. Secondary play was a weak spot for last year's team, so it would be a big lift for that unit to make a leap forward this fall. The second string defense made some noise as well, as Ryan Guthrie came up with an interception and Rodney Williams jumped on a fumble. Both Team Orange and White limited big plays from the offenses, especially in the rushing game. Team Orange lead the way with 34 yards, headlined by Moe Neal's 15 yards on 5 carries.
Views from the first half of the Spring Showcase: pic.twitter.com/dA7zVXanlX

— Syracuse Football (@CuseFootball) April 22, 2017

2. Injury Impact
Starting lineman Aaron Roberts was the only player to get injured during the scrimmage, going down during the second quarter and being met by trainers. In the press conference, Coach Babers said there were no updates on his status, as he is being evaluated. Receiver Ervin Philips did not participate in the scrimmage, and was seen on the sideline in a boot. Babers also touched on this injury in the press conference, saying that he does not see it being a long-term issue. He noted some swelling in his foot after a physical practice on Thursday as being the reason for his absence. Philips was second on the team last year with 90 receptions.

3. Glimpses of Offense
Last year's Spring Game was the first chance many fans had to see the new no-huddle offense under the first-year coaching staff. Now that fans are growing accustomed to the system, it was less of a surprise to watch some growing pains as the offense takes shape. Quarterback Eric Dungey finished 8-14 for 99 yards, including a 35 yard touchdown connection to receiver Devin Butler for the only offensive touchdown of the day. For Team White, Zach Mahoney, Rex Culpepper, and Mo Hasan all took snaps under center. The most effective of the three was Culpepper, who missed on a few deep balls but found his timing on some screens and quick routes. Predictably, both offenses had a basic playbook, which could be the reason for the lack of rhythm on that side of the ball. Even with a brutal schedule for the upcoming season, fans will expect the high-powered offense to take shape as the offseason progresses.
Syracuse opens their season on September 1, 2017 against Central Connecticut State in the Carrier Dome.
Keith Bremer is a 2015 graduate of Newark High School and is currently attending Syracuse University and is a contributor to FingerLakes1.com. Comments and feedback on this article can be posted below or directed to Keith at [email protected].


SPRING SHOWCASE PRESS POSTGAME: