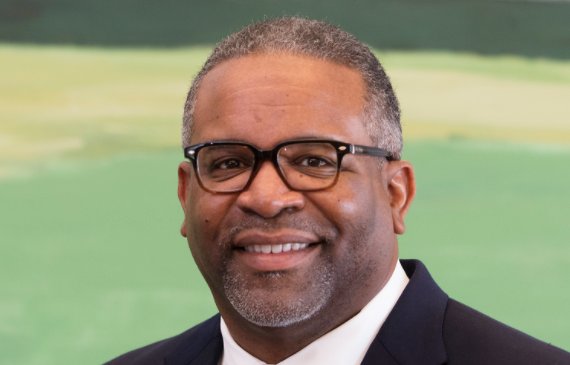 Just like that Hobart & William Smith Colleges has a well-defined future in a new leader.
Chair of the Hobart and William Smith Colleges Board of Trustees Thomas S. Bozzuto '68 announced that the Board had unanimously voted to approve the Presidential Search Committee's recommendation, naming Dr. Gregory Vincent '83 the 27th President of Hobart College and the 16th of William Smith College.
A national expert on civil rights, social justice and campus culture, Vincent currently serves at The University of Texas at Austin as Vice President for Diversity and Community Engagement, W.K. Kellogg Professor of Community College Leadership and Professor of Law.
"Dr. Vincent is an exemplary educator, scholar and leader whose experiences in higher education administration and community engagement are an ideal fit for Hobart and William Smith," says Bozzuto. "Selected from a large number of very qualified applicants, Greg's character, vision and expertise were obvious. He has dedicated his life to ensuring access to education and to providing opportunities for students to succeed. We are thrilled to welcome him and confident in his ability to lead the Colleges into a new era of achievement."
"I am deeply honored to be selected as the president of Hobart and William Smith," says Vincent, who is the first alumnus in the Colleges' history to serve in the role. "As a proud alumnus, I know first-hand the transformative power of an HWS education. I am especially grateful to President Mark D. Gearan whose values and leadership over the past 18 years drew me back to this vibrant and historic campus on Seneca Lake. I am excited to continue the momentum the Colleges are experiencing and to advance our mission to prepare students to lead lives of consequence. Hobart and William Smith laid the intellectual foundation for my own life of consequence, and I intend to continue to make that a reality for future generations of HWS students."
Vincent attended public schools in New York City where he graduated from the Bronx High School of Science. A Statesman on both the Hobart basketball and cross-country teams, he majored in history and economics at Hobart, served as a resident advisor and was presented the Dr. Martin Luther King Jr. Leadership Award at graduation.
He earned a law degree from the Ohio State University Moritz College of Law and his doctorate from The University of Pennsylvania.
Vincent's extensive career is distinguished by his commitment to equity and justice, both in education and in the wider public arena. Since joining UT-Austin in 2005, Vincent has presided over the university's Division of Diversity and Community Engagement, now regarded as a national model. Under Vincent's leadership, the division has grown to encompass a $50 million budget with more than 400 employees and 50 units, as well as 400 local and regional partners, who help connect the university's resources to communities across the state, particularly those facing significant challenges in accessing education.
At UT, Vincent is the principal investigator of four nationally competitive grants and directs the thematic faculty initiative that has resulted in more than 60 faculty hires. He also successfully raised significant funding for student scholarships, priority initiatives and the permanent home for the UT charter school system and community engagement center. In 2016, Vincent served as university spokesperson in the case of Fisher v. University of Texas, in which the United States Supreme Court ruled to uphold the use of affirmative action in higher education.
Under Vincent's leadership, the University of Texas at Austin has been recognized through the INSIGHT into Diversity Higher Education Excellence in Diversity Award annually since 2012, and in 2016 was named an INSIGHT into Diversity Champion. The division and UT have been named to the 2015 President's Higher Education Community Service Honor Roll with Distinction in Education and Interfaith Community Service, and the Carnegie Foundation's 2015 Community Engagement Classification.
As Ohio's assistant attorney general in the early 1990s, Vincent successfully argued several major civil rights cases before that state's Supreme Court. He was promoted to director for regional and legal affairs at the Ohio Civil Rights Commission in Cleveland and later served as vice president and lead counsel for Bank One.
His return to education began with an appointment as assistant vice chancellor for academic affairs at the University of Wisconsin-Madison. He was then named vice provost for academic affairs and campus diversity and law professor at Louisiana State University, and then vice provost for institutional equity and diversity and law professor at the University of Oregon.
Vincent has served as board chair for many nonprofit and community organizations including the Austin Area Urban League and Communities in Schools, and is former senior warden of St. James' Episcopal Church. He recently completed a term as chair and president of the Standing Committee of the Episcopal Diocese of Texas and was then elected to its executive board. He sits on the board of trustees of the Bishop Quin Foundation.
Vincent is a life member of Alpha Phi Alpha Fraternity, Inc., serving as national chair of the Commission on Racial Justice. He is a member of Sigma Pi Phi Fraternity (The Boulé) where he serves as the Grand Sire Archon-Elect (President-Elect). He has been a member of Moritz College of Law National Council since 2008. At Hobart and William Smith, he is a member of the Statesmen Athletic Association, the Heron Society, the Wheeler Society and the Emerson Society. In 2016, he gave the HWS Convocation Address.
For his service and community engagement, Vincent has received numerous awards and recognitions, notably the Educator of the Year Award from the University of Pennsylvania Graduate School of Education, the Distinguished Service Award from the Commission on Access, Diversity and Excellence (CADE) of the Association of Public and Land-grant Universities (APLU) and the Distinguished Service Award from the Moritz College of Law. The Austin NAACP and Austin Area Urban League presented Vincent with their highest honors, the DeWitty/Overton Freedom Award and the Whitney Young Legacy Award for committing himself "to raise awareness and educate the community on the importance of diversity and inclusion."
Greg is married to Kimberly Wilson Vincent, an attorney in private practice. Kim also serves as a pro bono attorney and volunteer, and donates generously of her time and resources as the former chancellor of the St. James' Episcopal School, Parliamentarian of the Town Lake Chapter of the Links Inc. and Vice President for Development for Mexic-Arte Museum. She is a board member at the Capital Area AIDS Legal Project and volunteers at legal clinics serving AIDS Services of Austin clients. She provides assistance with everything from housing discrimination complaints to estate planning. Kim is highly involved in court-appointed work, child protective services, mentoring young women and art education in the local public schools. Greg and Kim's adult children are graduates of Xavier/Louisiana State University, Spelman College and the University of Texas-Austin. They also have two children heading off to the Berklee College of Music and Morehouse College in the fall and a budding middle school cello player who is looking forward to the move to Geneva.
The Presidential Search, led by committee co-chairs and HWS Trustees Katherine D. Elliott '66, L.H.D. '08 and Thomas B. Poole '61, P'91, L.H.D. '06, began in August of 2016, when the Colleges' 26th president, Mark D. Gearan, announced the conclusion of his presidency, the longest in HWS history. Under the direction of Chair of the Board of Trustees Thomas S. Bozzuto '68, who served as an ex officio member of the Presidential Search Committee, the Colleges consulted with the Chicago-based executive search firm, Witt/Kieffer, which helped identify candidates and coordinate the process that led to the selection of Vincent.
The HWS Presidential Search Committee included: Linda Arrington '88, trustee; Carolyn Carr McGuire '78, vice chair of the Board of Trustees; Chip R. Carver Jr. '81, trustee; Christine de Denus, associate professor of chemistry; Thomas Drennen, professor of economics and environmental studies, chair of the Committee on Faculty; Emily Fisher, assistant professor of psychology; Robb Flowers, vice president for Student Affairs; Amy Forbes, associate director of the Centennial Center for Leadership; Tyler G. Fuller '18, student trustee; Brianna Moore '18, student trustee; Bob O'Connor, vice president for advancement; and Kristen E. Welsh, associate professor of Russian studies. The search was supported by Sonya Williams, associate vice president for human resources.