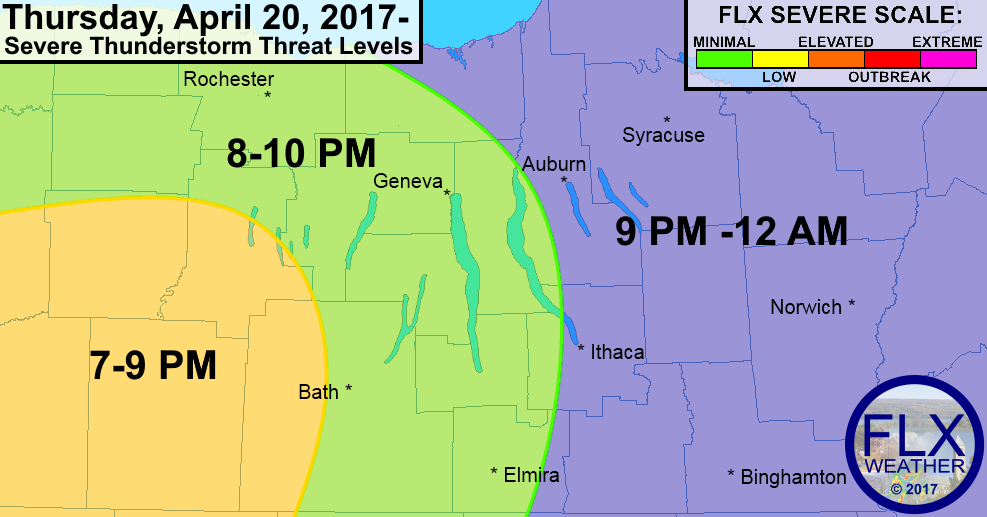 Temperatures will warm and it will begin to feel a little more like spring this afternoon, as the risk for showers and thunderstorms build following the passage of a warm front.
According to FLX Weather Meteorologist Drew Montreuil the risk is minimal, but some of those thunderstorms could produce gusty winds or small hail. Something that isn't terribly uncommon, even for our region, during this transitional season.
Montreuil said the following in his morning update:
"A period of sunny skies will likely develop this morning, helping boost temperatures upward.

Clouds and some showers or thunderstorms will move back in this afternoon, especially for the northern Finger Lakes during the early and mid afternoon, and the eastern Finger Lakes for the late afternoon."
The timeframe of the stormy, wet weather appears to be nearing sunset, which will limit the firepower that the storms bring. That said, precaution is important when talking about unsettled weather like this, so stay tuned to local forecasts for up-to-the-minute updates on tonight's activity.
The region appears to have one more shot of unseasonably cool weather to deal with before the weather turns warm again next week. Visit FingerLakes1.com/Weather for the latest forecast, and check out FLXWeather.com for an interactive weather map, as well as pinpoint forecasts for your neighborhood.