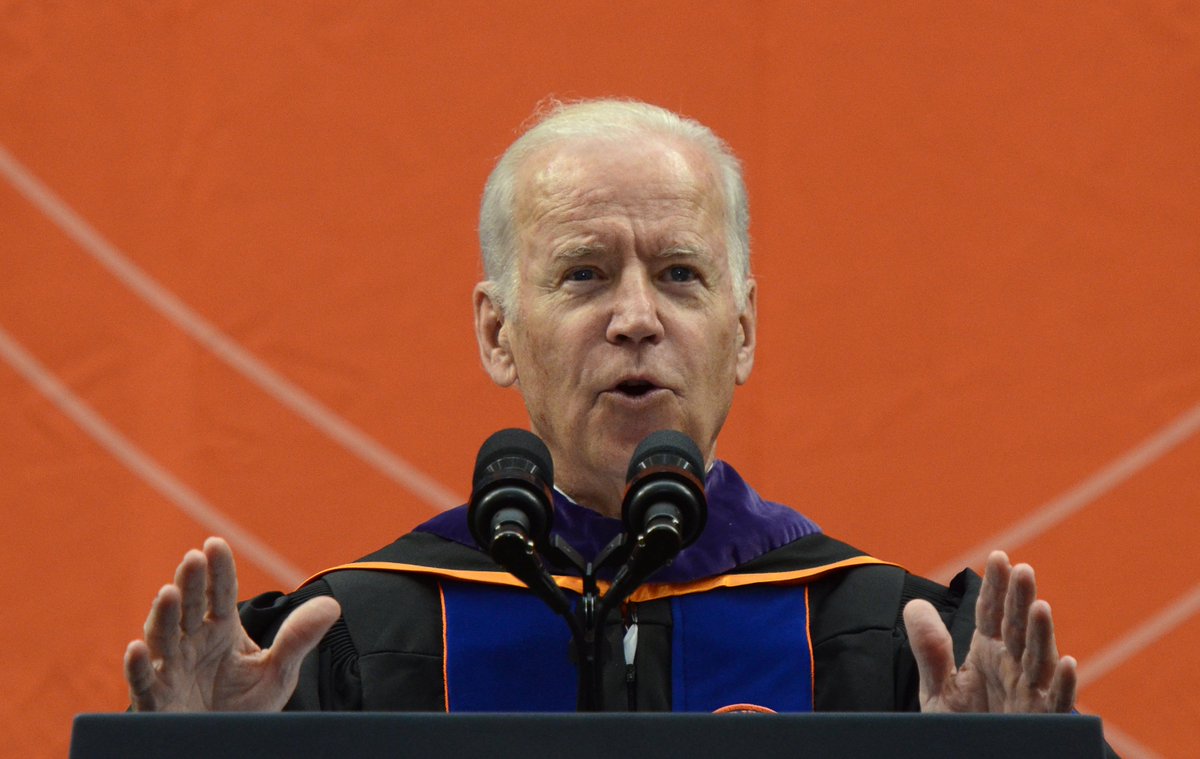 Vice President Joe Biden will give the keynote address at this year's Senior Convocation, Saturday, May 27, during Cornell's 149th Commencement Weekend. Awarded the Presidential Medal of Freedom in January, Biden has represented the United States in every region of the world, traveling to more than two dozen countries.
"We're really excited about having Vice President Biden. No matter what you believe politically, you must respect his outstanding character, leadership and decadeslong service to our country, as well as how he has overcome personal adversity. He is a true American," said Matthew "Chewy" Baumel '17, chair of the student-run 2017 Convocation Committee, which selects the speaker.
Biden, vice president of the United States 2009-17, represented Delaware as a U.S. senator for 36 years, from 1973 until he became vice president.
A native of Pennsylvania, Biden graduated from the University of Delaware and Syracuse Law School. At 29, he became one of the youngest people ever elected to the U.S. Senate.
As chair or ranking member of the Senate Judiciary Committee for 17 years, Biden was particularly active in criminal justice issues, including the 1994 Crime Law and the Violence Against Women Act. As chair or ranking member of the Senate Foreign Relations Committee for 12 years, Biden was at the forefront of legislation related to terrorism, weapons of mass destruction, Europe, the Middle East and Southwest Asia.
As vice president, Biden led the national Cancer Moonshot initiative, which focused on making progress in preventing, diagnosing and treating cancer.
He implemented and oversaw the $840 billion stimulus package in the American Recovery and Reinvestment Act. He also led the Ready to Work Initiative, the Obama administration's effort to identify ways to better the country's workforce skills and training. A longtime advocate against sexual assault and domestic violence, Biden appointed the first White House Adviser on Violence Against Women, and he worked on White House efforts to reduce gun violence and raise the living standards of the middle class.
Internationally, he advised President Barack Obama on foreign affairs. He had been a leading architect of the U.S. strategic vision of a unified Europe and a revitalized NATO. He also led the administration's effort to support Ukraine as a sovereign democratic country. In the Middle East, he was deeply involved in shaping U.S. policy toward Iraq and championing Israel's security. And he led the administration's efforts to address economic, social, governance and citizen security challenges throughout the Western Hemisphere.
Convocation is scheduled for noon to 1 p.m. May 27 in Schoellkopf Stadium. The event will be livestreamed on CornellCast and televised on local Spectrum Time Warner Cable Channel 16. Tickets are not required, and seating is on a first-come, first-served basis. In the case of severe weather, the event will be moved to Barton Hall and only graduating seniors will be invited to attend.