Macedon has a new stop light in town – Stop Light Pizza Subs & More at 91 West Main Street.
Owner David Kelly said when he saw Salvatore's Pizza go out, the thought crossed his mind to open his own pizza place.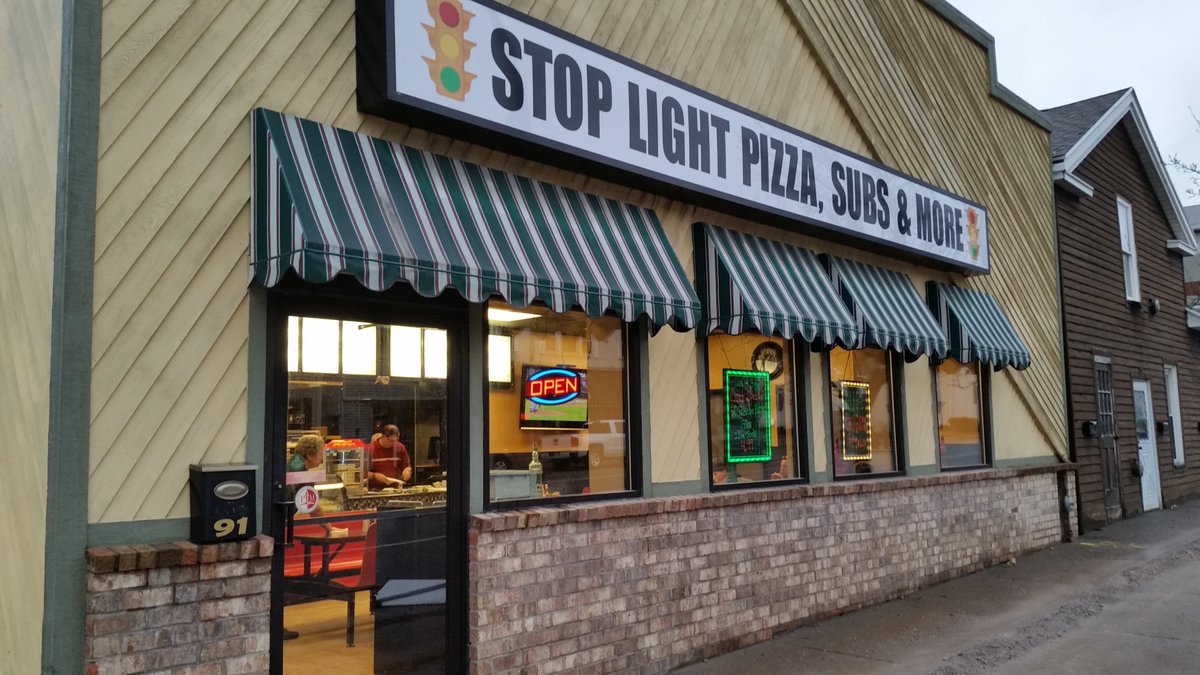 It's not the first business venture Kelly has been a part of over the years. The first many may remember, Stop Light Food-A-Rama, a grocery store that saw a lot of customer traffic. Kelly said he had many good years, but Big Box stores came in and took his business away, times changed and small town businesses moved away.
Even then Kelly had lots of new ideas to reinvigorate the village.
"I really had ideas about how to redo this village, but I never acted on them," he recalled. "I was too busy running the fire department."
Kelly was a volunteer firefighter with the Macedon Village Fire Department for 38 years, some 20 of those years he held the role of fire chief. Then six years ago he entered the political arena, becoming a trustee with the Village Board until the village dissolved on March 31st. His new pizza shop has the distinction of being the last business to open in the village before dissolution.
Stop Light Pizza Subs & More opened on February 17th after some minor cleanup and renovations. Kelly's son, David Alexander Kelly, and daughter, Leslie DeMay, run day-to-day operations. Kelly said they offer pizza, subs and sandwiches with lunch and dinner specials daily. Hungry customers will find a fish fry on the menu on Fridays, a sirloin steak dinner on Wednesdays and spaghetti on Thursdays.
Stop Light Pizza Subs & More also has a deli case inside where customers can get deli cold cuts and cheeses. In time, Kelly said, he'd like to start stocking macaroni and potato salads as well.
Coolers inside Stop Light Pizza Subs & More provide customers with everyday necessities, such as milk products.
Prices at Stop Light Pizza Subs & More are some 30 percent cheaper than anywhere else, but to keep his prices low, Kelly said there had to be sacrifices, so the pizza shop does not offer delivery. Even better though, there's a nice dining area where families can come in and enjoy a dinner together.
"I like the idea of people coming in and eating here or taking out," he said, adding, "We try to be customer oriented."
Stop Light Pizza Subs & More uses all natural cardboard products that doesn't change the taste of the food as other containers can.
Kelly said he grew up in Rochester but "I'm small town oriented." He can remember when he first came to Macedon, they "used to roll the streets up at 6 p.m. at night." Life isn't like that now, but Kelly said he thinks life in a small town will start to go back to small community stores again one day. And when it happens, Kelly will have what customers are looking for.
Stop Light Pizza Subs & More is open Monday through Thursday from 11 am to 10 pm, Friday and Saturday from 11 a.m. to midnight and Sunday from noon to 9 pm. A website is still being developed, but customers can find specials posted daily on Stop Light Pizza Subs & More's Facebook page. To place an order in advance for pick-up, call 986-3202.
-Tammy Whitacre, fingerLakes1.com