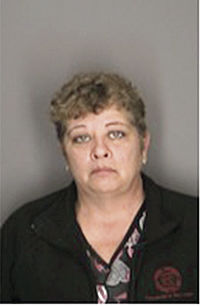 A 57-year-old Hopewell woman learned that she would be spending the next six months in Yates County Jail after she used her employers credit card to pay her rent.
District Attorney Valerie Gardner says Sharmayne Calvetti, 57, of Hopewell was sentenced by Judge Jason Cook after she pleaded guilty to first-degree falsifying business records — a Class E felony.
She was originally arrested by police in April of last year. At the time, she was accused of trying to hide the credit card transaction by falsely labeling it in the business records.
Calvetti was a former employee of Cornell Cooperative Extension of Yates County. The credit card she used belonged to the agency.
Gardner noted that Calvetti had served prison time in 2003 for an unrelated grand larceny conviction.