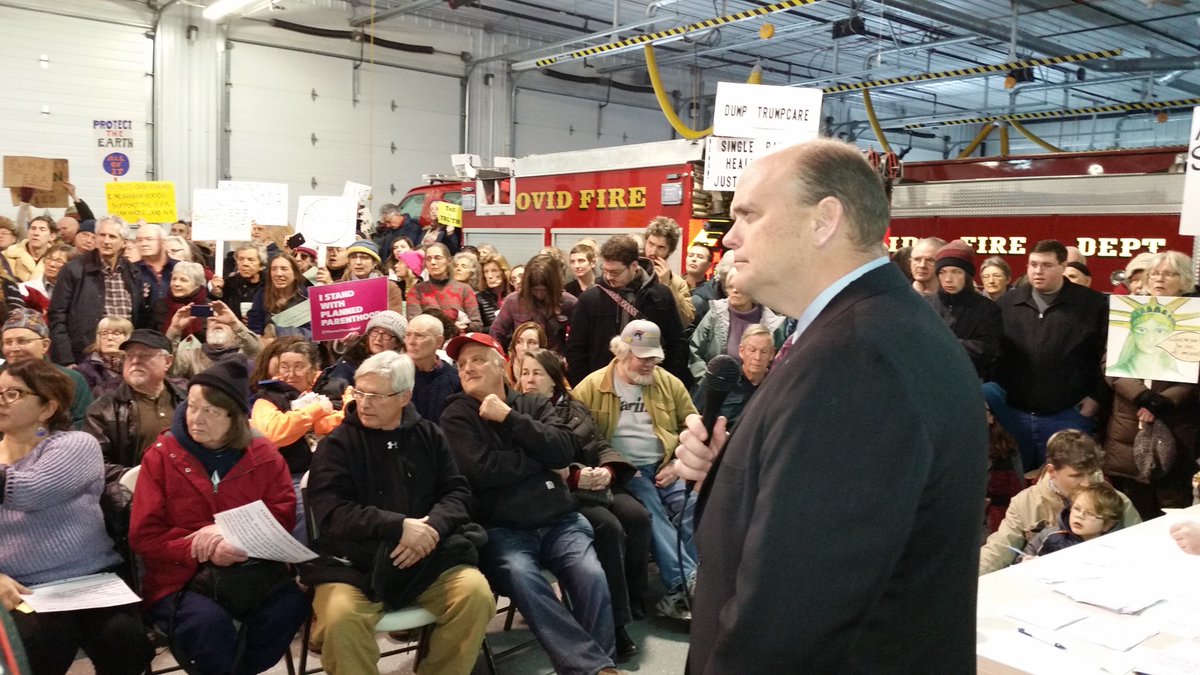 Congressman Tom Reed, NY-23, was met by a volatile crowd congregating in the Ovid fire hall Saturday morning, March 11th.

Nearly 200 residents crowded into the fire hall for a town hall meeting with Reed, who represents some 717,000 constituents in his district. Many carried signs, expressing their support for Planned Parenthood, demanding affordable health insurance for all, protection for the earth and demanding Reed "tell the truth".
Residents took Reed to task on issues important to them, primarily healthcare.
"I do not support the Affordable Care Act," Reed said. "I will support repeal."
The crowd responded with a chorus of boos followed by demands for the same healthcare Reed and his colleagues enjoy – insurance that taxpayers pay for. Reed was also criticized for having undergone bariatric surgery when many of those in the crowd don't even have health insurance.
"My insurance is Obamacare," Reed said, noting he pays high premiums and high deductibles.  
Despite a microphone and sound system, much of what Reed said throughout the meeting was drowned out by shouting from angry residents, including the chant, "Save our healthcare" echoing throughout the fire hall. But Reed managed to explain that the repeal of the Affordable Care Act had a process that must be followed and that healthcare was not going to just go away.
Unlike Medicare and Social Security.
Reed came under fire for government officials using Medicare and Social Security as a "slush fund."
"Now Trumpcare is going to cause Medicare to lose its solvency four years earlier than before and create billions of dollars in tax cuts for billionaires," one resident argued.
Reed told residents that in their present form, both Medicare and Social Security are already losing their solvency  and therefore a change has to be made. Conceding the fact regarding loss of solvency, Reed said he recognized the "sins of past government officials" and assured residents Medicare and Social Security would be moving forward long term. He also noted that the $21 trillion national debt has to be dealt with or Medicare and Social Security will take a hit.
Reed was then criticized about women's rights and his "critical reaction" to last Wednesday's, March 8th, sit-in at his Geneva office. Reed was asked to show proof that the sit-in denied the congressman's staff the ability to help other constituents. Reed alleged his staff was potentially prohibited from using phones and computers by protesters who forced their way in and took over his office. This brought further angst from the crowd.
Reed was applauded for his support of alternative energy sources and his recognition that student debt is at a point of "crisis across the country."
"It is making the opportunity for greater education impossible for the next generation," Reed said, noting a program in the works, Vision for Students, and calling for tuition reductions for working families.
But Reed came under attack again announcing his support of allowing parents to send their children to whatever school they want as long as it doesn't hurt public education. In a small rural community  like Ovid, residents believe it does.
"We need all our resources to go to public schools," one resident said, "And they don't."
Among the final topics discussed at the meeting was immigration. The crowd made it clear to the congressman they did not want a wall at the Mexican border. An apple grower wanted to know whether or not Reed has a ready and willing workforce to take the place of the immigrants that will be sent back to Mexico when the wall is built.
"We need a border that works," Reed said.
The proposed wall and idea that unsavory people travel into the United States from Mexico to commit crimes was met with a chorus of boos and the chant, "No wall". However, no ideas were forthcoming when Reed asked for an alternate solution to keep the border secure. Reed did outline a proposal welcomed by residents for the Red Card program that would allow immigrants who have gone through a screening process to come and go across the border at will.
Despite angry reports to the contrary by residents at the meeting, Reed noted that he and his staff are always available should anyone wish to discuss a topic further.
-Tammy Whitacre, FingerLakes1.com