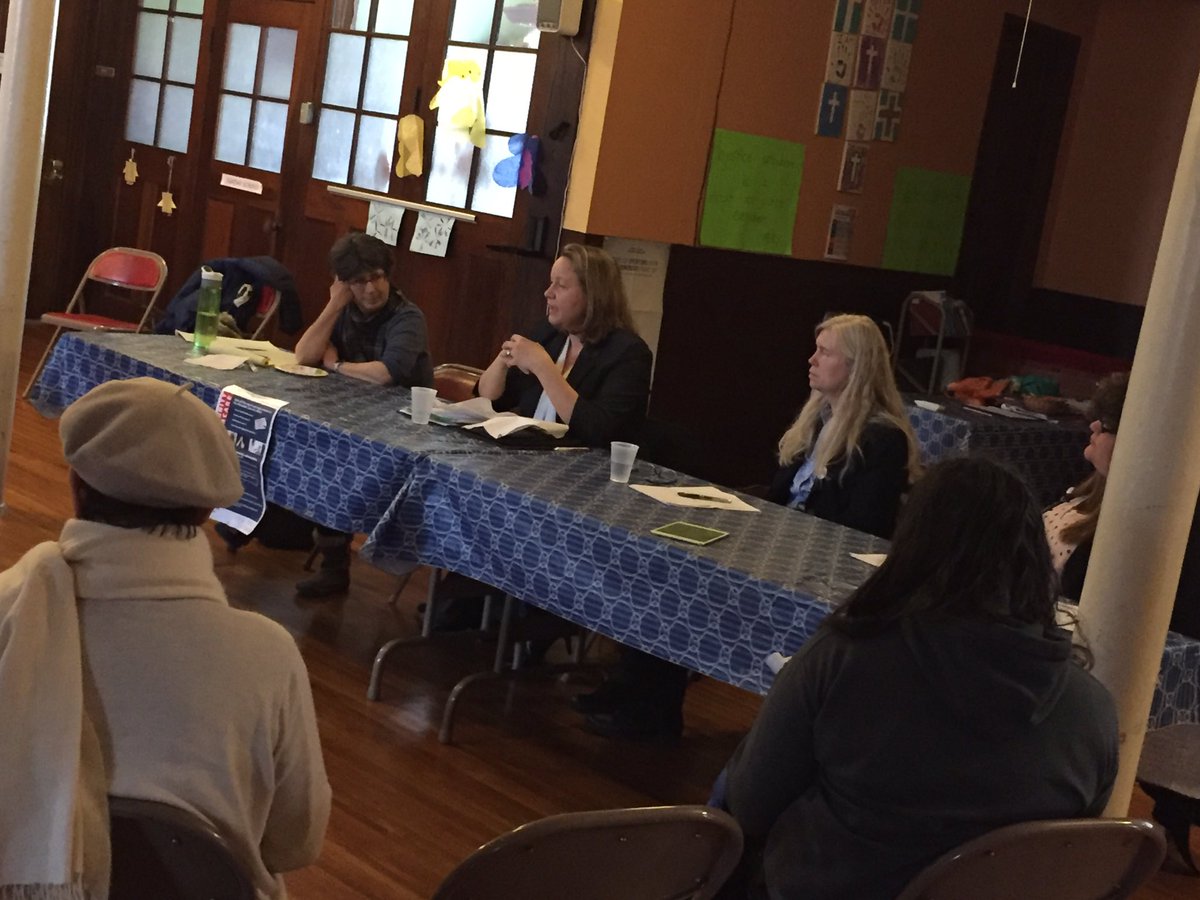 Components of the Affordable Care Act have provided a benefit, but those benefits could now be called into question.
A Forum on Health Care was held Saturday at the First Presbyterian Church in Seneca Falls.
The focus of the event was the repeal and replacement of the Affordable Care Act, or Obamacare as it has been dubbed by opponents and media.
Three speakers for the event, which included Leslie Danks Burke, a lawyer and former candidate for New York State Senate, Brigitt Schaffner, President of the National Alliance on Mental Illness, and Tammy Orlopp, Prevention and Treatment Program Director in Seneca County — all hammered on new legislation being pushed forward by Republican controlled Congress.
"The ACA has brought much more than just 'an exchange' to American people," Orlopp said after her remarks. Each speaker tackled the healthcare problem from a different perspective — but all three agreed on the issues at play.
"One in five American adults will experience a mental health issue at some point during their lifetime, but millions have not gotten the care they needed due to the challenges of the health insurance market," she explained.
"Mental illness is a medical illness," Schaffner explained. "You could go to the doctor's before the Affordable Care Act and not be covered," she continued. "Serious mental illnesses are debilitating."
Those who would be hardest hit by a repeal of the Affordable Care Act: Those who suffer from mental health issues, as well as those who have substance abuse problems.
County's are trying to figure out how to move forward with addressing the cost associated with substance abuse. As they grapple with the cost of dealing with it — a repeal of the Affordable Care Act would likely add additional cost for these entities.
That would mean an even greater burden for counties, which have historically had to contend with higher-than-average costs in New York around Medicaid due to the execution of Medicaid payments.
An expensive 25 percent of Medicaid costs are passed down to counties in New York, which is the only state to pass down such costs. Other states pay for their portion of Medicaid out of income taxes, which are collected at the state level.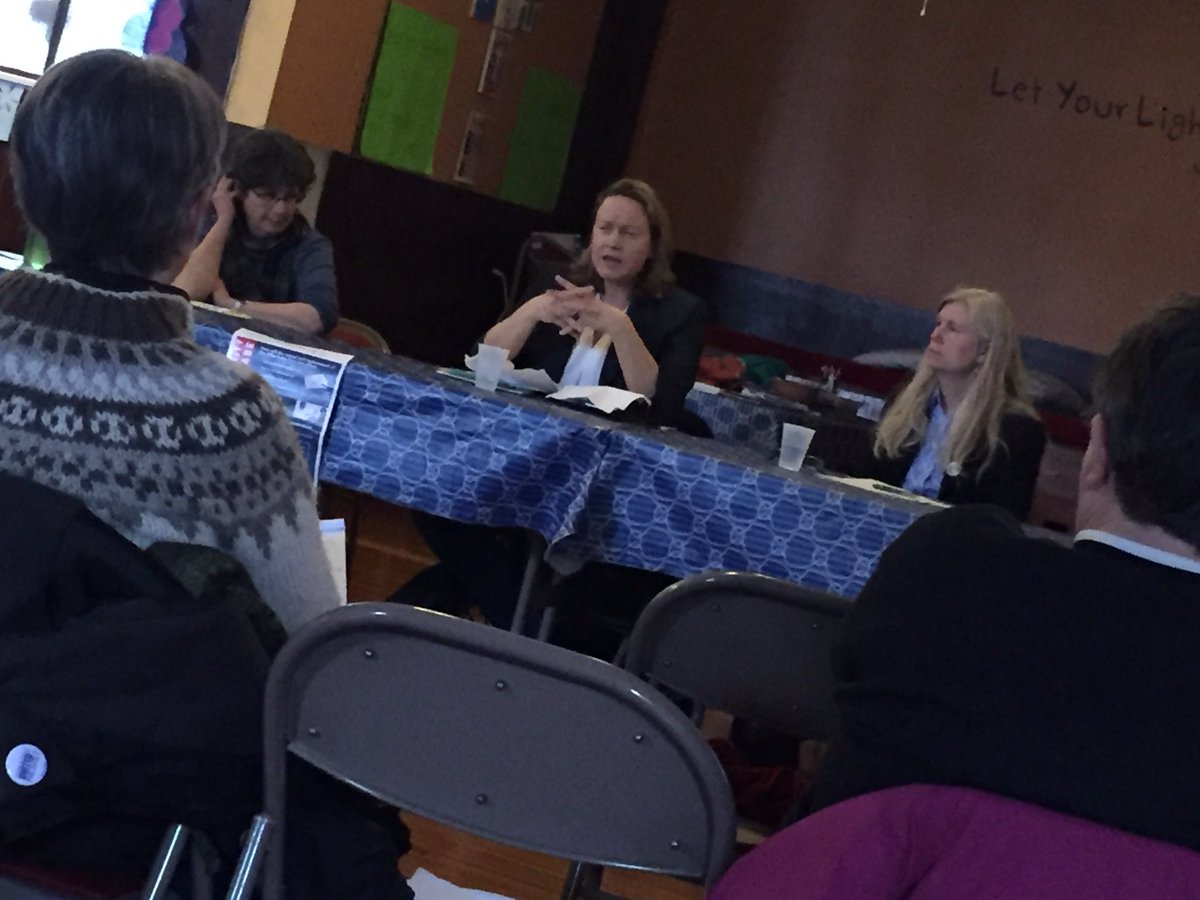 According to Danks Burke, who ran for New York State Senate last year, this cost has been at the heart of many issues in rural parts of Upstate.
Seneca County Board of Supervisors Chairman Bob Shipley, a Republican, said in an interview with FingerLakes1.com that Seneca County makes a weekly payment of more than $112,000 to New York for their Medicaid. It's an issue he's raised consistently throughout his tenure on the Board of Supervisors — and hopes will be addressed this year.
"It makes up for 60 percent of the total tax levy," he said in that interview. "It has to be one of our biggest focuses — letting our state representation know how we feel about it."
Danks Burke, a resident of Tompkins County said that taxes would go down 33 percent overnight if that Medicaid expectation was dropped. Similarly, she said in Chemung County taxes would go down 89 percent overnight if that Medicaid requirement were dropped.
The vocal audience posed questions for the panel on a variety of health-related topics. Some were concerned about access to care for those who would be considered low-income. While others were concerned about access for those who fell into under-served groups.
"We need to make sure people hear the truth and the whole story," Schaffner explained. She continued by pointing out that there needs to be options available for those battling substance abuse issues.
Another member of the audience asked if the closure of the Willard Psychiatric center had an impact on this problem, which slowly grew over the last several decades. This brought the debate to in-patient care for those dealing with substance abuse problems, and how it impacts hospitals and healthcare costs.
All three agreed that the treatment beds are not made available for rural communities. Seneca and Yates counties both struggle to find places for those who need in-patient care, which means that many fall into the hands of the criminal justice system.
Making the problem even worse — counties then take on the cost of providing healthcare for these people with self-funded insurance plans. Orlopp said that as a policy, Seneca County has it's own insurance policy for those who are incarcerated at the Seneca County Correctional Facility because their Medicaid benefits end once convicted of a felony.
As it pertains to the healthcare problem with substance abuse, Schaffner explained that with current treatment options — people are in desperate need for "better long-term care." She continued, "They're just being normalized and then released. We need more housing opportunities and wrap around services."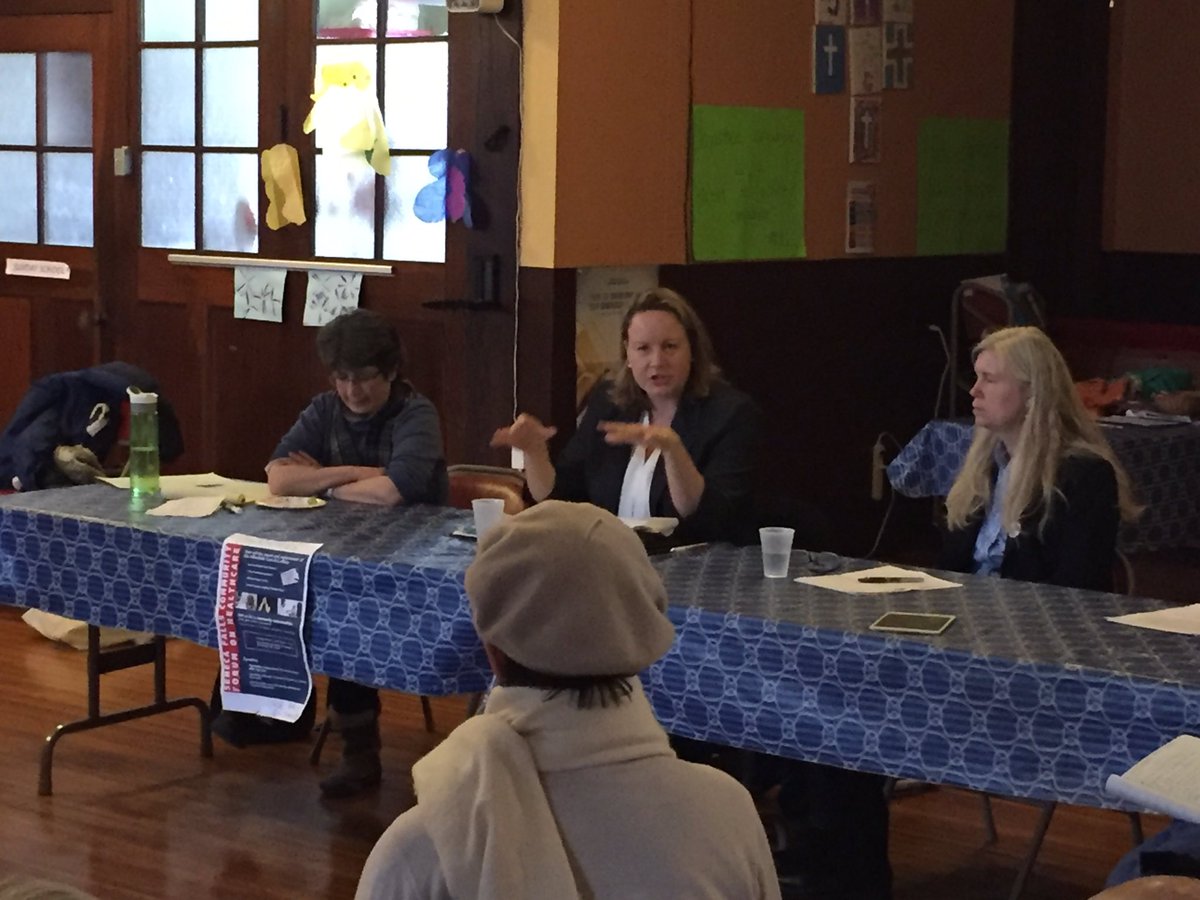 Orlopp had the line of the night — as she pieced all of the different aspects of healthcare, cost, and insurance together. "Access to services saves lives. The opportunity for services is enhanced by insurance"
For the three panelists that was the call to action. "All of the components of the Affordable Care Act have provided such a benefit," Orlopp continued. "Those things should be considered for continuation under any new legislation."
Schaffner added that people should get involved and focus on moving forward — not backwards.
Danks Burke agreed with the sentiments expressed by Schaffner and Orlopp — adding that getting involved is a crucial piece of the puzzle. "What's your plan to compensate for the cost that will come with overturning the Affordable Care Act?" she asked, simulating an interaction between a constituent and a Republican Congressman like Tom Reed. "Ask Republicans how they're going to do that."
Small rural communities — like those around the Finger Lakes, would be among the hardest hit, according to the panel.
Danks Burke started an organization geared toward helping individuals get elected at the local level. Her "Trailblazers PAC" was formed after an unsuccessful bid for State Senate — when she realized the value in small donations and grassroots effort. "By breaking down the barriers that too often keep regular citizens out of elected office, we will work to boost political participation by the voters," she said of her organization.
One of the event's organizers Rachel Weil said that "People do not know what to expect as Congress prepares to repeal the Affordable Care Act." She said that the goal of Saturday's forum was to educate and simplify the complicated nature of health insurance and healthcare in general.
The event was sponsored by the Seneca-Ontario Public Affairs Forum and Indivisible Seneca Falls.