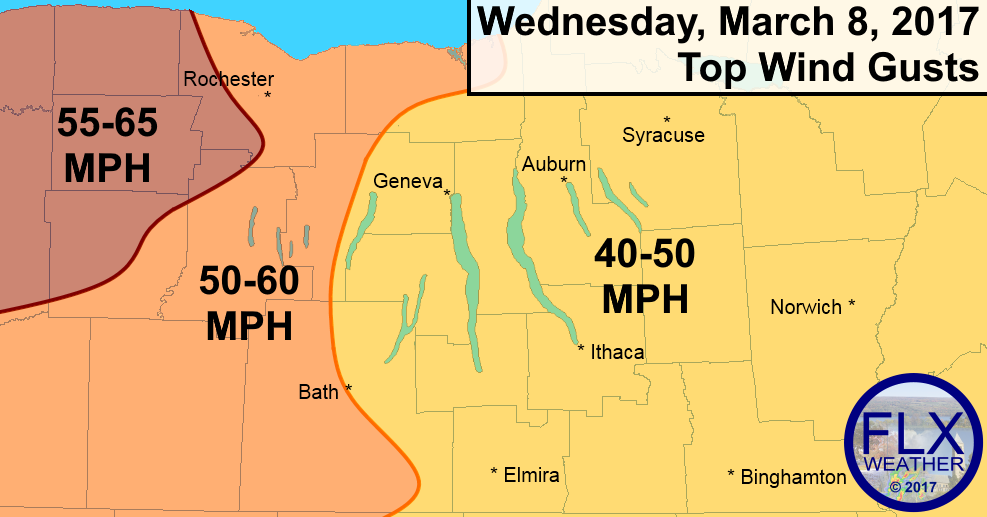 The National Weather Service has issued Wind Advisories and Warnings ahead of Wednesday's weather event, which run from early-afternoon until evening, or around midnight for parts.
The warned areas include: Monroe, Ontario, and Wayne counties. All points westward through New York are also included in the High Wind Warning, which was issued for gusts that could reach or exceed 60 mph, according to the National Weather Service.
The warning runs through the day on Wednesday and expires at 10 pm. NWS meteorologists report that, "Strong winds will result in downed trees and power lines, scattered power outages, and property damage. Travel in high profile vehicles will also be difficult at times."
The advised areas include: All other portions of the Finger Lakes. The advisory runs from noon until midnight, where wind gusts of 45 mph could be seen, according to the National Weather Service.
NWS meteorologists say "Gusty winds will blow around unsecured objects. Tree limbs could be blown down and a few power outages may result."
– Click here for an interactive forecast map from the National Weather Service
FLX Weather Meteorologist Drew Montreuil had the following to say about Wednesday's wild weather:
"A narrow wedge of high pressure has built into the Finger Lakes Wednesday morning behind a cold front that moved through last night. As this wedge slips east, the region will see increasing winds along with some clouds and a few showers.

The best chance for any rain today will be during the early afternoon hours as a second cold front comes through the area. It is especially behind this front that the wind will really start to pick up.

The strongest winds will be in the far northwestern reaches of the Finger Lakes region. Monroe, Genesee, and Wyoming counties are all under High Wind Warnings. Wind gusts in these areas could go above 60 mph, which is enough to cause minor structural damage along with downing trees and power lines.

For comparison, the criteria for a severe thunderstorm is wind speeds over 58 mph and hurricane-force winds are above 74 mph.

The remainder of the Finger Lakes is under a Wind Advisory, which is not as serious as a warning. Wind gusts over 50 mph are likely west of Canandaigua Lake, with 40-50 mph gusts, locally higher, to the east.

The winds will lessen slightly tonight, with overnight gusts in the 35 to 45 mph range across the region. Winds of that magnitude will persist into Thursday, especially during the first part of the day."
MORE COVERAGE FROM AROUND THE FLX:
– Meteorologist: Strong gusts could get 'dangerous' today (Democrat & Chronicle)
– Wind Warnings and Advisories for the Finger Lakes Wednesday (FLXWeather.com)
– Wind gusts up to 70 mph in Upstate NY could uproot trees, knock out power (Syracuse.com)
– Another round of high winds bring added concern (WHAM)
– RG&E prepares for strong winds (WHEC)
Local Weather Resources:
— Western FLX
— Eastern FLX
— FingerLakes1.com Weather Center
— Thruway Conditions
Send FingerLakes1.com photos of weather in YOUR neighborhood by sharing them on Facebook, Twitter, Instagram, or by email here.
From Social
The High Wind Warning is now in effect for our entire area through 10 PM. Gusts to 60 mph possible later today. pic.twitter.com/tuwuvHCKlz

— Marty Snyder 13WHAM (@MartySnyder13) March 8, 2017
ALERT: High wind WARNING for parts of CNY. Wind ADVISORY for the rest of CNY
IMPACTS: https://t.co/cHusC4t3IB
VIDEO: https://t.co/bEXBUBCJYR pic.twitter.com/KXBHxGzz0A

— Peter Hall (@PeteWeatherBeat) March 8, 2017
A deceptively beautiful, calm sunrise this morning over downtown Rochester, as we brace for another day of possible damaging winds. #ROC pic.twitter.com/74mtxbGXHb

— Josh Nichols (@wnywxguy) March 8, 2017
Secure loose outdoor objects and hold onto your hats- it will be a windy afternoon in the #FLX.
• https://t.co/AdbB6THFF6#twithaca #ROC pic.twitter.com/nPv9aDkv4u

— Finger Lakes Weather (@FLX_Weather) March 8, 2017
Strong to damaging winds developing today with widespread 45 to 55 mph gusts and 60+ mph gusts from Buffalo to Rochester. #NYwx #BUFwx pic.twitter.com/spLMdrqNvG

— NWS Buffalo (@NWSBUFFALO) March 8, 2017