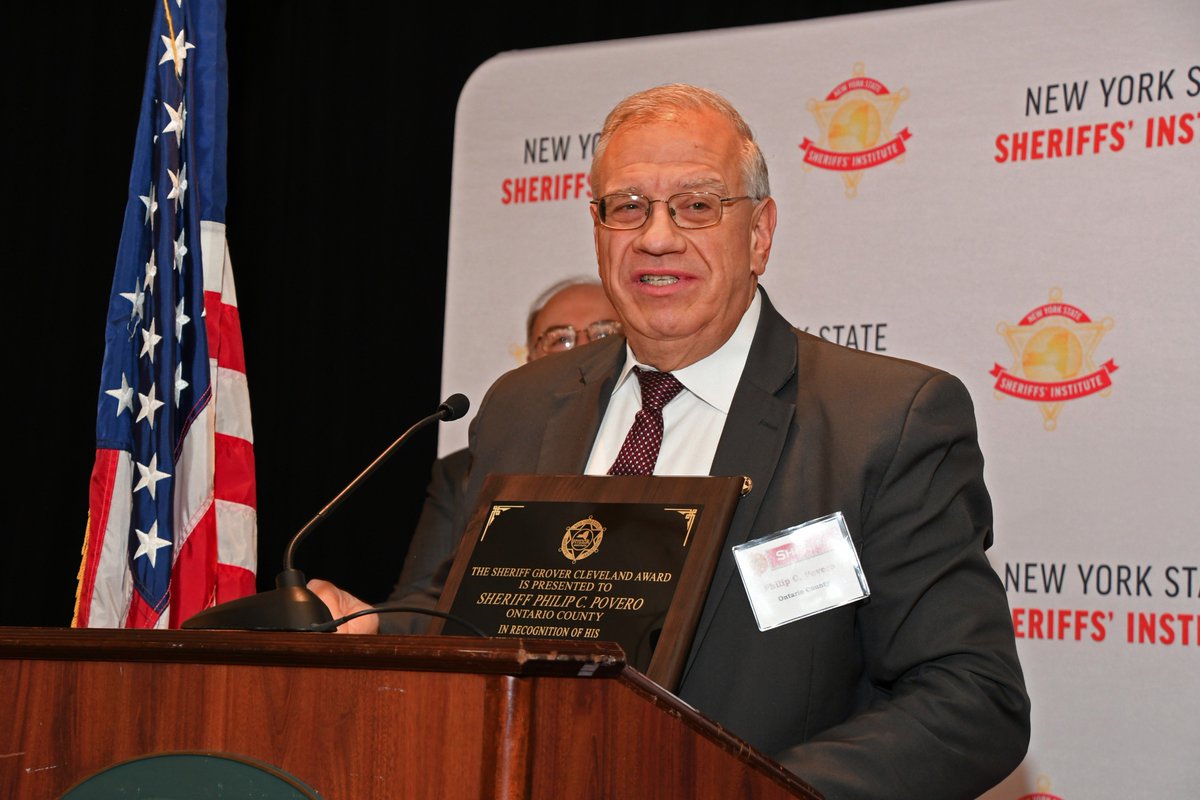 On only five occasions has the Sheriffs' Institute leadership presented the highest honor that can be given a sitting New York State Sheriff – the Sheriff Grover Cleveland Award. The previous winners – in order – are Sheriff James Bowen, Saratoga County, Sheriff John York, Livingston County, Sheriff Kevin Walsh, Onondaga County, Sheriff Ron Spike, Yates County and Sheriff Gary Maha, Genesee County. Between those five men they have served almost 125 years in the Office of Sheriff. When you add Sheriff Povero's tenure as Sheriff the total jumps to over 150 years in the Office of Sheriff.
Phil Povero is a graduate of Geneva High School, Finger Lakes Community College and the Rochester Institute of Technology with a Bachelor's Degree in Criminal Justice.
Sheriff Povero began his career with the Sheriff's Office in 1972, as a corrections and communications officer. In January 1973, he was assigned to the Sheriff's road patrol. From 1977 to 1990, he served as an investigator in the Criminal Investigation Division. He was elected to the Office of Sheriff in 1990.
During his tenure, the Sheriff has implemented the D.A.R.E. Program and provided School Resource Officers to Ontario County school districts. In 2005, "Project Life Saver," a radio system to locate missing Alzheimer patients, was implemented by the Sheriff.
Under Sheriff Povero's leadership, the Ontario County Sheriff's Office has acquired state accreditation for its law enforcement, corrections, emergency communications, civil, and court security divisions, plus correctional health care accreditation with National Commission on Correctional Health Care.
Sheriff Povero is past President of the New York State Sheriffs' Association and currently an officer of the New York State Sheriffs' Institute. He is Chairman of the Finger Lakes Law Enforcement Academy Board of Directors. He is a co-chairman of the New York State Law Enforcement Executive Committee on Counter-Terrorism and Homeland Security.
Cleveland was the 22nd and 24th President of the United States. Though Grover Cleveland is remembered for being the only person to serve two non-consecutive four year terms he also remembered as the only President that had ever been elected Sheriff (Erie County, New York).
President Cleveland's biographer Allen Nevins wrote, "in Grover Cleveland the greatness lies in the typical rather than unusual qualities. He had endowments, but he possessed honesty, courage, firmness, independence and common sense. But he possessed them to a degree other men do not."
Sheriff Phil Povero also possesses these important leadership qualities.