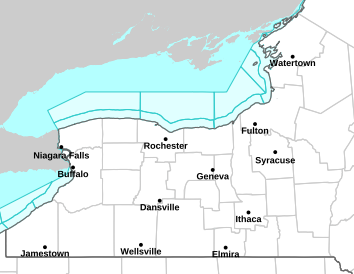 The Freezing Rain Advisory, which was issued for the entire Finger Lakes region yesterday — remains in effect for parts of the region. The advisory runs through 1 pm on Tuesday for the Ontario, Monroe, Wayne, Northern Cayuga, and Onondaga counties. It is not expected to be a significant icing event. However, motorists should use caution and plan for a little extra travel time as they travel through the area today.
FLX Weather Meteorologist Drew Montreuil reports that:
So far, most of the precipitation is falling as rain with temperatures near or slightly above 32 degrees. A few pockets of icing is likely ongoing in some of the colder valleys where cold air is being trapped.

Showers will continue to slowly spread north and east throughout the morning. They will continue to be spotty and light. Temperatures out ahead of the precipitation are also mostly at or above freezing. Therefore, the vast majority of what falls this morning will be regular rain and not freezing rain.

Still, exercise a little extra caution traveling and be aware of changing road conditions. A period of steadier, heavier rain is likely during the early afternoon hours.
Local Weather Resources:
— Western FLX
— Eastern FLX
— FingerLakes1.com Weather Center
— Thruway Conditions
More coverage
– Freezing Rain and Winter Weather Advisories active for region (CNY Central)
– Expect freezing rain Tuesday morning (Democrat & Chronicle)
– Freezing rain advisory issued in Tompkins County (IthacaVoice.com)
– Freezing rain could hit Central New York during morning commute (Syracuse.com)
Pockets of light freezing rain could cause some slick spots early on Tuesday in the #roc area. https://t.co/vU1teRWTfA

— 𝕊ℂ𝕆𝕋𝕋 ℍ𝔼𝕋𝕊𝕂𝕆 (@scotthetsko) January 16, 2017
Look for pockets of freezing rain in the @roc @flx areas btwn 11 pm tonight & 11 am Tue. Temps climb back above 32 from NW to SE on Tue.

— Kevin Williams (@wxbywilliams) January 16, 2017
Freezing rain advisory late tonight through midday Tuesday in #WNY. Minimal icing expected. https://t.co/xGhOJGLYYo pic.twitter.com/SSczkWbG86

— Mark McLean (@Wxandgardenguy) January 16, 2017
Patchy ice overnight in the #FLX could make for some slick spots Tuesday morning.
• https://t.co/3MQks81pKQ#twithaca #ROC #FreezingRain pic.twitter.com/2AYbLa11Fp

— Finger Lakes Weather (@FLX_Weather) January 16, 2017
Send FingerLakes1.com photos of weather in YOUR neighborhood by sharing them on Facebook, Twitter, Instagram, or by email here.