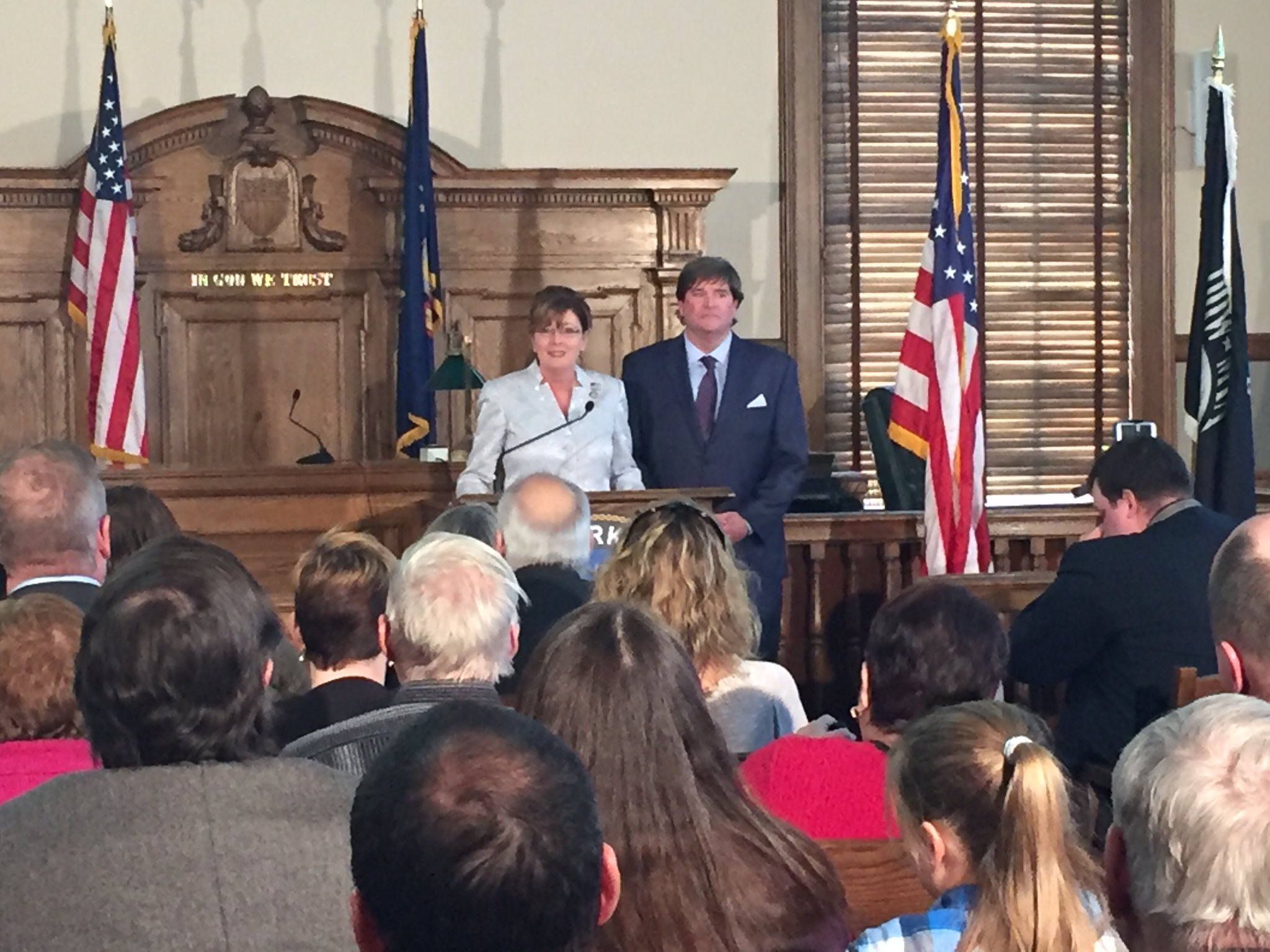 In some respects, the ceremony held on Saturday for Sen. Pam Helming (R-54) at the Ontario County Courthouse was the pinnacle of a journey she has been on for the last year.
In reality though, that journey has just begun.
Sen. Helming was sworn in during a ceremony at the North Courtroom in the community she has called home for her years as an elected official. Previously serving as Canandaigua Town Supervisor, Sen. Helming thanked those who supported her during her campaign, as well as those who mentored her during her time on the Ontario County Board of Supervisors.
Board Chairman, and Victor Town Supervisor Jack Marren spoke at length regarding Sen. Helming's competitive and energetic drive. He recited multiple instances of her energy during his time working with her on the board. Helming herself credited Marren with mentoring her — being available to answer questions throughout her time in Ontario County.
The packed courtroom was a fitting location for the ceremony. While not the original North Courtroom — an earlier iteration saw the prosecution of Susan B. Anthony for registering to vote.
Another symbolic note, which Sen. Helming referenced herself while addressing the dozens in attendance to see her take the oath of office was the day itself. "I wish my parents were here to celebrate this important occasion, it was quite fitting, and somewhat emotional, to take my oath of office today, on my father's birthday. I know he and my mother would have been very proud."
It's been an emotional ride for Sen. Helming, who fought back tears during her address. However, she notes that with an eager team, and an energy to see better for communities in the 54th District, the work has only just begun.
"As my first legislative session gets underway, I'm ready to hit the ground running on behalf of our region," she continued. "This means working on protecting our environment, particularly our freshwater bodies of water, delivering needed infrastructure funding and defending our shared values from the downstate interests that have worked to erode our rights over the years."
She noted the struggle that comes along with representing a district as large as the 54th, which features six counties in the heart of the Finger Lakes. Sen. Helming replaces longtime New York State Sen. Michael Nozzolio, who announced last winter that he would not seek another term after serving the region for 34 years.
Sen. Helming's team streamed the entire ceremony on Facebook, and that ceremony can be watched by following the link below.