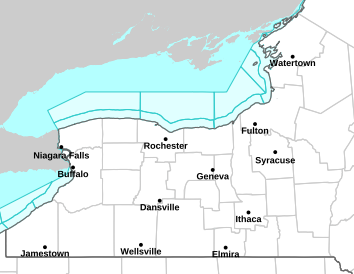 The National Weather Service has issued a Wind Advisory for Cayuga, Monroe, Ontario, Onondaga, Seneca, Wayne, and Yates counties, which remains in effect until 1 am Thursday. The heaviest of winds, according to forecasters will be focused in a 12-hour window, which will start around 1 pm on Wednesday afternoon with the passage of a cold front.
The National Weather Service notes that winds will gust in excess of 45 mph in some areas – with gusts exceeding 50 mph in higher elevations. Sustained winds throughout this period will range between 20 and 35 mph.
Read more on the Wind Advisory here
FLX Weather Meteorologist Drew Montreuil notes that temperatures will dive throughout the day, as that cold front makes it's way through the region. That will mean some spotty lake effect snow for some, but nothing that will have a serious impact on travel in the immediate area.
By tonight, Montreuil points out that while air temperatures will still be in the 20s — it will feel like it's in the single-digits with the wind. He warns that motorists should keep an eye out for some light flash freezing, as some roads will still be wet this evening from the precipitation received over the last two days.
Local Weather Resources:
— Western FLX
— Eastern FLX
— FingerLakes1.com Weather Center
— Thruway Conditions
https://twitter.com/PeteWeatherBeat/status/816651099088289793
Temperatures drop this afternoon with strong winds. #LakeEffect for #WNY, #TugHill
• https://t.co/3zPxLneumB#FLX #twithaca #ROC pic.twitter.com/TA7bYIHNUe

— Finger Lakes Weather (@FLX_Weather) January 4, 2017
Our temperature was as high as 42° just after midnight, but temperatures will continue to drop today. pic.twitter.com/Jq2lBxXekR

— Marty Snyder 13WHAM (@MartySnyder13) January 4, 2017
Send FingerLakes1.com photos of weather in YOUR neighborhood by sharing them on Facebook, Twitter, Instagram, or by email here.